Fillable Printable Functional Resume Example
Fillable Printable Functional Resume Example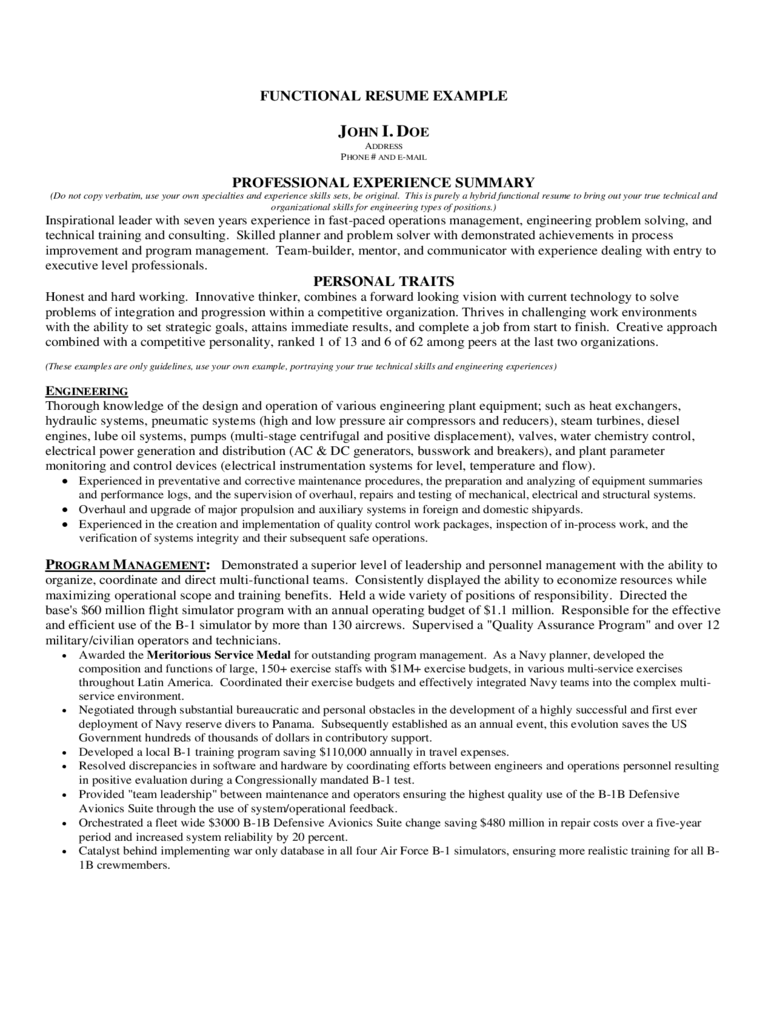 Functional Resume Example

FUNCTIONAL RESUME EXAMPLE
P
PROFESSIONAL EXPERIENCE SUMMARY
(Do not copy verbatim, use your own specialties and experience skills
sets, be original. This is purely a hybrid functional re

sume to bring out your true technical and
organizational skills for engineering types of positions.)
Inspirational leader with seven years
experience in fast-paced operations manage

ment, engineering problem solving, and
technical training and consulting. Sk
illed planner and problem solver with demonstrated achievements in process
improvement and program management. Team-builder, mentor
, and communicator with experience dealing with entry to
executive level professionals.
PERSONAL TRAITS
Honest and hard working. Innovative thinker, combines
a forward looking vision with current technology to solve
problems of integration and progression within a competitive
organization. Thrives in challenging work environments
with the ability to set strategic goals, attains immediate results
, and complete a job from start to finish. Creative approach
combined with a competitive personality, ranked 1 of 13 and 6 of 62 among peers at the last two organizations.
(These examples are only guidelines, use your own example, portr
aying your true technical skills and engineering experiences)
Thorough knowledge of the design and opera
tion of various engineering plant equipment; such as heat exchangers,
hydraulic sy stems, pneumatic systems (high and low pressu
re air compressors and reducers), steam turbines, diesel
engines, lube oil systems, pumps (multi-stage centrifugal
and positive displacement), valves, water chemistry control,
electrical power generation and distribution (AC & DC generators, busswork and breakers), and plant parameter
monitoring and control devices (electrical instrumentation systems for level, temperature and flow).
•
Experienced in preventative a

nd corrective maintenance procedures, the preparation and analyzing of equipment summaries
and performance logs, and the supervision of overhaul, repairs a
nd testing of mechanical, electri

cal and structural systems.
•
Overhaul and upgrade of major propulsion and auxiliary systems in

foreign and domestic shipyards.
•
Experienced in the creation and implementation of quality control work pack ages, inspection of in-process work, and the
verification of systems integrity a
nd their subsequent safe operations.
P
ROGRAM
M
ANAGEMENT
:
Demonstrated a superior level of leadersh

ip and personnel management with the ability to
organize, coordinate and direct multi-functional teams. C
onsistently displayed the ability to economize resources while
maximizing operational scope and training be
nefits. Held a wide variety of positions of responsibility. Directed the
base's $60 million flight simulator program with an annual operating budget of $1.1 million. Responsible for the effective
and efficient use of the B-1 simulator by more than 130 ai
rcrews. Supervised a "Quality Assurance Program" and over 12
military/civilian operators and technicians.
•
Awarded the

Meritorious Service Medal

for outstanding program management.

As a Navy planner, developed the
composition and functions of large, 150+
exercise staffs with $1M+ exercise budge

ts, in various multi-service exercises
throughout Latin America. Coordinated thei
r exercise budgets and effectively integr

ated Navy teams into the complex multi-
service environment.
•
Negotiated through substantial bureaucratic and personal obstacles in the developmen

t of a highly successful and first ever
deployment of Navy reserve divers to Pa
nama. Subsequently established as an a

nnual event, this evolution saves the US
Government hundreds of thousands of dollars in contributory support.
•
Developed a local B-1 training program sa

ving $110,000 annually in travel expenses.
•
Resolved discrepancies in software and hardware by coordinating efforts between engineers

and operations personnel resulting
in positive evaluation during a Congressionally mandated B-1 test.
•
Provided "team leadership" between maintenance and operato rs ensuring the h ig hest quality use of the B-1B Defensive
Avionics Suite through the use of system/operational feedback.
•
Orchestrated a fleet wide $3000 B-1B Defensive Avionics Suite change saving $480 m

illion in repair costs over a five-year
period and increased system reliability by 20 percent.
•
Catalyst behind implementing war only database in all four Air Force B-1 simulators, ensuring more realistic training for all B

-
1B crewmembers.

FUNCTIONAL RESUME EXAMPLE
P
ROCESS
I
MPROVEMENT
/Q

UALITY
:
Well versed in the principles of Total Quality Management and Leadership.
Awarded
two personal decorations (Navy Achievement Medals)
for attaining a superior level of quality in maintenance
and repair of assigned shipboard machinery and equipment.
Implemented ISO 9000 standards compliance program
at Trident Training Facility, Kings Bay, GA.
•
Mentored and motivated Navy officers through a preparation program required for chief engineer certification. Implemented
process improvements increasing certification rate by 15%.
•
Proven team builder and motivational leader. Implemented TQM initiatives to technician service process resulting in the
highest scores during periodic evaluations.
•
Evaluated customer's operations and provided process improvements to ensure the highest state readiness.
L
EADERSHIP
/T

RAINING
:
Employs a hands on leadership style that is adaptabl

e to any environment. Supervised
organizations of up to 150 personnel a
nd provided coordination for groups of

up to 200 individuals. Excelled in
instructing both individual and group lectures. Firm be
liever in quality training and

constant development of
subordinates. Awarded
Navy Commendation Medal
for leadership and training of the Navy's reserve augmentation
forces into the Joint Training Program in
the Latin American Theater of operations.
Other skill/experience sets vital to Engineering Oppor
tunities (Expand and add your experiences, the more
technical bullets you can add, the better the resume. Th
e skill areas listed below are more important than the
ones above.):
M
AINTENANCE
M
ANAGEMENT
:
including new program implementation,

improvements, inspections, etc.
P
LANT
O
PERATIONS
:
both civilian and military
T
ESTING AND
D
ESIGN
:
even education based or intern experiences
W
ORK
H
ISTORY
:
1999 - Present

General Electric Power Systems
Commissioning Engineer, Atlanta, GA
1997 - 1999
Lead Instructor, Prospective Nuclear Engineer Officer
Nuclear Power Training Facility, Charleston, SC
1993 - 1996
Nuclear Plant Manager and Operations Manager

(150 personnel)
USS Tennessee, SSBN 734, Kings Bay, GA
E
DUCATION
:

(Order of importance 1: university degrees, relevant military or civilian engineering courses/schools, leadership schools)
Masters of Science in Engineering Management
, 1998
Old Dominion University, Norfolk, VA, GPA: 3.68
BS Electrical Engineering
, June 1991
Oklahoma University, GPA: 2.87
Naval Nuclear Power School and Prototype Training Unit
, U. S. Navy, 1992, GPA: 3.45, 3.05
(Graduate level curriculum on the operation and mana
gement of nuclear reactor and steam plants.)
Total Quality Management/Leadership courses
Quality Assurance Management Training