Fillable Printable Fund Raising Donation Letter Sample
Fillable Printable Fund Raising Donation Letter Sample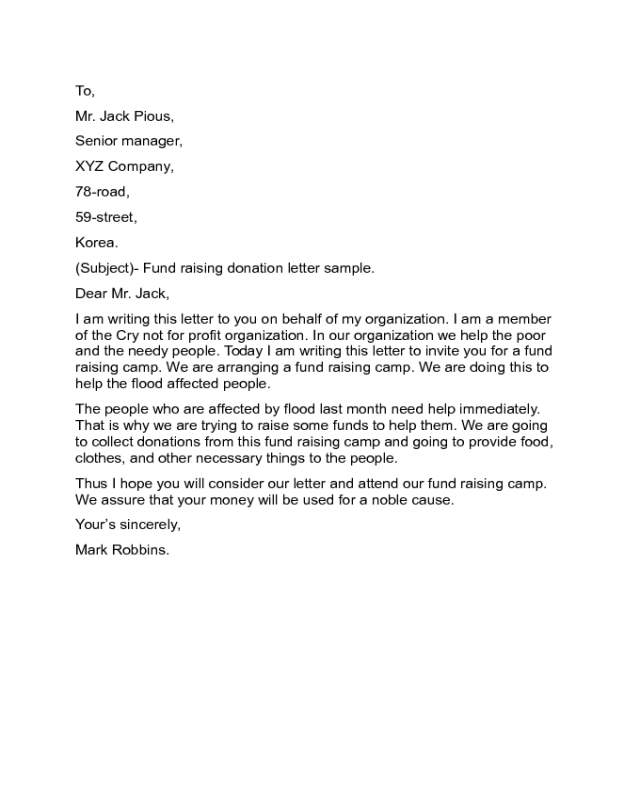 Fund Raising Donation Letter Sample
To,
Mr. Jack Pious,
Senior manager,
XYZ Company,
78-road,
59-street,
Korea.
(Subject)- Fund raising donation letter sample.
Dear Mr. Jack,
I am writing this letter to you on behalf of my organization. I am a member
of the Cry not for profit organization. In our organization we help the poor
and the needy people. Today I am writing this letter to invite you for a fund
raising camp. We are arranging a fund raising camp. We are doing this to
help the flood affected people.
The people who are affected by flood last month need help immediately.
That is why we are trying to raise some funds to help them. We are going
to collect donations from this fund raising camp and going to provide food,
clothes, and other necessary things to the people.
Thus I hope you will consider our letter and attend our fund raising camp.
We assure that your money will be used for a noble cause.
Your's sincerely,
Mark Robbins.