Fillable Printable Time Donation Letter Sample
Fillable Printable Time Donation Letter Sample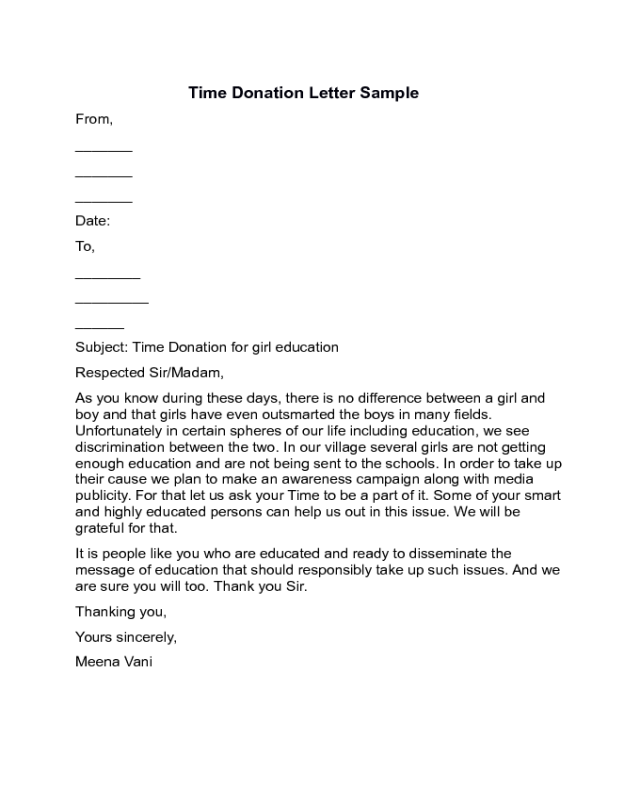 Time Donation Letter Sample
Time Donation Letter Sample
From,
_______
_______
_______
Date:
To,
________
_________
______
Subject: Time Donation for girl education
Respected Sir/Madam,
As you know during these days, there is no difference between a girl and
boy and that girls have even outsmarted the boys in many fields.
Unfortunately in certain spheres of our life including education, we see
discrimination between the two. In our village several girls are not getting
enough education and are not being sent to the schools. In order to take up
their cause we plan to make an awareness campaign along with media
publicity. For that let us ask your Time to be a part of it. Some of your smart
and highly educated persons can help us out in this issue. We will be
grateful for that.
It is people like you who are educated and ready to disseminate the
message of education that should responsibly take up such issues. And we
are sure you will too. Thank you Sir.
Thanking you,
Yours sincerely,
Meena Vani