Fillable Printable Silent Auction Donation Letter Sample
Fillable Printable Silent Auction Donation Letter Sample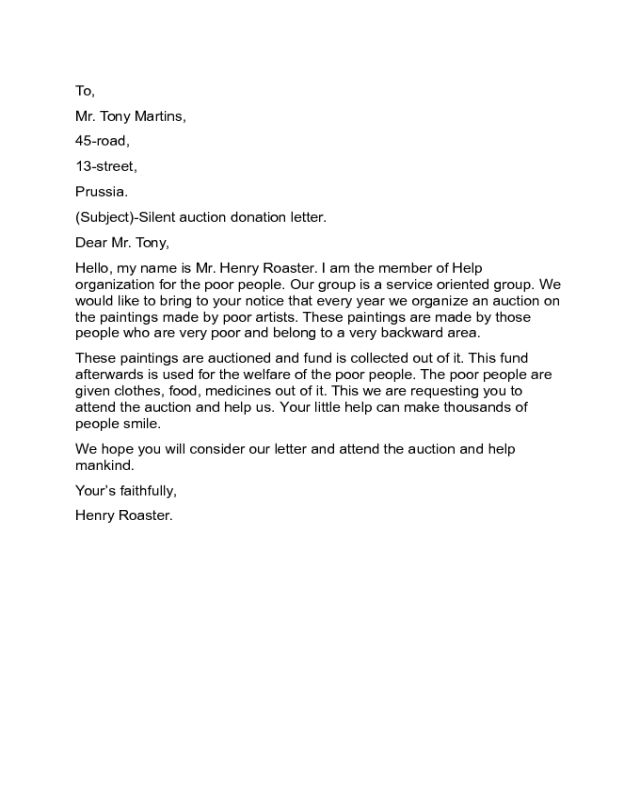 Silent Auction Donation Letter Sample
To,
Mr. Tony Martins,
45-road,
13-street,
Prussia.
(Subject)-Silent auction donation letter.
Dear Mr. Tony,
Hello, my name is Mr. Henry Roaster. I am the member of Help
organization for the poor people. Our group is a service oriented group. We
would like to bring to your notice that every year we organize an auction on
the paintings made by poor artists. These paintings are made by those
people who are very poor and belong to a very backward area.
These paintings are auctioned and fund is collected out of it. This fund
afterwards is used for the welfare of the poor people. The poor people are
given clothes, food, medicines out of it. This we are requesting you to
attend the auction and help us. Your little help can make thousands of
people smile.
We hope you will consider our letter and attend the auction and help
mankind.
Your's faithfully,
Henry Roaster.