Fillable Printable Home Budget Template
Fillable Printable Home Budget Template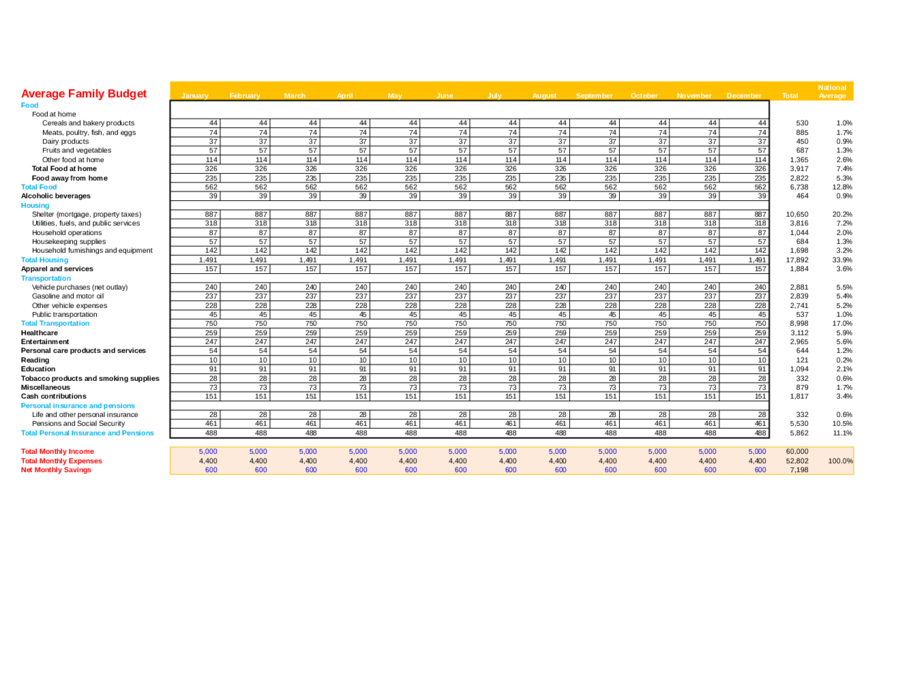 Home Budget Template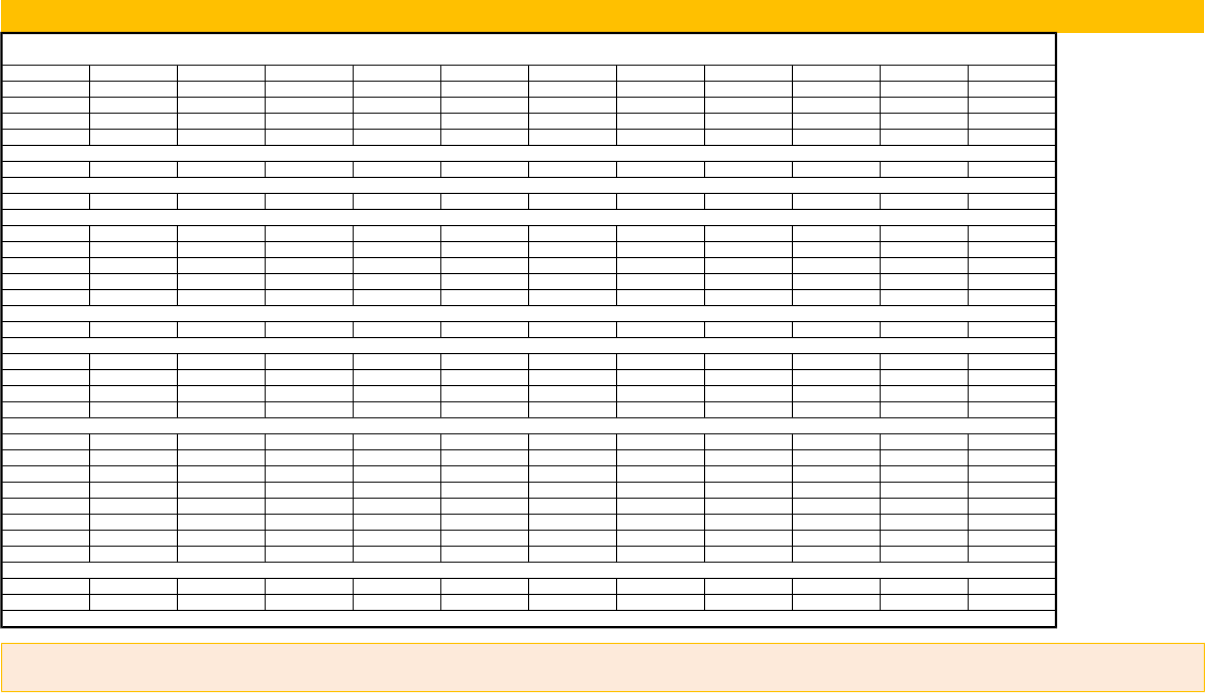 Average Family Budget
January
February
March
April
May
June
July
August
September
October
November
December
Total
Food
Food at home
Cereals and bakery products
44
44
44
44
44
44
44
44
44
44
44
44
530
1.0%
Meats, poultry, fish, and eggs
74
74
74
74
74
74
74
74
74
74
74
74
885
1.7%
Dairy products
37
37
37
37
37
37
37
37
37
37
37
37
450
0.9%
Fruits and vegetables
57
57
57
57
57
57
57
57
57
57
57
57
687
1.3%
Other food at home
114 114 114 114 114 114 114 114 114 114 114 114
1,365
2.6%
Total Food at home
326

326

326

326

326

326

326

326

326

326

326

326

3,917

7.4%
Food away from home
235

235

235

235

235

235

235

235

235

235

235

235

2,822

5.3%
Total Food
562

562

562

562

562

562

562

562

562

562

562

562

6,738

12.8%
Alcoholic beverages
39

39

39

39

39

39

39

39

39

39

39

39

464

0.9%
Housing
Shelter (mortgage, property taxes)
887
887
887
887
887
887
887
887
887
887
887
887 10,650
20.2%
Utilities, fuels, and public services
318
318
318
318
318
318
318
318
318
318
318
318
3,816
7.2%
Household operations
87
87
87
87
87
87
87
87
87
87
87
87
1,044
2.0%
Housekeeping supplies
57
57
57
57
57
57
57
57
57
57
57
57
684
1.3%
Household furnishings and equipment
142
142
142
142
142
142
142
142
142
142
142
142
1,698
3.2%
Total Housing
1,491

1,491

1,491

1,491

1,491

1,491

1,491

1,491

1,491

1,491

1,491

1,491 17,892

33.9%
Apparel and services
157

157

157

157

157

157

157

157

157

157

157

157

1,884

3.6%
Transportation
Vehicle purchases (net outlay)
240
240
240
240
240
240
240
240
240
240
240
240
2,881
5.5%
Gasoline and motor oil
237
237
237
237
237
237
237
237
237
237
237
237
2,839
5.4%
Other vehicle expenses
228
228
228
228
228
228
228
228
228
228
228
228
2,741
5.2%
Public transportation
45
45
45
45
45
45
45
45
45
45
45
45
537
1.0%
Total Transportation
750

750

750

750

750

750

750

750

750

750

750

750

8,998

17.0%
Healthcare
259

259

259

259

259

259

259

259

259

259

259

259 3,112

5.9%
Entertainment
247

247

247

247

247

247

247

247

247

247

247

247

2,965

5.6%
Personal care products and services
54

54

54

54

54

54

54

54

54

54

54

54

644

1.2%
Reading
10

10

10

10

10

10

10

10

10

10

10

10

121

0.2%
Education
91

91

91

91

91

91

91

91

91

91

91

91

1,094

2.1%
Tobacco products and smoking supplies
28

28

28

28

28

28

28

28

28

28

28

28

332

0.6%
Miscellaneous
73

73

73

73

73

73

73

73

73

73

73

73

879

1.7%
Cash contributions
151

151

151

151

151

151

151

151

151

151

151

151

1,817

3.4%
Personal insurance and pensions
Life and other personal insurance
28
28
28
28
28
28
28
28
28
28
28
28
332
0.6%
Pensions and Social Security
461
461
461
461
461
461
461
461
461
461
461
461
5,530
10.5%
Total Personal Insurance and Pensions
488

488

488

488

488

488

488

488

488

488

488

488

5,862

11.1%
Total Monthly Income
5,000

5,000

5,000

5,000

5,000

5,000

5,000

5,000

5,000

5,000

5,000

5,000

60,000
Total Monthly Expenses
4,400

4,400

4,400

4,400

4,400

4,400

4,400

4,400

4,400

4,400

4,400

4,400 52,802

100.0%
Net Monthly Savings
600

600

600

600

600

600

600

600

600

600

600

600

7,198
National
Average

Instructions
Using this average family budget spreadsheet is very straightforward. This spreadsheet only requires two sets of inputs.
The worksheet takes your monthly after tax income (row 40) and desired net monthly savings (row 42) to develop a monthly
expense value that appears on row 41. The National Average family budget information that appears in column O is then
used to spread the total monthly expenses to each of the thirty five budget categories.
This average family budget spreadsheet is intended to show you what an average family's expenses would look like each
month - by category. This spreadsheet is intended to be used along with, and compared to, the Family Budget spreadsheet.
Copyright © 2011 - 2015 Money-zine.com