Hrspe14 1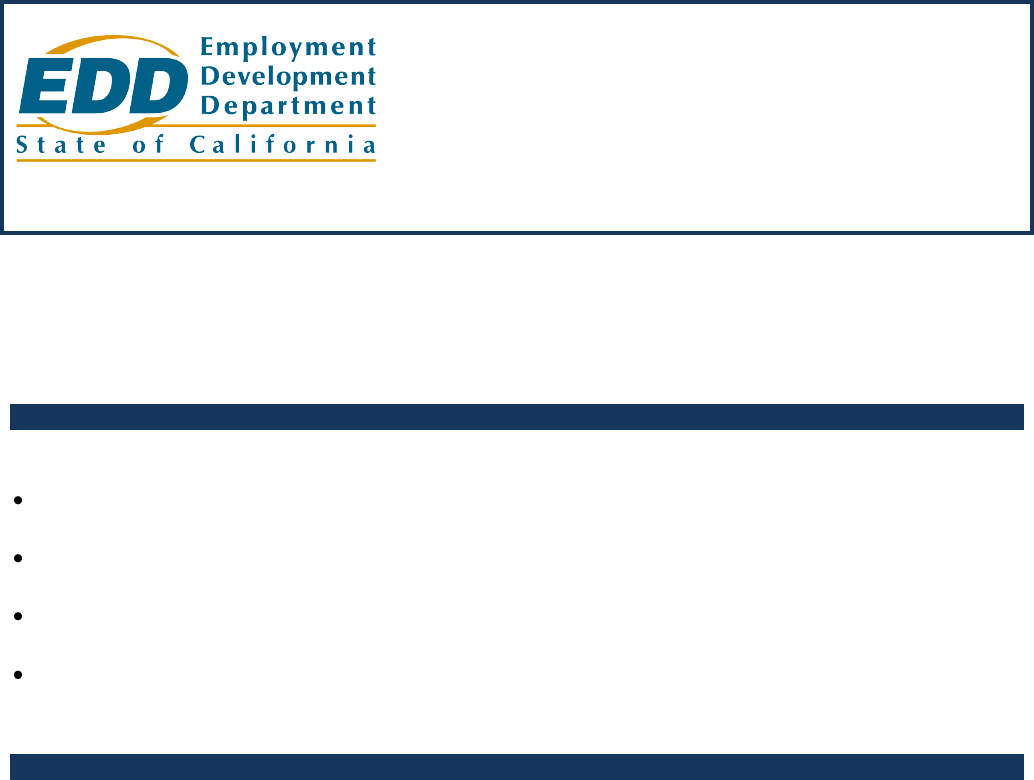 Exam Code: 4
HR
01 J
J2
5
–
433
2
TAX ADMINISTRATORI,EDD
DEPARTMENTAL PROMOTIONAL
EXAMINATION
STATEWIDE
(For EDD Employees Only)
Testing Department(s):
Employment Development Department
Bulletin Release Date:
February 24, 2014
FINAL FILINGDATE:
MARCH 10, 2014
Salary:
$

5,079

- $6,434 per month
POSITION DESCRIPTION
A Tax Administrator I, EDD, performs in the following capacities:
Supervises a group of staff in a field office or central office environment and collaborates with the
management team in the operation of a major program.
Supervises a group of staff and/or participates on special projects or assignments that may have
programmatic or department-wide impact.
Functions as a non-supervisory staff specialist performing complexand/or sensitive program
development, policy or coordination.
Functions as an assistant to higher level management.
Positions exist Statewide.
WHO SHOULD APPLY
Applicants who meet the minimum qualifications as statedon this bulletin may apply for this exam.
This is a departmental promotional exam for the
Employment Development Department (EDD)

.
Competition islimited to:
1.
Employees who have a permanent civil service appointment with the EDD by final filing date; or
2.
Current or former employees ofthe Legislature with two or more years as defined in the
Government Code 18990; or
3.
Current or former non-elected exempt employees of the Executive Branch with two or more
consecutive years as defined by Governmentcode 18992; or
4.
Persons retired from the United States military, honorably discharged from active military duty with
a service-connected disability, or honorably discharged from active duty as defined in Government
Code 18991. Applicants under item 4 must submitform DD214 along with their standard state
application (STD. 678) for entrance requirements. Please mail in your DD214 separately (make
sure to identify which exam you are applying for) or you can scan the DD214 and upload the
scanned document in the area where you would upload your resume in your profile. Veterans'
preference points will not be granted in promotional examinations.
For applicants under items 2, 3, or 4, if promotional examinations are given by more than one
department for the same classification, the applicant must select one department in which to compete.
Refer to the General Information, Promotional Examinations Only section of this bulletin for other
eligibility requirements. Under certain circumstances, former EDD employees may be allowed to
compete under the provision of Rule 235.

Tax Administrator I, EDD Page 2
All applicants must meet the education and/or experience requirements for this examination
by the
Qualifying experience maybe combined on a proportionate basisif the requirementsstated below
include more than one pattern and are distinguished as "Either" I "or" II. For example, candidates
who
possess qualifying experience amounting to 50% ofthe required time of Pattern I, and additional
experience amounting to 50% of the requiredtime of Pattern II, may be admitted to anexamination as
meeting 100% of the overall experience requirements.
EITHER I
Experience: One year of experience in the California state service performing professional tax or
benefit accounting, tax auditing, tax compliance or tax-related customer service duties of a class with a
level of responsibility equivalent to that of Tax Auditor III, Employment Development Department;
Senior Tax Compliance Representative (Specialist); Senior Tax Compliance Representative
(Supervisor); Senior Accounting Officer (Supervisor); or SeniorAccounting Officer (Specialist).
*OR II
Experience:Four years ofincreasingly responsible professionaltax or benefit accounting, tax auditing,
or field experience in taxlaw compliance or tax-related customer service functions includingat least
one year supervising a variety of complex audits, financial examinations, tax-related customer service
functions or tax compliance work. [Experience in California state service applied toward this
requirement must include at least one year performing the duties of a class with a level of responsibility
equivalent to that of Tax Auditor III, Employment Development Department; Senior Tax Compliance
Representative (Specialist); Senior Tax Compliance Representative (Supervisor); Senior Accounting
Officer (Supervisor); or Senior Accounting Officer (Specialist).]
AND
Education: Equivalent to graduation from college, with a specialization in
accounting, business
administration, public administration or economics.
*
NOTE:
Applicants who meet the experience requirement for Pattern II ("equivalent to graduation from
college with a specialization in
accounting, businessadministration, public administration or
economics")
must submit proof at the time of filing with the Examination Application (STD 678) (see
filing instructions sectionlisted below). The proof provided must be transcripts or a diploma from an
accredited institution.
Educational proof must be in English or an official English translation (i.e., an accredited college,
university, or private institution that translates the degree/transcripts verbatim and explains whatthe
degree/course is equivalent to in the United States). All evidence/proof will become the property of
EDD.
SPECIAL REQUIREMENTS
All employees must be willing to travel and work away from the office.

Tax Administrator I, EDD Page 3
FILING INSTRUCTIONS
Examination Applications (STD. 678) are available at the California Department of Human Resources
Careers page at
//jobs.ca.gov/pdf/std678.pdf

.
All Examination Applications must be
POSTMARKED

no later than the final filing date in order to be
considered for the examination. Applications not sent through the U.S. Postal Service (i.e., hand carried
to the Human ResourceServices Division) must be
RECEIVED BY 5:00 P.M. ON THE FINAL FILING
DATE.
Use ofEDD metered mail, interoffice mail (e.g., red or gold bag), and faxed applications are
prohibited. Submit applications directlyto:
MAILING ADDRESS:
Employment Development Department
Human Resource Services Division, MIC 54
P.O. Box 826880
FILE IN-PERSON ADDRESS:
Employment Development Department
Human Resource Services Division, MIC 54
751 N Street, 6th Floor Solar Building
Sacramento, CA95814
NOTE
:

All Applications MUST include a current, valid email address as examination material may be
sent via e-
mail, e.g., examination notices, access to examination material, etc. It is the candidate's
responsibility to ensure the email address listed on their application is current and valid. Failure to
provide a current and valid email address may result in non-receiptof exam information in a timely
manner which could result in disqualification from the examination.
Applications must also contain the following information: "to" and "from" dates (month/day/year) of
employment, time base, civil service class title(s), and range, if applicable. In addition, college course
information MUST include: title, semester or quarter credits, name of institution, completion dates, and
degree (if applicable). Applications received without this information may be rejected.
SPECIAL TESTING ARRANGEMENTS
If you need an accessible test location, an interpreter, or other special testing arrangementsbecause of
a disabling condition or your religious beliefs, please complete question 2 and/or 3 on page 1 of the
Examination Application (STD 678). You will be contacted and necessary arrangements will be made.
This examination will consist of a
Qualifications Assessment

weighted 100%. In orderto obtain a
position on the eligible list, a minimum rating of 70% must be attained.
QUALIFICATIONS ASSESSMENT
–
WEIGHTED 100%
It is anticipated that candidates who meet the minimum qualifications for this exam will be sent an email
the week of
April 1, 2014

to the e-mail address provided on their application, which will contain a link to
access the Qualifications Assessment to complete.
It is the candidate's responsibility to contact the Human Resource Service
s Division at
EDDExaminations@edd.ca.gov
if they have not received an email by Thursday, April 3, 2013

. Please
monitor your e-mail account's SPAM, Junk, Bulk, etc. folder(s) as the examination e-mail may be
filtered depending on their specific account settings.
COMPETITORS WHO DO NOTCOMPLETE THE QUALIFICATIONS ASSESSMENT OR DO NOTSUBMIT IT
BY THE DUE DATE WILL BE DISQUALIFIED FROM THE EXAMINATION PROCESS.

Tax Administrator I, EDD Page 4
KNOWLEDGE OF:
1.
Current leadership principles, practices and skills.
2.
The Department's Equal Employment Opportunity (EEO) program objectives, a leader's role in
the EEO program, and the processes available to meet the EEO objectives.
3.
The Government Code, principles and practices of personnel management, employer/employee
relations under the provisions ofthe Ralph C. Dills Act, and negotiated collective bargaining unit
ABILITY TO:
1.
Effectivelyrepresent the Department on multi-organizationalteams as leader, member, and/or
facilitator.
2.
Create a work environment that stimulates learning, encouragesgrowth and feedback,
addresses inadequate performance,and reco
gnizes staff's contributions, accomplishments, and
individual achievements to ensure peak performance.
3.
Developand implement strategic, tactical, and operationalplans and lead the organization (e.g.
unit, office orsection) in achieving its goals.
4.
Manage multiple projects and priorities and make data-based decisions.
5.
Ensure that quality management and continuous process improvement are practiced in the
organization, with an emphasis on customer service/satisfaction and accountability.
6.
Communicate effectively to a variety of internal and external audiences.
7.
Foster collaborative partnerships within and across organizations.
8.
Effectively contribute tothe Department's Equal Employment Opportunity objectives.
9.
Understand and fulfill management responsibilities under the Ralph C. Dills Act (State
Employer/Employee Relations) and negotiate collective bargaining unit agreements.
ELIGIBLE LIST INFORMATION
A departmental promotionaleligible list will be established for use by the Employment Development
Department. Eligibility expires
12
months after it is established unless the needs of the services and
conditions of list warrant a change in this period.
COMPETITORS MAY COMPETE ONLY ONCE IN ANY CONSECUTIVE
12
-MONTH PERIOD.
CAREER CREDITS
Career Credits will not be added to the final score of this examination.
CONTACT INFORMATION
The EDD encourages all potential applicants to read this entire bulletin. All inquiries about this
examination should be directed to
EDDExaminations@edd.ca.gov.

Please include the examination title,
Tax AdministratorI,
EDD
in the subject line. Also, you may contact the Exam Hotline at
(916) 654-6869.

Tax Administrator I, EDD Page 5
VETERANS' PREFERENCE
Will be awarded pursuant to Government Code Section 18973.1, effective January 1, 2014, as follows:
1.
Any veteran, widow or widower of a veteran, or spouseof a100 percent disabled veteran, who
achieves a passing score in an entrance examination, shall be ranked in the top rank of the
resulting eligibilitylist. Anyveteran who has been dishonorably discharged or released is not
eligible for veteran's preference.
2.
An entrance examination is defined, under the law, as any open competitive examination.
3.
Veterans Preference is not granted once a person achieves permanent civil service status.
Veterans' Preference credits
will not
be granted in this examination as it does notmeet the
requirementsto qualify for Veterans' Preference credit.
HOW TO APPLY FOR VETERANS PREFERENCE
The California Department of Human Resources (CalHR) has information on how to apply for Veterans
Preference on their website at
www.jobs.ca.gov
and on the Application for Veterans Preference form
(
CalHR 1093
). Additional information is also available at the Department of Veterans Affairs website at
EQUAL EMPLOYMENT OPPORTUNITY
California State Government
–
An Equal Opportunity Employer to all regardless of race, color, creed,
national origin, ancestry, sex, marital status, disability, religious or political affiliation, age, or sexual
orientation.
DRUG FREE STATEMENT
It is an objective ofthe State ofCalifornia to achieve a drug-free state work place. Anyapplicant for
state employment will be expected to behave in accordance with this objective because the use of
illegal drugs is inconsistent with the law of the State, the rules governing civil service and the special
trust placed in public servants.

EMPLOYMENT DEVELOPMENT DEPARTMENT
Human Resource Services Division, MIC 54
P.O. Box 826880
Sacramento, CA 94280-
0001
Telephone/Exam Hotline: (916) 654-6869
Website: www.edd.ca.gov
California Relay Service for Hearing Impaired:
From TDD Phone: (800) 735-

2929
From Voice Phone: (800) 735-

2922
TDD is a Telecommunications Device for the Deaf and is reachable only from telephones equipped with a TDD device.
GENERAL INFORMATION
THE EMPLOYMENT DEVELOPMENT DEPARTMENT(EDD)
reserves the right to revise the examination
plan to better meet the needs of the service if the circumstances change under which this examination
was planned. Such revision will be in accordance withcivilservice laws and rules and all candidates
will be notified.
IT IS THE CANDIDATE'S RESPONSIBILITY
to contact the Employment Development Department,
Human Resource Services Division
at
(916) 654-6869, three weeks after the FINAL FILING DATE if
he/she has not received a notice via email or U.S. mail.
If you meet the requirements stated on this bulletinyou may take this examination, which is
competitive. Possession of the entrance requirement(s) does not ensure a place on the eligible list.
Your performance in the examination described on this bulletin will be compared with the performance
of the other candidates whotake this examination, and all candidates who pass will be ranked
according to their scores.
EXAM APPLICATIONS (STD 678)
are available on the Internet

at

//jobs.ca.gov/pdf/std678.pdf
GENERAL QUALIFICATIONS:
Candidates must possess essential personal qualifications including
integrity, initiative, dependability, good judgment, an abilityto work cooperativelywith others, and a
state of health consistent with the ability to perform the assigned duties of the class.
ELIGIBLE LISTS:
Eligible lists established by competitive examination, regardless of date, must be used
in the following order: 1) sub-divisional promotional, 2) departmental promotional, 3) multi-departmental
promotional, 4) service-wide promotional, 5) departmental open, 6) open eligible list. When there are
two lists of the same kind, the older must be used first. Eligible lists will expire in one to four years
unless otherwise stated on this bulletin. In the case of continuous testingexaminations, names are
merged into the appropriate eligible lists in order of final examination scores regardless of the date of
the examination and the resulting eligible lists will be used only to fill vacancies in the area shown on
the bulletin.
PROMOTIONAL EXAMINATIONS ONLY:
Veterans

'

Preference Points are not granted in promotional
examinations. Competition is limited to those applicants who meet one of the criteria listed on page 1 of
this bulletin. Under certain circumstances other employees may be allowed to compete under
provisions of Rules 234, 235, and 235.2. State Personnel Board Rules 233, 234, 235, 235.2, and 237
contain provisions regarding civil service status and eligibility for promotional examinations. These rules
may be reviewedat the EDD's Human Resource Services Division, at the State Personnel Board, and
on the Internet at www.jobs.ca.gov.