Fillable Printable Monthly Budget Worksheet
Fillable Printable Monthly Budget Worksheet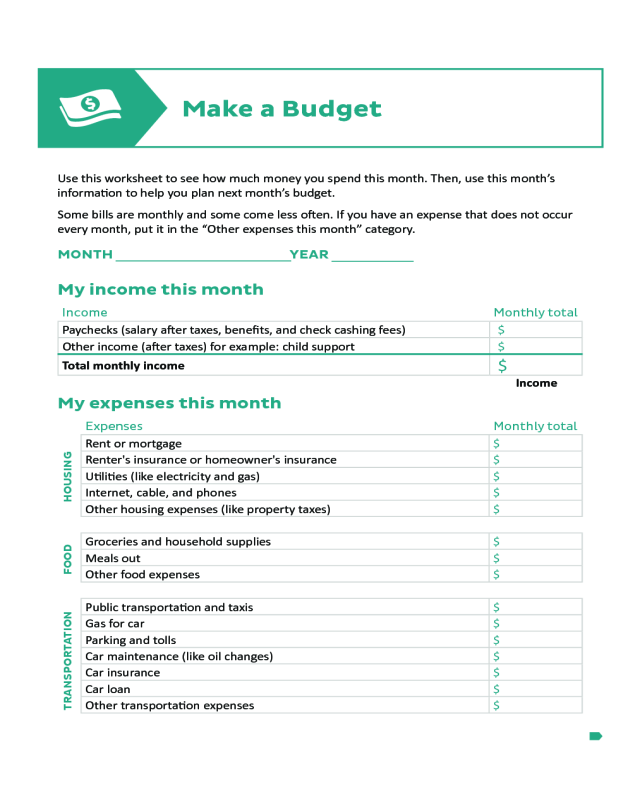 Monthly Budget Worksheet

Make a Budget
Use this worksheet to see how much money you spend this month. Then, use this month's
informaon to help you plan next month's budget.
Some bills are monthly and some come less oen. If you have an expense that does not occur
every month, put it in the "Other expenses this month" category.
MONTH YEAR
My income this month
Paychecks (salary aer taxes, benets, and check cashing fees)
$
Other income (aer taxes) for example: child support
$
Total monthly income
$
My expenses this month
Renter's insurance or homeowner's insurance
$
Ulies (like electricity and gas)
$
Internet, cable, and phones
$
Other housing expenses (like property taxes)
$
Groceries and household supplies
$
Public transportaon and taxis
$
Car maintenance (like oil changes)
$
Other transportaon expenses
$
HOUSINGFOODTRANSPORTATION
Income

September 2012 | Federal Trade Commission | consumer.gov
Make a Budget
Other health expenses (like doctors' appointments and eyeglasses)
$
Money given or sent to family
$
Entertainment (like movies and amusement parks)
$
Other personal or family expenses (like beauty care)
$
Fees for cashier's checks and money transfers
$
Prepaid cards and phone cards
$
Bank or credit card fees
$
School costs (like supplies, tuion, student loans)
$
Other payments (like credit cards and savings)
$
Other expenses this month
$
Total monthly expenses
$
HEALTH
PERSONAL AND FAMILY

FINANCEOTHER
$
Maybe your income is more than your expenses. You have money le to save or spend.
Maybe your expenses are more than your income. Look at your budget to nd expenses to cut.
Expenses
Expenses
Income