Fillable Printable Mv Statementof Facts
Fillable Printable Mv Statementof Facts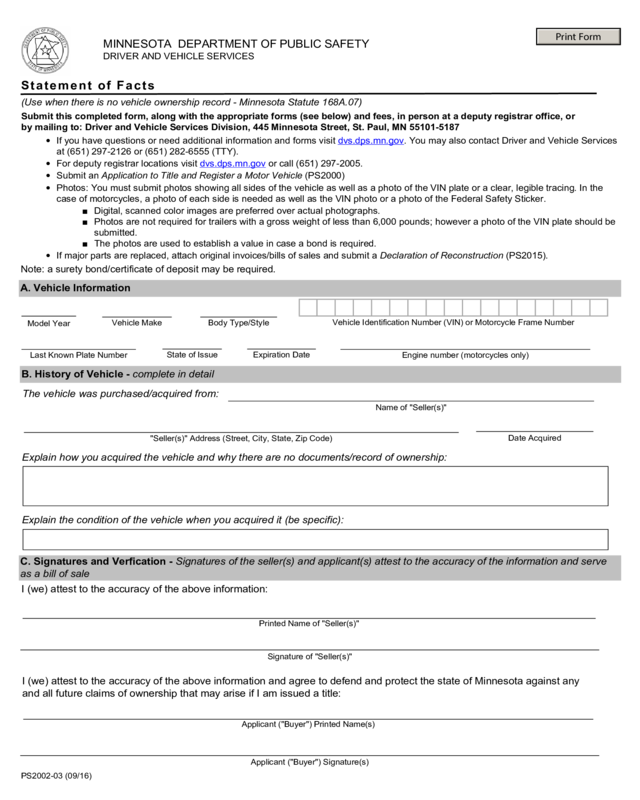 Mv Statementof Facts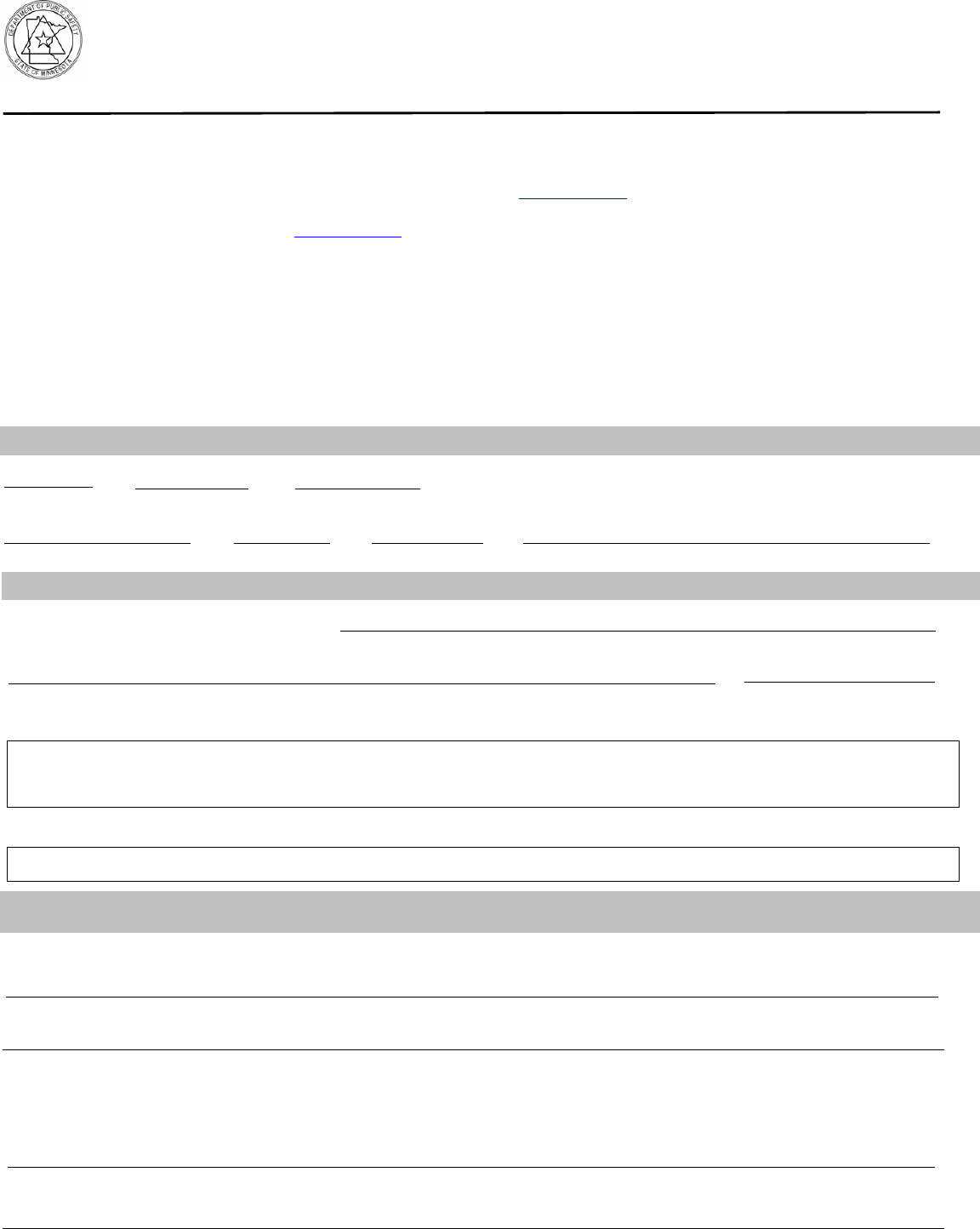 Statement of Facts
MINNESOTA DEPARTMENT OF PUBLIC SAFETY
DRIVER AND VEHICLE SERVICES
•
If you have questions or need additional information and forms visit

dvs.dps.mn.gov

. You may also contact Driver and Vehicle Services
at (651) 297-2126 or (651) 282-6555 (TTY).
•
For deputy registrar locations visit

dvs.dps.mn.gov

or call (651) 297-2005.
•
Submit an

Application to Title and Register a Motor Vehicle

(PS2000)
•
Photos: You must submit photos showing all sides of the vehicle as well as a photo of the VIN plate or a clear, legible tracing. In the
case of motorcycles, a photo of each side is needed as well as the VIN photo or a photo of the Federal Safety Sticker.
■
Digital, scanned color images are preferred over actual photographs.
■
Photos are not required for trailers with a gross weight of less than 6,000 pounds; however a photo of the VIN plate should be
submitted.
■
The photos are used to establish a value in case a bond is required.
•
If major parts are replaced, attach original invoices/bills of sales and submit a

Declaration of Reconstruction

(PS2015).
Submit this completed form, along with the appropriate forms (see below) and fees, in person at a deputy registrar office, or
by mailing to: Driver and Vehicle Services Division, 445 Minnesota Street, St. Paul, MN 55101-5187
Model Year
Vehicle Make
A. Vehicle Information
Body Type/Style
Vehicle Identification Number (VIN) or Motorcycle Frame Number
Engine number (motorcycles only)Last Known Plate Number
State of Issue
Expiration Date
Note: a surety bond/certificate of deposit may be required.
B. History of Vehicle -
complete in detail
The vehicle was purchased/acquired from:
Name of "Seller(s)"
"Seller(s)" Address (Street, City, State, Zip Code)
Explain how you acquired the vehicle and why there are no documents/record of ownership:
Explain the condition of the vehicle when you acquired it (be specific):
Date Acquired
(Use when there is no vehicle ownership record - Minnesota Statute 168A.07)
C. Signatures and Verfication -
Signatures of the seller(s) and applicant(s) attest to the accuracy of the information and serve
as a bill of sale
I (we) attest to the accuracy of the above information:
I (we) attest to the accuracy of the above information and agree to defend and protect the state of Minnesota against any
and all future claims of ownership that may arise if I am issued a title:
Printed Name of "Seller(s)"
Signature of "Seller(s)"
Applicant ("Buyer") Printed Name(s)
Applicant ("Buyer") Signature(s)
PS2002-03 (09/16)