Fillable Printable Notification Of Name Change Form
Fillable Printable Notification Of Name Change Form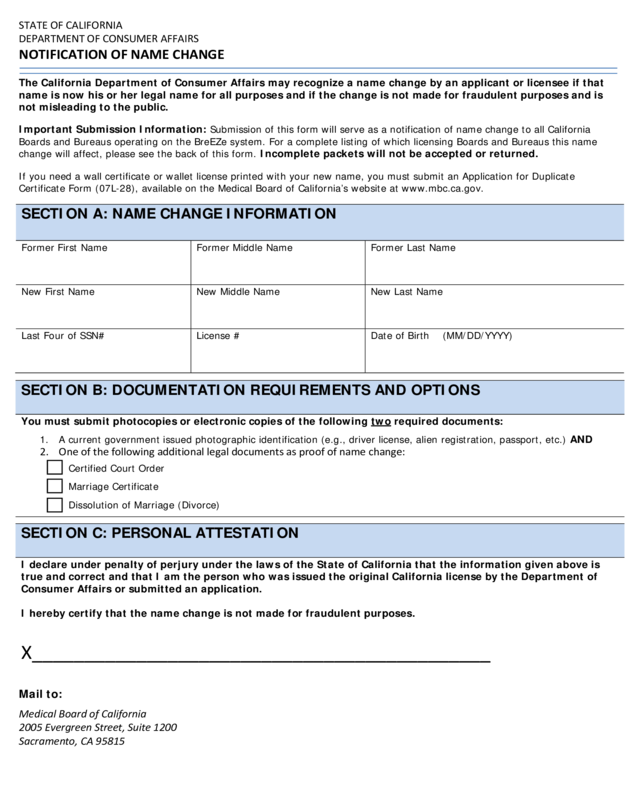 Notification Of Name Change Form

STATE OF CALIFORNIA
DEPARTMENT OF CONSUMER AFFAIRS
NOTIFICATION OF NAME CHANGE
The
California

Depa r t ment of Consu m er Affa irs ma
y recognize a name change by an applicant or

licensee if that
name is now
his or her l ega l na

me for all purposes and if the
change is
not made for fraudulent purposes and is
not misleading to the public
.
Important Submission Information:
Submissio n of this form will serve as a notification of name change to all California
Boards and Bureaus operating on the BreEZe system.
For a complete

listing of which licensing Boards and Bureaus this name
change will affect, please see the back of this form.
Incomplete packets will not be accepted or returned.
If you need a wall certificate or wallet license printed with your new name, you must submit a n Application for Duplicate
Certificate Form (07L
-

28), available on the Medical Board of California's website at www.mbc.ca.gov.
Mail to:
Medical Board of California
2005
Evergreen S

treet

, Suite

1200
SECTION A: NAME CHANGE INFORMATION
Date of Birth (MM/DD/YYYY)
SECTION
B
: DOCUMENTATION REQU IREMENTS AND OPTIONS
You must submit photocopies or electronic copies of the following
two
requ ired doc uments

:
1.
A current government issued photographicidentification (e.g., driver license, a lien registration, passport, etc.)

AND
2.
Oneof the following

additional

legal documents as proof of name change

:


Dissolution of Marriage (Divorce)
SECTION
C

:
PERSONAL
ATTESTATION
I declare under penalty of perjury under the l
aws of the State of California
that the information given above is
true
and correct and that I am the person who was issued the original Calif

ornia lic ense by the Department of
Consumer Affairs or
submitted an application.
I hereby certify that the name change is not made for fraudulent purposes
.
X____________________________________________

STATE OF CALIFORNIA
DEPARTMENT OF CONSUMER AFFAIRS
NOTIFICATION OF NAME CHANGE
Boards and Bureaus this Name Change will
affect
:
Submission of this form will serve as a notification of na me change to all California Boards and Bureaus opera ting on the Bre
EZe
system. Below is a list of the licensing Boards and Bureaus currently
on the BreEZe system. If you hold a license with a Board or
Bureau which is
notcurrently on the BreEZe system, you must submit a separate name change formdirectly

to that progr am.
•
California Board of Barbering and Cosmetology
•
California Board of Behavioral Sciences
•
Dental Board of California
•
Dental Hygiene Committee of California
•
Medical Board of Calif or nia
•
California Bureau of Naturopathic Medicine
•
Board of Occupational Therapy
•
Cal iforn ia Boar d of Optom etry
•
Osteopath

ic Medical Board of California
•
Physician Assist ant Board
•
Board of Podiatric Medicine
•
California Board of Psychology
•
Board of Re gis t er e d Nu r s in g
•
Bureau of Security and Investigative Services
•
Veterinary Medical Board
•
Board of Vocational Nursing and Psychiatric Technicians

Check this box if you hold a license with two or more of these programs
Mail to:
Medical Board of California
2005
Evergreen S

treet

, Suite

1200