Fillable Printable Printable Personal Development Plan Example
Fillable Printable Printable Personal Development Plan Example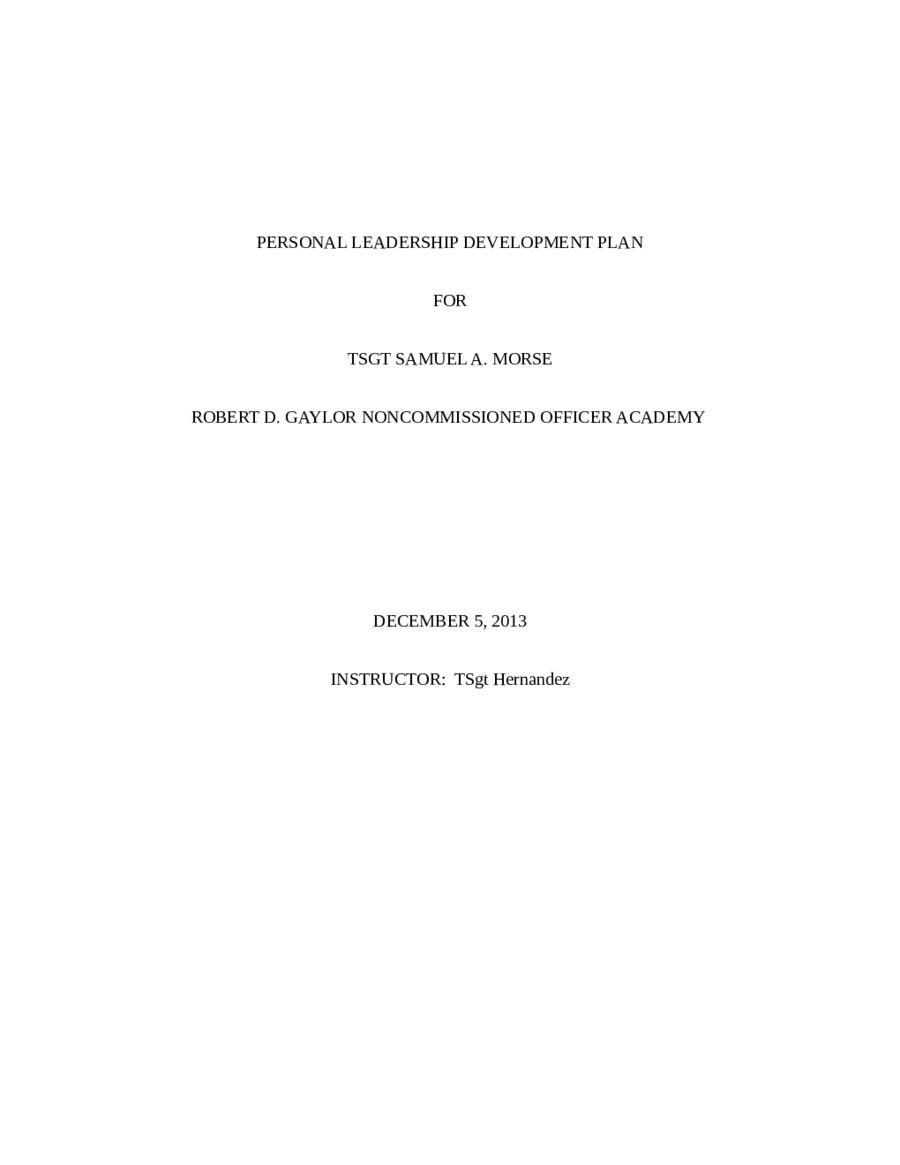 Printable Personal Development Plan Example
PERSONAL LEADERSHIP DEVELOPMENT PLAN
FOR
TSGT SAMUEL A. MORSE
ROBERT D. GAYLOR NONCOMMISSIONED OFFICER ACADEMY
DECEMBER 5, 2013
INSTRUCTOR: TSgt Hernandez

PART I: PERSONALVALUES
Innovativeexpertise
isessentialintoday'sconstantlychangingenvironment.Whileexpertise
providestheexactrightanswertoapreviouslyseenproblem,innovativeexpertisegivesthe
cognitiveflexibilitytomeetnewchallengesandfindmoreefficientwaystosolvecurrent
problems. I pride myself on my ability to adapt and overcome both as a leader and as a follower.
Moral courage
in theface of adversity paves the way for therest of my personal values. It's the
foundationonwhichwecangetthemissioncompletedthe rightwayattherighttime.It isalso
the foundation oftrust amongst my peers, mysubordinates, and myself.A strong moralcompass
and a truthful tongue can solve the biggest of problems.
A
focus on mission success
may seem tobe an obvious value when itcomes to leadership, but I
think it deserves specificconsideration. All the hard work inthe world is meaningless if the goal
isnotmetorthetaskisleftundone. Thisisalsothefinelinebetweendoingwhatisaskedand
doing what is needed. We must always strive to look beyond the task at hand and make sure what
we do paves the way for both current and future success.
Loyaldissent
isaconceptborrowedfrommylastwingcommander,Col.Mark August.Itisa
valueinboth mysubordinatesand myself. Theconcept ofloyal dissent isvoicing concerns and
trepidationswiththesoleintentofthebettermentoftheorganization.Byencouragingloyal
dissent,I cancreateanatmosphere where purposeandprinciple aresetaheadofegos andeven
careers.It allowsproblemsto besolved before thebecometoo big to handle at the lowest level
and keeps my subordinates engaged in the task at hand, giving them ownership of the process.
Professionaldevelopment
inbothskillsknowledgeandmanagerialknowledgecannotbe
understated. Stagnation is the death morale and productivity. Continuous learning and
developmentcanleadtofresh,newideasandpossibilities.InPublic Affairs,thisisespecially
true because market trends and public opinion are constantly shifting. Only through research and
developmentcanaPA professionaladapttothoseshiftsandcommunicatethe AirForcestory
effectively.
2

PART II: Leadership Vision Statement
Asaleader,Iwanttofollowthetransformationalleadershipmodel.Ishouldbetheidealized
influence,a person ofundisputed expertiseandmoralcourage.I should beinspirational,driving
my subordinates to work their hardest because they know I accept nothing but the best from them
andbecausetheytakepersonalsatisfactioninajobwell-done.Ishouldbegivingmy
subordinates individualized consideration, so they know how much I care, and that this is not just
ajob for me. Ishouldalso beabletointellectuallystimulatemy subordinatessotheyknowthe
onlydumbquestionisthe one never asked,and that theyare freetoexceedthepossibilities set
by their forebears.
Mygoalwith every teamIhaveled, andeveryteamIleadin thefuture, isto havemy team set
thebarforothers,tobetheorganizationthatistheundisputedleaderininnovation,integrity,
service,and excellence.My teamwill betheoneotherslooktowhentheywant to seehowthe
mission
should
be done, as well as the one others wish they could be a part of.
AsIascendtohigherlevelsofleadership,thisconceptwillnotchange.IfIamaMAJCOM
functional,my MAJCOM will bethe besttrainedandmostequipped.IfI work for theDefense
MediaActivityorAirForcePublicAffairsAgency,wewillbetheenvyofourcivilian
counterpartsandsisterservices.IntheoffchanceImakeittobeChiefMasterSergeantofthe
Air Force, I will pen an new chapter of excellence in the world's greatest Air Power.
3
PART III: STRENGTHS AND WEAKNESSES
Throughout this course, I identified a number of strengths and weaknesses.
My first strength is my
ability to communicate an idea
, regardless of medium. This largely ties
to my job as a military photojournalist, but my communicative ability stems from my upbringing
amongst teachers and creative professionals. Everything from playing word games on car trips to
myeventualcollegiatetraininginvisual communications setthestageformy successes.Addto
that five years of PublicAffairsexperience and I've learned how toeffectively convey a concept
or change an opinion using the least amount of words possible. That's not to say my writings and
speeches are short, but rather that everything supports the idea and nothing is repeated.
AnotherstrengthI'veidentifiedismy
predispositiontomediationandnegotiation
.Perhaps
thisisanotherskillfrommyupbringing,actingasthemediatorbetweentwofightingsisters.
While I'mnotgenerallydecisivemyself, Icangenerallywork withtwoor morepeopletocome
toamutuallybeneficialdecision.Thishasbeenparticularlyevidentintheinterpersonal
communication lessons, despite not doing so well on the formative exercise.
During the four lenses lesson, I realized that
I have a unique combination of cold analysis and
empathy
(i.e.acombinationofblueandgreenasmyprimarycolor).Whilethiscanbea
weaknessduetotheinherentdiscordofpolaropposites,Iseethisasastrengthaswell.The
empathyinparticularisusefultomeasaleader,andsomethingIfeelIshouldtapintomore.
Finding abalance betweenthetwo willbe key, as wellas deferringtothe appropriateside when
selecting a leadership style for a given situation.
A definite weakness I've realized is my
lack of traditional credentials
. I have two certifications
anda bevvy ofothernon-traditionalcredentials,buttheAirForceneedsother"boxeschecked."
I'veknownforawhilethatI'dliketobeatechschoolinstructor,but Iseemtohaveforgotten
thatIneedmyCCAFforthatposition.Iwillalsoneedabachelor'sdegreetoreallybe
competitive for SMSgt and CMSgt.
Another weakarea ismy
personal resiliency
. Perhapspart ofhaving adominancein blue and a
lackofgoldhasmademesomeone who wearsmyheartonmy sleeve anddoesn't always make
time to take care of myself. Many of the resiliency mechanisms discussedin class are missing in
my life. I need to find ways to prevent myself from burning out and taking things too personally.
My last weakarea wasactually the firstidentified, my
terrible memory
, especially withnames.
Whilenotnecessarilyanaspectofthecoursematerial,itposedproblemswhenIneededto
address my classmates.Ithascaused problems formyjob aswell,beingin acareerwhichdeals
withpeople onaregular basis. MyOICeven madeacommentaboutitshortlybeforeI leftfor
NCOA, and made the observation that memory can be improved with deliberate practice.
4

PART IV: DEVELOPMENTACTION PLAN
I planto continuedevelopingmy communicationskills throughworkshops andprograms hosted
bytheDefenseInformationSchool(DINFOS)suchastheWorldwideMilitaryPhotography
Workshop (WMPW) and Public Affairs Qualification Course (PAQC) as well as local workshops
hostedby organizations suchasthe"Top3."Many oftheworkshops areyearly, whereasPAQC
isaone-shotitem.PAQCshouldbecompletedwithinthenextfiveyearstopreparefora
superintendentrole,classopeningpermitting.Successcanbemeasuredbytransitioningfrom
participanttomentorinworkshopsandwinninghigher-levelawardsintheDoDinformation
awardsprograms.Successcanalsobemeasuredbythesuccessesofpackagesforsubordinate
awards/decorations, or effectiveness of Public Affairs communications plans.
Mediationandempathy are somewhatinnateskills. Myprimarymeans ofdeveloping them will
beto use themwheneverpossible. In thebalanceofmyempathic and analyticsides,itwilltake
deliberateobservationoftheeffecteachsidehaswhenitisusedonagivensituation,finding
patternstogetabetterfeelforwhenoneisbetterthantheother.Leadershipdevelopment
workshopsheldatwhateverbaseI'mstationedatwouldbeagoodsecondarymeansof
development. Successcan bemeasuredby degreeof successin mediation sessions with Airmen,
aswellasmyabilitytoactonmyempathyandanalysis,creatingreferentpowertohelpmy
Airmen.I'mestimatingpromotiontoMSgtwithinthenextfiveyears,soIshouldhavethat
referent power developed by then.
Iplantoincreasemytraditionalcredentialsbaseknowledgeforfutureadvancementthrough
education.Withinthenextyear,IplantofinishmyCCAFdegreeasIapplyforabachelor's
degreeprogram.Myideal programwould bethenewBachelorofSciencein MusicProduction
degreefromBerkleeCollegeofMusicinBoston,Mass.Thiswillnotonlyhelpwithmy
credentials, settingme upfor special dutiessuch astechschool instructor,but alsohelp withmy
audio-visualskillsdevelopmentaswell.Assumingthebachelor'sdegreecanbecompleted
within the next five years, a possible subsequent degree could be the Master's of Science in New
MediaJournalismfromFullSailUniversity.Successwillbemeasuredbycompletionof
degree(s).
Mypersonalresiliencycan definitelyuse somework. I planto takeadvantageof classes hosted
bybaseagenciessuchasthechapel,HealthandWellnessCenter,andtheAirman&Family
ReadinessCenter. Thereisnospecifictimeframe fortheseclasses,butsuccesscan bemeasured
by evening out the manic cycles of work and rest I fall into, as well taking my job less personally
while still maintaining a dedication to the mission. This will certainly be easier said than done.
Memory will be both the hardest and most straightforward weakness to remedy. I plan to make a
consciousefforttoreadthenametapesandranksofeveryoneIencounteratworkandpractice
memorizing them. Hopefully, exercising my brain in this fashion will make memorization easier,
as well as make the commission of names to memory habit rather than the exception. Eventually,
this should transfer to names givenover the phone as well. Practicing by memorizing names and
datespresentedinthehistoryportionofthePDGcouldhelptoo,withtheaddedbenefitof
makingmemorereadyforpromotiontesting.SuccesswillbemeasuredbyhoweasilyIcan
remember names each year. If this process alone is insufficient to improve my memory, there are
other avenues and resources, such as internet-based memory exercises, which could help.
5