Fillable Printable Prenuptial Agreement Form - OCR
Fillable Printable Prenuptial Agreement Form - OCR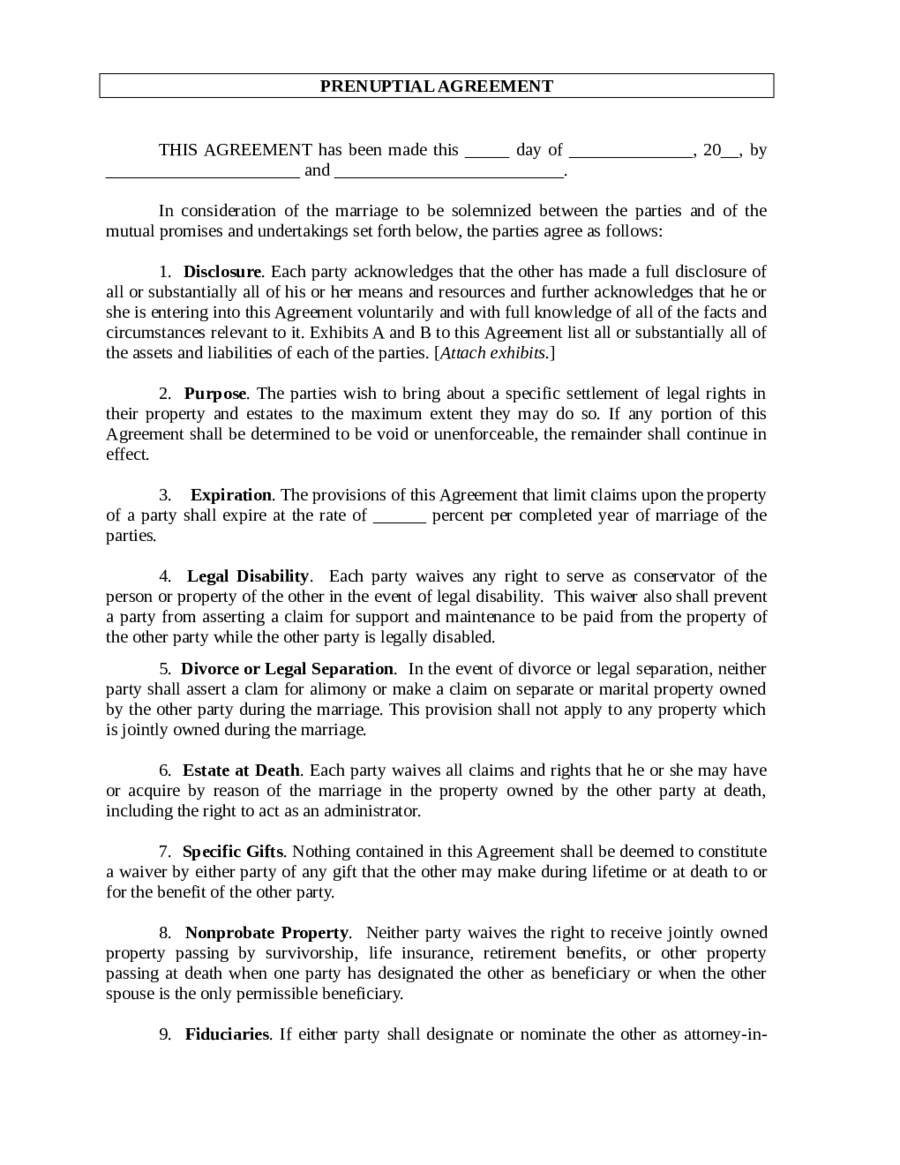 Prenuptial Agreement Form - OCR

PRENUPTIALAGREEMENT
THIS AGREEMENThasbeenmadethis_____dayof______________,20__,by
______________________ and __________________________.
Inconsiderationofthemarriagetobesolemnizedbetweenthepartiesandofthe
mutual promises and undertakings set forth below, the parties agree as follows:
1.
Disclosure

.Eachpartyacknowledgesthatthe otherhasmadeafull disclosureof
all or substantially allof his or her means andresources and further acknowledges thathe or
she is entering into thisAgreement voluntarily and with full knowledge of all of the facts and
circumstances relevant to it. ExhibitsA and B to thisAgreement list all or substantially all of
the assets and liabilities of each of the parties. [
Attach exhibits.
]
2.
Purpose
.Thepartieswishtobringaboutaspecificsettlementoflegalrightsin
theirpropertyandestatestothemaximumextenttheymaydoso.Ifanyportionofthis
Agreementshallbedeterminedtobevoid orunenforceable,theremaindershallcontinuein
effect.
3.
Expiration
. The provisions of this Agreement that limit claims upon the property
ofapartyshallexpireattherateof______percentpercompletedyearofmarriageofthe
parties.
4.
LegalDisability
.Eachpartywaivesanyrighttoserveasconservatorofthe
person or property of the other in the event of legal disability. This waiver also shall prevent
apartyfromassertingaclaimforsupportandmaintenancetobepaidfromthepropertyof
the other party while the other party is legally disabled.
5.
Divorce or Legal Separation

. In theevent ofdivorce or legalseparation, neither
party shallassert aclam for alimonyor makea claim onseparate ormarital propertyowned
by theother party during themarriage. Thisprovision shallnot applyto anyproperty which
is jointly owned during the marriage.
6.
Estate atDeath
. Eachparty waives all claimsand rightsthat he orshe mayhave
oracquirebyreasonofthemarriageinthepropertyownedbytheotherpartyatdeath,
including the right to act as an administrator.
7.
Specific Gifts
. Nothing contained in this Agreement shall be deemed to constitute
a waiverby eitherparty of anygift thatthe other maymake duringlifetime orat death toor
for the benefit of the other party.
8.
NonprobateProperty

.Neitherpartywaivestherighttoreceivejointlyowned
propertypassingbysurvivorship,lifeinsurance,retirementbenefits,orotherproperty
passingatdeathwhenonepartyhasdesignatedtheotherasbeneficiaryorwhentheother
spouse is the only permissible beneficiary.
9.
Fiduciaries
.Ifeitherpartyshalldesignateornominatetheotherasattorney-in-
fact, guardian,conservator, executor,trustee, orother fiduciary in aninstrumentsigned after
the date of this Agreement, the party so designated or nominated shall be entitled to act under
the provisions of such instrument or an order of court, as the case may be.
10.
EntireAgreement

.ThisAgreementcontainstheentireunderstandingofthe
parties. Thereareno representations,warrantiesorpromisesotherthanthose expresslyset
forth in it.
11.
Amendment
. This Agreement may only be amended in a writing signed by each of
the parties. Theirattorneys-in-factand other legalrepresentativesmay not actin theirbehalf
in amending it.
INWITNESSWHEREOF,thepartiesheretohavecausedthisinstrumenttobe
executed as of the date first above written.
______________________________ _____________________________
Witness
___________________________________________________________
Witness
STATE OF TENNESSEE
COUNTY OF _______________________
Personallyappearedbeforeme________________________________and
_____________________________,withwhomIampersonallyacquainted,andwho
acknowledged that they signed this agreement for the purposes stated in it.
WITNESS my hand at office, this ________ day of ______________, 20___.
_____________________________
Notary Public
My commission expires: ____________________
PRENUPTIALAGREEMENT www.selegal.org PAGE 2