Fillable Printable Promotion Point Worksheet (United States Army Reserve)
Fillable Printable Promotion Point Worksheet (United States Army Reserve)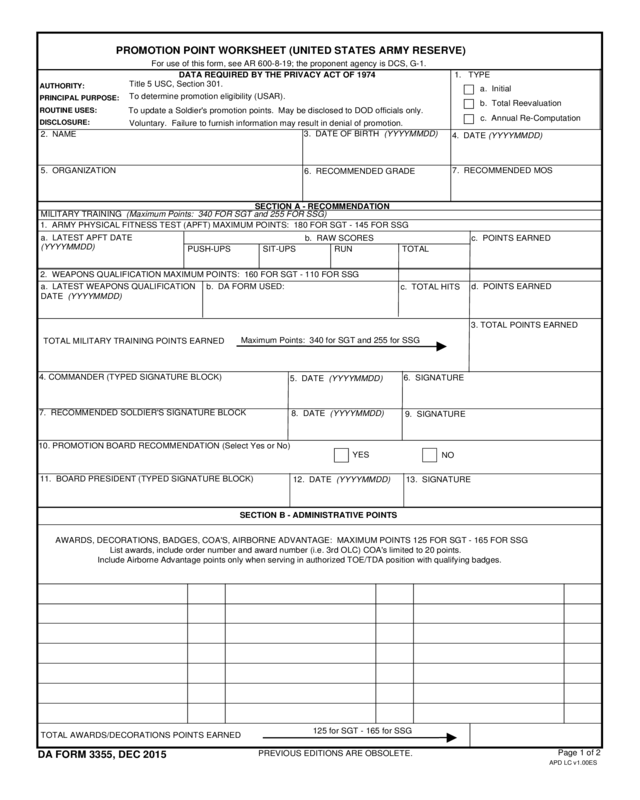 Promotion Point Worksheet (United States Army Reserve)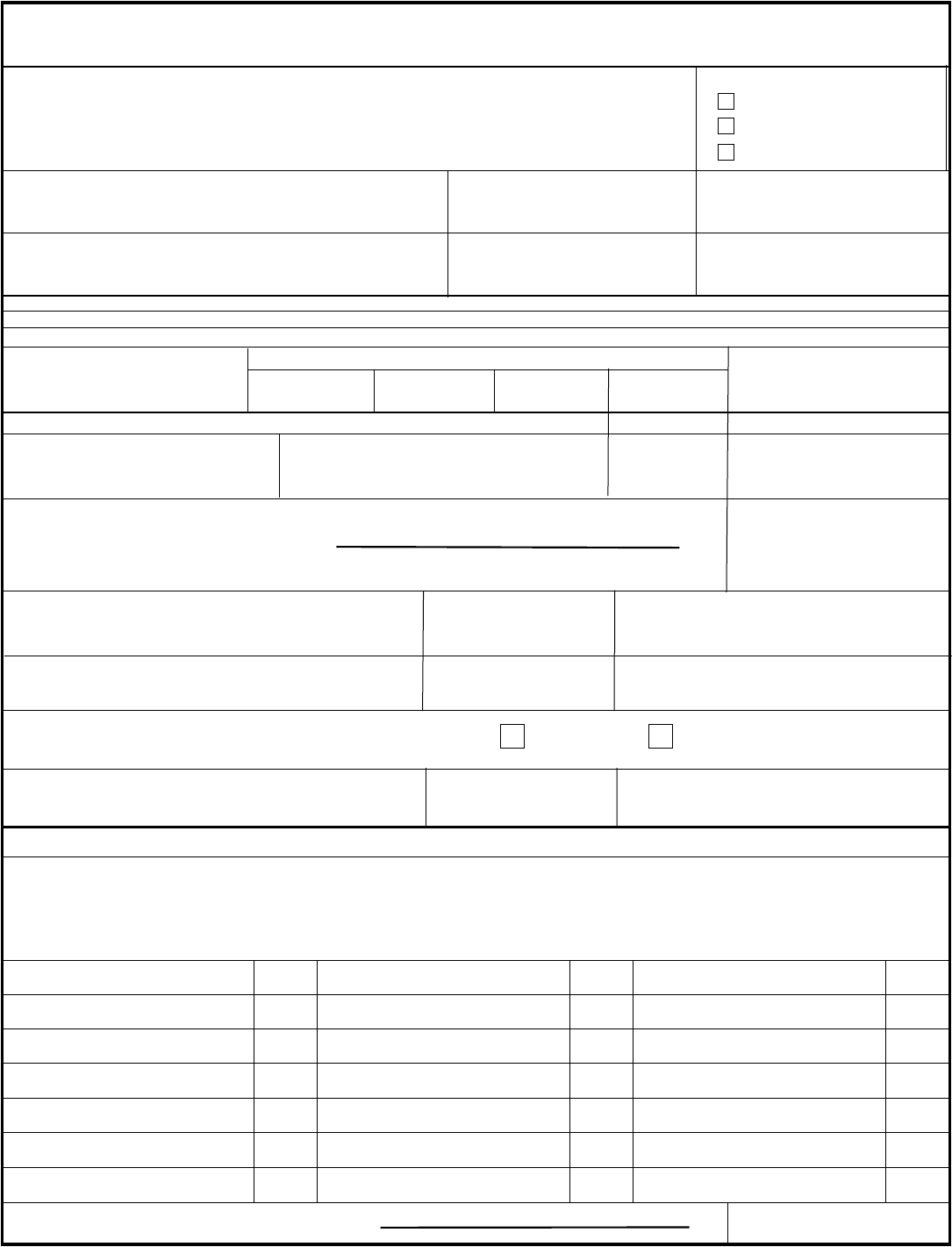 PROMOTION POINT WORKSHEET (UNITED STATES ARMY RESERVE)
For use of this form, see AR 600-8-19; the proponent agency is DCS, G-1.
Title 5 USC, Section 301.
To determine promotion eligibility (USAR).
To update a Soldier's promotion points. May be disclosed to DOD officials only.
Voluntary. Failure to furnish information may result in denial of promotion.
6. RECOMMENDED GRADE
2. NAME
DATA REQUIRED BY THE PRIVACY ACT OF 1974
AUTHORITY:
PRINCIPAL PURPOSE:
ROUTINE USES:
DISCLOSURE:
7. RECOMMENDED MOS
5. ORGANIZATION
SECTION A - RECOMMENDATION
DA FORM 3355, DEC 2015
PREVIOUS EDITIONS ARE OBSOLETE.
3. TOTAL POINTS EARNED
a. LATEST APFT DATE
6. SIGNATURE
4. COMMANDER (TYPED SIGNATURE BLOCK)
b. RAW SCORES
PUSH-UPS
SIT-UPS
RUN
TOTAL
c. POINTS EARNED
a. LATEST WEAPONS QUALIFICATION
c. TOTAL HITS
d. POINTS EARNED
TOTAL AWARDS/DECORATIONS POINTS EARNED
SECTION B - ADMINISTRATIVE POINTS
Page 1 of 2
b. DA FORM USED:
MILITARY TRAINING
(Maximum Points: 340 FOR SGT and 255 FOR SSG)
(YYYYMMDD)
AWARDS, DECORATIONS, BADGES, COA'S, AIRBORNE ADVANTAGE: MAXIMUM POINTS 125 FOR SGT - 165 FOR SSG
APD LC v1.00ES
►
►
1. TYPE
a. Initial
b. Total Reevaluation
c. Annual Re-Computation
3. DATE OF BIRTH
(YYYYMMDD)
1. ARMY PHYSICAL FITNESS TEST (APFT) MAXIMUM POINTS: 180 FOR SGT - 145 FOR SSG
2. WEAPONS QUALIFICATION MAXIMUM POINTS: 160 FOR SGT - 110 FOR SSG
TOTAL MILITARY TRAINING POINTS EARNED
Maximum Points: 340 for SGT and 255 for SSG
9. SIGNATURE
7. RECOMMENDED SOLDIER'S SIGNATURE BLOCK
10. PROMOTION BOARD RECOMMENDATION (Select Yes or No)
YES
NO
13. SIGNATURE
11. BOARD PRESIDENT (TYPED SIGNATURE BLOCK)
List awards, include order number and award number (i.e. 3rd OLC) COA's limited to 20 points.
Include Airborne Advantage points only when serving in authorized TOE/TDA position with qualifying badges.
125 for SGT - 165 for SSG

DA FORM 3355, DEC 2015
TOTAL MILITARY EDUCTION POINTS EARNED
TOTAL CIVILIAN EDUCTION POINTS EARNED
SECTION C - TOTALS POINT COMPUTATION
RECOMMENDATION TO SGT (E5)
CATEGORY
MAXIMUM
MILITARY TRAINING
SECTION D - AUTHENTICATION
1. TYPED OR PRINTED NAME AND SIGNATURE OF ADMINISTRATIVE OFFICIAL
2. GRADE
TOTAL
4. TYPED OR PRINTED NAME OF PROMOTION AUTHORITY
5. SIGNATURE
6. DATE PROCEEDINGS WERE
Counseling statement: (Used only when Soldier is not recommended for promotion). I have been counseled on my promotion status and deficiencies.
7. SIGNATURE OF SOLDIER
9. TYPED OR PRINTED NAME AND SIGNATURE OF
COUNSELOR
APD LC v1.00ES
Page 2 of 2
NAME
SECTION B - ADMINISTRATIVE POINTS
(Continued)
1. MILITARY EDUCATION
(Maximum Points. 200 for SGT and 220 for SSG): List all military education.
PME - NCOES (CL = 20, DHG 40 PTS/Res Mil Trng (80 SGT, 90 SSG) CBT (80 SGT, 90 SSG)
2. CIVILIAN EDUCATION -
(Maximum Points.135 for SGT and 160 for SSG) List all civilian education, certifications, or DLPT (with date).
AWARD/DECORATIONS
MILITARY EDUCATION
CIVILIAN EDUCATION
I certify that the above total points shown have been accurately extracted from appropriate records and promotion list points indicated are correct.
►
►
TOTAL POINTS EARNED
TOTAL POINTS EARNED
POINTS EARNED
RECOMMENDATION TO SSG (E6)
340
125
200
135
800
POINTS EARNED
800
160
220
165
255
MAXIMUM