Fillable Printable Proof Letter From Employer Sample-LANDLORD VERIFICATION FORM
Fillable Printable Proof Letter From Employer Sample-LANDLORD VERIFICATION FORM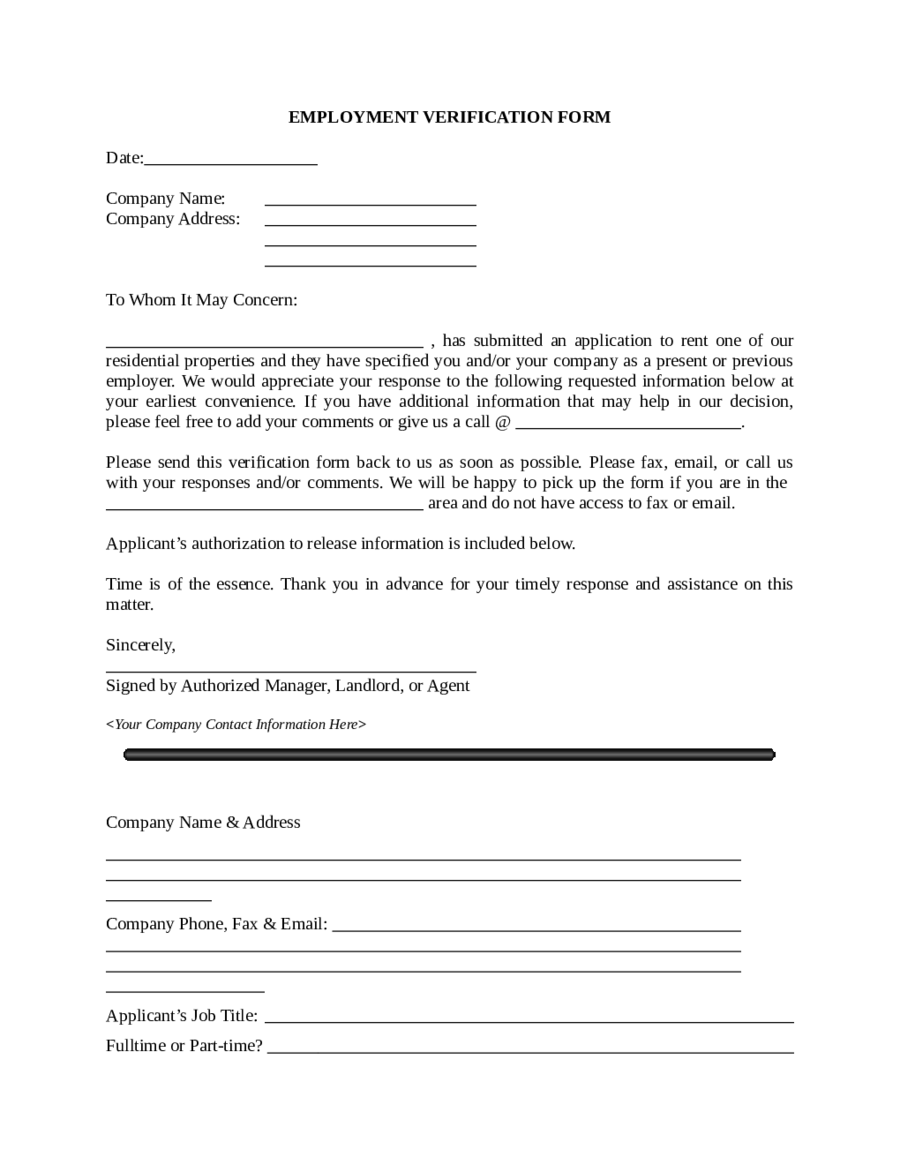 Proof Letter From Employer Sample-LANDLORD VERIFICATION FORM

EMPLOYMENT VERIFICATION FORM
Date:
Company Name:
Company Address:
To Whom It May Concern:
,hassubmittedanapplicationtorentoneofour
residential propertiesand they have specified youand/or yourcompany as apresent or previous
employer.Wewouldappreciateyourresponsetothefollowingrequestedinformationbelowat
yourearliestconvenience.Ifyouhaveadditionalinformationthatmayhelpinourdecision,
please feel free to add your comments or give us a call @ .
Pleasesendthisverificationformbacktousassoonaspossible.Pleasefax,email,orcallus
withyourresponsesand/orcomments.Wewillbehappytopickuptheformifyouareinthe
area and do not have access to fax or email.
Applicant's authorization to release information is included below.
Timeisoftheessence.Thankyouinadvanceforyourtimelyresponseandassistanceonthis
matter.
Sincerely,
Signed by Authorized Manager, Landlord, or Agent
<
Your Company Contact Information Here

>
Company Name & Address
Company Phone, Fax & Email:
Applicant's Job Title:
Fulltime or Part-time?
Time on Job?
Applicant Dependable? YESNOComments:
Would You Rehire Applicant?YESNO If not, please tell why?
Applicant Authorization to Release Employment Information
I, do hereby authorize
, my employer, to release the requested information above to
for their review and consideration of
my residential rental application.
Signature of ApplicantDate