Fillable Printable Referee's Report of Sale - New York
Fillable Printable Referee's Report of Sale - New York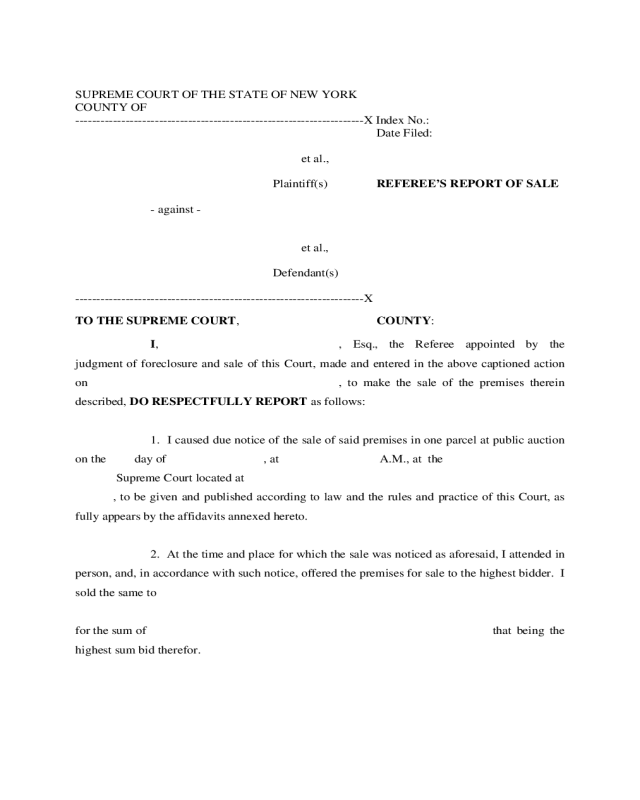 Referee's Report of Sale - New York
SUPREME COURT OF THE ST ATE OF NEW YORK
COUNTY OF
------------------------------------------------------------
---------X Index No.:
Date Filed:
et al.,
Plaintiff(s)
REFEREE'S REPORT OF SALE
et al.,
Defendant(s)
------------------------------------------------------------
---------X
TO THE SUPREM E COURT
,
COUNTY

:
I
,

, Esq., the Referee appointed by the
judgment of foreclosure and sale of this Court,
made and entered in the above cap

tioned action
on
, to make the sale of the premises therein
described,
DO RESPECTFUL LY REPORT
as follows:
1. I caused due notice of the sale of said
premises in one parcel at public auction
on the day of
, at
A.M., at the
Supreme Court located at
, to be given and published according to law and the rules and practice of this Court, as
fully appears by the affidavits annexed hereto.
2. At the time and place for which the sa
le was noticed as aforesaid, I attended in
person, and, in accordance w
ith such notice, offered the premises for sale to

the highest bidder. I
for the sum of that being the
highest sum bid therefor.
2
3. I have made, executed and delivered
to said purchaser (or its assignee) a good
and sufficient deed of conveyance for the premises so sold.
4. The bid price was paid as follows:
The plaintiff was the successful bidder
so the bid downpayment requirement was waived
and no monies were due when I
delivered the aforesaid deed.
The successful bidder delivered to me a bid downpayment of
at
the
time of auction and delivered the
balance of the bid price of

at closing.
5. I have paid over or disposed of the proceeds of the sale as follows:
FIRST: I have paid to
,
the
attorneys
for the Plaintiffs, the sum of
, on account of the amount
due on the Note and Mortgage which this
action was brought to foreclose, and
directed to be paid by the
aforesaid judgment. The rece

ipt of the attorneys for the
Plaintiffs is annexed hereto.
the attorneys for the Plaintiffs, the sum of
for the
costs and disbursements allowed to the
Plaintiffs by the aforesaid judgment.
THIRD: I have disbursed the sum of
for
advertising expenses allowed by said j
udgment. Bills for said advertising
expenses are annexed hereto.
FOURTH: I have paid the sum of
for
real
estate
taxes,
assessments, water charges and sewer rents which were liens on the premises at
the time of said sale. Receipt
s therefor are annexed hereto.
FIFTH: I have retained
f
or
m
y fees, the sum
of
6. Deficiency/Surplus is computed in my annexed statement which is
incorporated herein.
This report is respectfully submitted.
Dated:
_______________________________
Referee

3
Amount due on the Note and Mortga
ge, as per judgment
Interest from
, date of judgment to
Referee's fees
Advertising expenses
Plaintiff's costs and allowance
Tax stamps on deed
NYC Real Property Transfer Tax
Other Allowable Expenses _______________
Total Amount Due under the Judgment
Amount paid to, or bid by, Plai
ntiffs (total bid amount)

_______________
Deficiency/Surplus
==============

SUPREME COURT OF THE ST ATE OF NEW YORK
COUNTY OF
------------------------------------------------------------
---------X Index No.:
Date Filed:
et al.,
Plaintiff(s)
et al.,
Defendant(s)
------------------------------------------------------------
---------X
REPORT OF SALE
Attorneys for Plaintiffs