Fillable Printable Satisfaction of Judgment Form
Fillable Printable Satisfaction of Judgment Form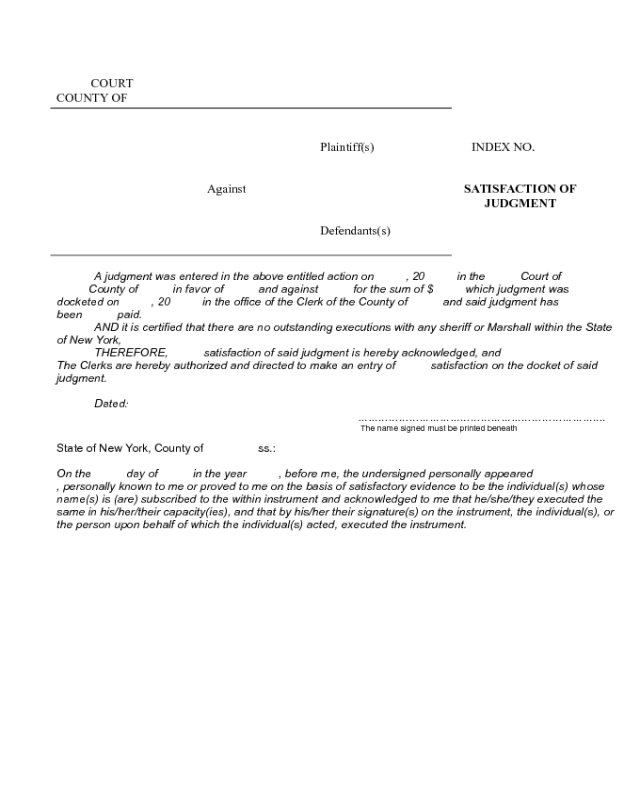 Satisfaction of Judgment Form

Plaintiff(s)
Against
Defendants(s)
SATISFACTION OF
JUDGMENT
A judgment was entered in the above entitled action on
, 20
in the
Court of
County of
in favor of
and against
for the sum of $
which judgment was
docketed on
, 20
in the office of the Clerk of the County of
and said judgment has
AND it is certified that there are no outstanding executions with any sheriff or Marshall within the State
THEREFORE,
satisfaction of said judgment is hereby acknowledged, and
The Clerks are hereby authorized and directed to make an entry of
satisfaction on the docket of said
judgment.
……………………………………………………………….
The name signed must be printed beneath
State of New York, County of
ss.:
On the
day of
in the year
, before me, the undersigned personally appeared
, personally known to me or proved to me on the basis of satisfactory evidence to be the individual(s) whose
name(s) is (are) subscribed to the within instrument and acknowledged to me that he/she/they executed the
same in his/her/their capacity(ies), and that by his/her their signature(s) on the instrument, the individual(s), or
the person upon behalf of which the individual(s) acted, executed the instrument.