Fillable Printable Request For Expedited Motor Vehicle Title
Fillable Printable Request For Expedited Motor Vehicle Title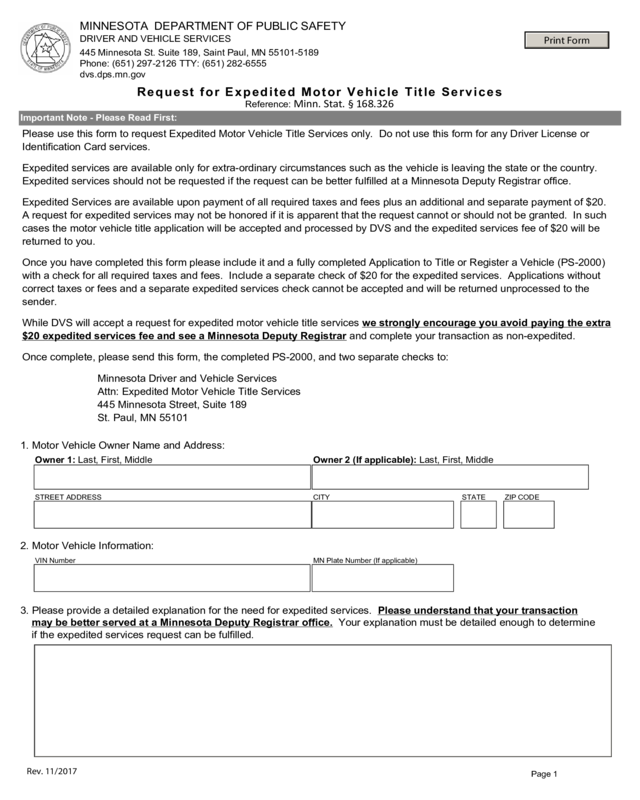 Request For Expedited Motor Vehicle Title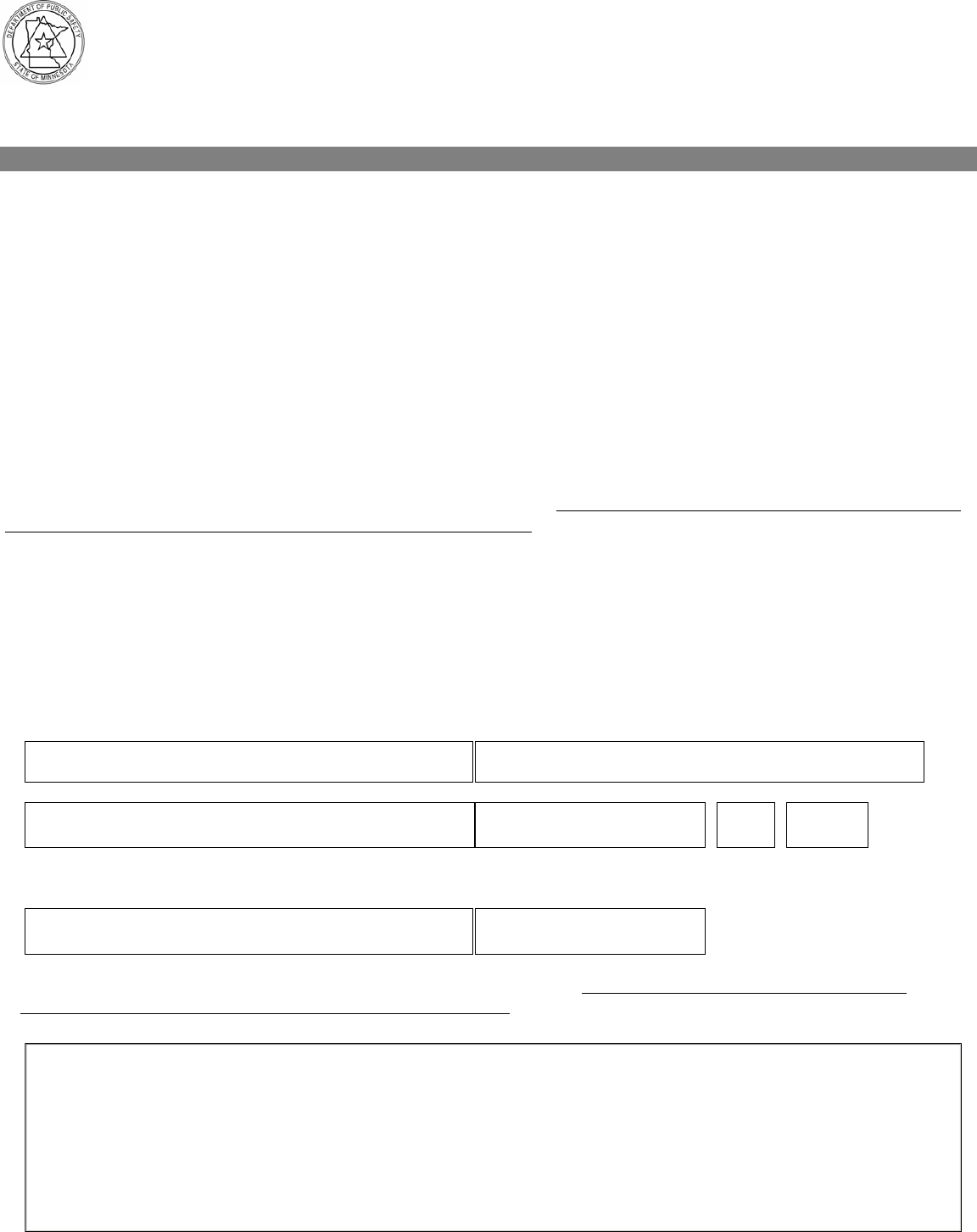 445 Minnesota St. Suite 189, Saint Paul, MN 55101-5189
Phone: (651) 297-2126 TTY: (651) 282-6555
dvs.dps.mn.gov
MINNESOTA DEPARTMENT OF PUBLIC SAFETY
DRIVER AND VEHICLE SERVICES
RequestforExpeditedMotorVehicleTitleServices
Please use this form to request Expedited Motor Vehicle Title Services only. Do not use this form for any Driver License or
Identification Card services.
Expedited services are available only for extra-ordinary circumstances such as the vehicle is leaving the state or the country.
Expedited services should not be requested if the request can be better fulfilled at a Minnesota Deputy Registrar office.
Expedited Services are available upon payment of all required taxes and fees plus an additional and separate payment of $20.
A request for expedited services may not be honored if it is apparent that the request cannot or should not be granted. In such
cases the motor vehicle title application will be accepted and processed by DVS and the expedited services fee of $20 will be
returned to you.
Once you have completed this form please include it and a fully completed Application to Title or Register a Vehicle (PS-2000)
with a check for all required taxes and fees. Include a separate check of $20 for the expedited services. Applications without
correct taxes or fees and a separate expedited services check cannot be accepted and will be returned unprocessed to the
sender.
While DVS will accept a request for expedited motor vehicle title services
we strongly encourage you avoid paying the extra
$20 expedited services fee and see a Minnesota Deputy Registrar
and complete your transaction as non-expedited.
Once complete, please send this form, the completed PS-2000, and two separate checks to:
Minnesota Driver and Vehicle Services
Attn: Expedited Motor Vehicle Title Services
445 Minnesota Street, Suite 189
St. Paul, MN 55101
Important Note - Please Read First:
Reference:
Minn. Stat. § 168.326
Page 1
Owner 2 (If applicable):
Last, First, MiddleOwner 1:

Last, First, Middle
ZIP CODESTATE
CITYSTREET ADDRESS
3. Please provide a detailed explanation for the need for expedited services.
Please understand that your transaction
may be better served at a Minnesota Deputy Registrar office.
Your explanation must be detailed enough to determine
if the expedited services request can be fulfilled.
1. Motor Vehicle Owner Name and Address:
Rev. 11/2017
2. Motor Vehicle Information:
VIN NumberMN Plate Number (If applicable)

Page 2
Instructions for Determining Taxes and Fees:
1. Go to the DVS website and find the "Calculate Registration Tax" tab, under online services
2. Enter the vehicle identification number (VIN) of the vehicle. If the VIN is not accepted you must contact DVS.
3. Enter the month and year of the expiration date by entering the month
preceding
the current month. For
example, if the current month is July, then you will enter the month of June in the calculator.
4. Next enter the following year. For example if this is 2017 then you will select 2018.
5. The Registration Tax Calculator will then calculate the appropriate tax for your vehicle.
6. Use the fee chart to determine the correct fees to be paid -
including payment of wheelage tax if required
.
7. With the registration tax amount and fee amounts calculated, complete the PS-2000.
8. Mail this form, the PS-2000 and a check for the appropriate taxes and fees along with a second check for the
expedited services to DVS at:
Minnesota Driver and Vehicle Services
ATTN: Expedited Motor Vehicle Title Services
445 Minnesota Street, Suite 189
St. Paul, MN 55101
Rev. 11/2017