Fillable Printable Termination Resign Letter Sample
Fillable Printable Termination Resign Letter Sample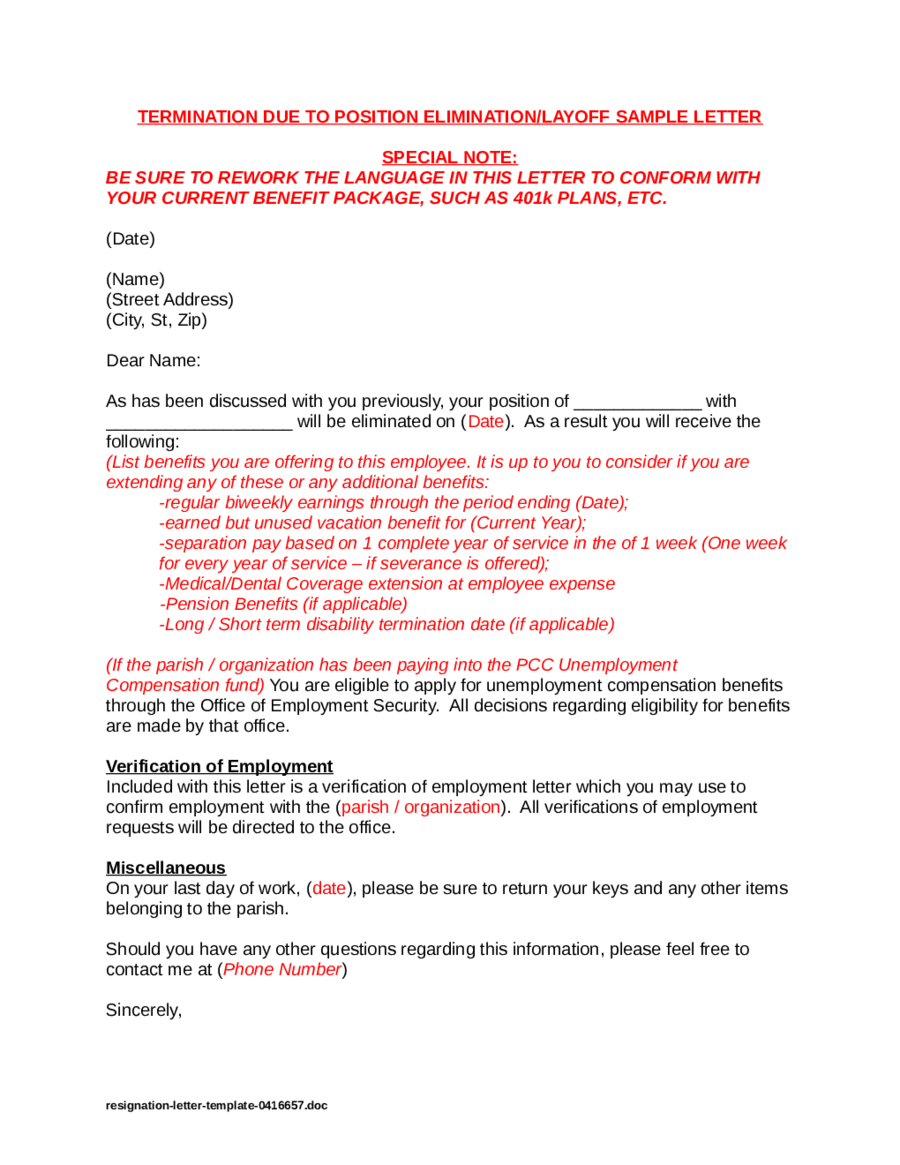 Termination Resign Letter Sample

TERMINATION DUE TO POSITION ELIMINATION/LAYOFF SAMPLE LETTER
SPECIAL NOTE:
BE SURE TO REWORK THE LANGUAGE IN THIS LETTER TO CONFORM WITH
YOUR CURRENT BENEFIT PACKAGE, SUCH AS 401k PLANS, ETC.
(Date)
(Name)
(Street Address)
(City, St, Zip)
Dear Name:
As has been discussed with you previously, your position of _____________ with
___________________ will be eliminated on (
Date
). As a result you will receive the
following:
(List benefits you are offering to this employee. It is up to you to consider if you are
extending any of these or any additional benefits:
-regular biweekly earnings through the period ending (Date);
-earned but unused vacation benefit for (Current Year);
-separation pay based on 1 complete year of service in the of 1 week (One week
for every year of service – if severance is offered);
-Medical/Dental Coverage extension at employee expense
-Pension Benefits (if applicable)
-Long / Short term disability termination date (if applicable)
(If the parish / organization has been paying into the PCC Unemployment
Compensation fund)
You are eligible to apply for unemployment compensation benefits
through the Office of Employment Security.All decisions regarding eligibility for benefits
are made by that office.
Verification of Employment
Included with this letter is a verification of employment letter which you may use to
confirm employment with the (
parish / organization
). All verifications of employment
requests will be directed to the office.
Miscellaneous
On your last day of work, (
date
), please be sure to return your keys and any other items
belonging to the parish.
Should you have any other questions regarding this information, please feel free to
contact me at (
Phone Number
)
Sincerely,
resignation-letter-template-0416657.doc
(Preferably, this letter should be prepared on official letterhead)
To Whom It May Concern:
(
Name
) was employed with (
Name of Parish/ Organization
) as a (
Name of
Position
). Her/His dates of employment were from (
Date
) until (
Date
).
Sincerely,
resignation-letter-template-0416657.doc