Fillable Printable On-Campus Student Employment Resumes
Fillable Printable On-Campus Student Employment Resumes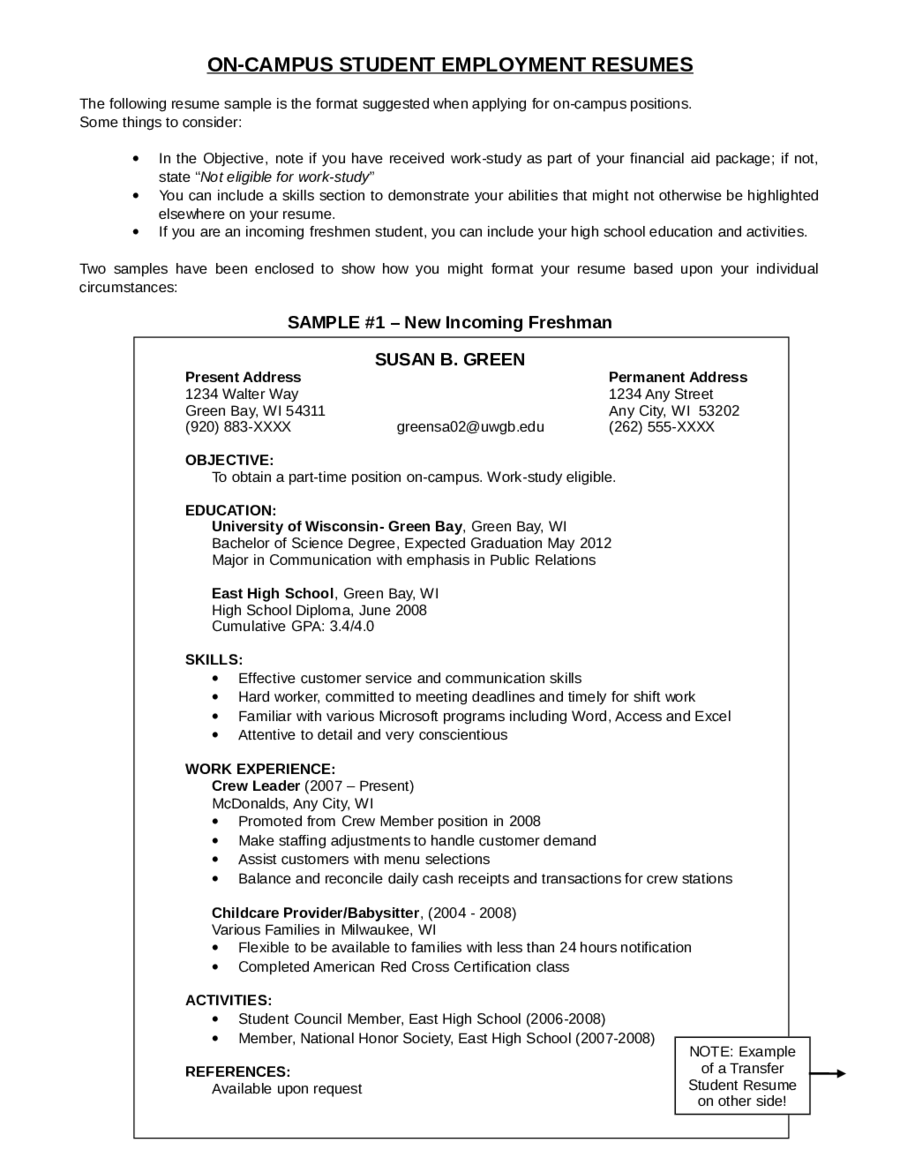 On-Campus Student Employment Resumes

ON-CAMPUS STUDENT EMPLOYMENT RESUMES
The following resume sample is the format suggested when applying for on-campus positions.
Some things to consider:

IntheObjective,noteifyouhavereceivedwork-studyaspartofyourfinancialaidpackage;ifnot,
state "
Not eligible for work-study

"

Youcan includeaskillssectiontodemonstrate yourabilitiesthatmightnot otherwise behighlighted
elsewhere on your resume.

Ifyou are an incoming freshmen student, you can include your high school education and activities.
Twosampleshavebeenenclosedtoshowhowyoumightformatyourresumebaseduponyourindividual
circumstances:
SAMPLE #1 – New Incoming Freshman
SUSAN B. GREEN
Present AddressPermanent Address
1234 Walter Way1234 Any Street
Green Bay, WI54311Any City, WI 53202
(920) 883-XXXXgreensa02@uwgb.edu(262) 555-XXXX
OBJECTIVE:
To obtain a part-time position on-campus. Work-study eligible.
EDUCATION:
University of Wisconsin- Green Bay
, Green Bay, WI
Bachelor ofScience Degree, Expected Graduation May 2012
Major in Communication with emphasis in Public Relations
East HighSchool
, Green Bay, WI
High School Diploma, June 2008
Cumulative GPA: 3.4/4.0
SKILLS:

Effective customer service and communication skills

Hard worker, committed to meeting deadlines and timelyfor shift work

Familiar with various Microsoft programs including Word,Accessand Excel

Attentive to detail and veryconscientious
WORK EXPERIENCE:
Crew Leader
(2007 – Present)
McDonalds, Any City, WI

Promoted from Crew Member position in 2008

Make staffing adjustments to handle customer demand

Assist customers with menu selections

Balance and reconcile daily cash receipts and transactionsfor crew stations
Childcare Provider/Babysitter
, (2004 - 2008)
Various Families in Milwaukee, WI

Flexibleto be available to families with less than 24 hours notification

Completed American Red Cross Certification class
ACTIVITIES:

Student Council Member, East High School (2006-2008)

Member, National Honor Society, East High School (2007-2008)
REFERENCES:
Available upon request
NOTE:Example
of a Transfer
Student Resume
on other side!

SAMPLE #2 – Transfer Student
SUSAN B. GREEN
1234 Any Street
Seymour, WI 54165
(920) 555-XXXX
greensb@uwgb.edu
OBJECTIVE:
To obtain an on-campus position at UW-Green Bay. Not eligiblefor work-study.
EDUCATION:
University of Wisconsin- Green Bay
, Green Bay, WI
Bachelor ofArts Degree, Expected Graduation May 2010
Major in English, Minor in Humanistic Studies
Northeast Wisconsin TechnicalCollege
, Green Bay, WI
Associate'sDegree, May 2008
SKILLS:

Over 5 years customer service experience

Familiar with Microsoft Word, Excel and Access

Experience with multi-line phone systems
WORK EXPERIENCE:
Customer Service Representative
(2003 – Present)
Kohl'sDepartment Stores, Green Bay, WI

Provide efficient customer serviceand accurately manage register transactions

Balance and reconcile daily cash receipts

Assist with training newemployees

Employee ofthe Month, June 2005 and November 2007
ACTIVITIES:

Student Senate, Northeast Wisconsin Technical College (2007-2008)

Volunteer, Big Brothers Big Sisters of Northern Wisconsin (2006-2008)
REFERENCES:
Available upon request