Fillable Printable Ross Application Form
Fillable Printable Ross Application Form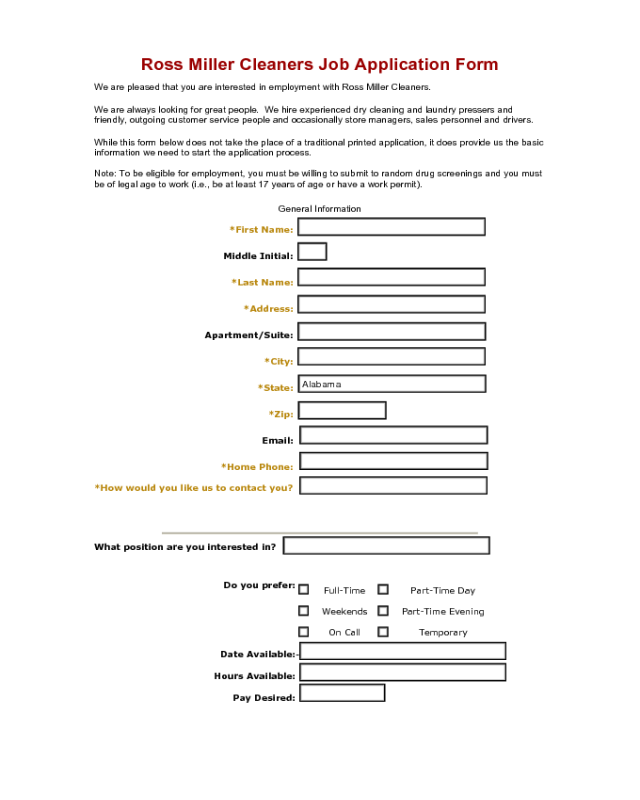 Ross Application Form Ross Miller Cleaners
Job Application Form
We are pleased that you are interested in
employment with Ross Miller Cleaners.
We are always looki ng for great people. We hire experienced dry cleaning and laundry pressers and
friendly, outgoing customer service peop le and occasiona
lly store managers, sales personnel and drivers.
While this form below does not take the place of a tradi
tional printed a pp lication, it does provide us the basic
information we need to start the application process.
Note: To be eligible for employment, you must be willi
ng to submit to random drug screenings and you must
be of legal age to work (i.e., be at least 17 years of age or have a work permit).
General Information
*First Name:
Middle Initial:
*Last Name:
*Address:
Apartment/Suite:
*City:
*State:
*Zip:
Email:
*Home Phone:
*How would you like us to contact you?
What position are you interested in?
Do you prefer:
Full-Time
Part-Time Day
Weekends
Part-Time Evening
Date Available:
-
Hours Available:
Pay Desired: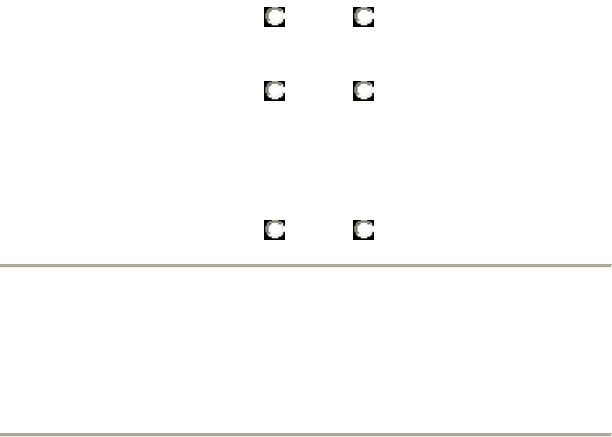 List any work related talent or skills and tell us why you want to work for Ross Miller's:
If you have missed more than 5 days from work during the last year, please explain here:
Have you ever been convicted, plead quilty or no contest to, received a deferred
adjudication, suspended sentence or accepted any other court related sentencing program
*Have you ever been convicted of a crim
e other than a minor traffic violation:
(The existence of a criminal record will not automatically disqualify you
from a job for which you are applying.)
No
Yes
Explain:
Have you ever been discharged (fired) from a job:
No
Yes
Date:
Employer:
Reason:
Are you 21 years of age or older?
No
Yes
Education
*What is the highes t le v el of
education you have completed?
If you have a degree, what type of degree did you earn?
Employment History
*Former/Current Employer:
Address:
Apartment/Suite:
City:
State:
Zip:
Phone:
Type of Business:
Employed From:
To:
*Position Tit le:
*Supervisor's Name:
Salary Start:

End:
Description of Duties:
Reason for Leaving:
What were your primary accomplishments? Tell us about your former job and employer:
Resume
If you would like to send your resume, you may cut and paste a text file:
Please read and revie w the following
job application agreem ent
. If you agree with the terms and conditions
of this agreement as it pertains to
the information you are submitting with

this job application, please press
Submit below to send us your job application.
TO EMAIL:
Go to the "FILE" menu and save this file to your computer. Attach this file to an email with your name in the subject
REGULAR MAIL:
Ross Miller Cleaners
P.O. Box 480183
Kansas City, MO 64145