Fillable Printable Target Application Form
Fillable Printable Target Application Form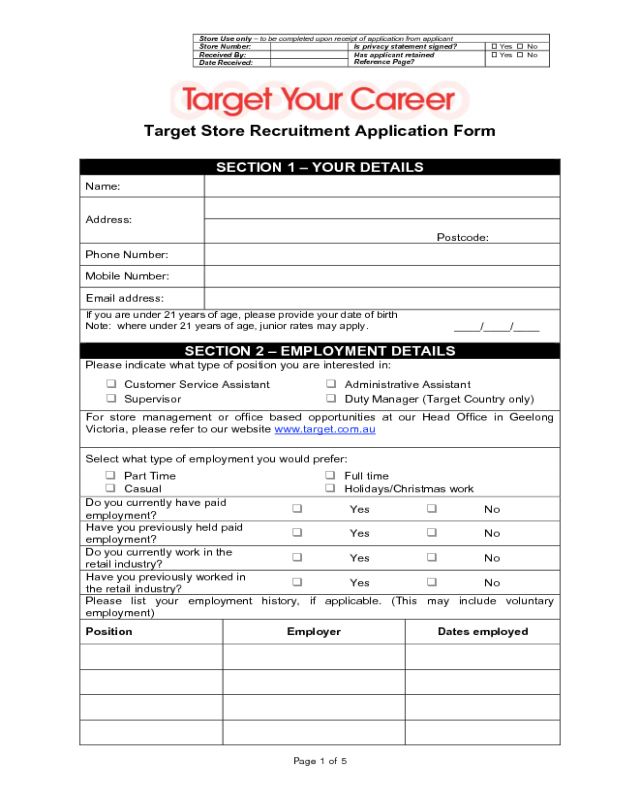 Target Application Form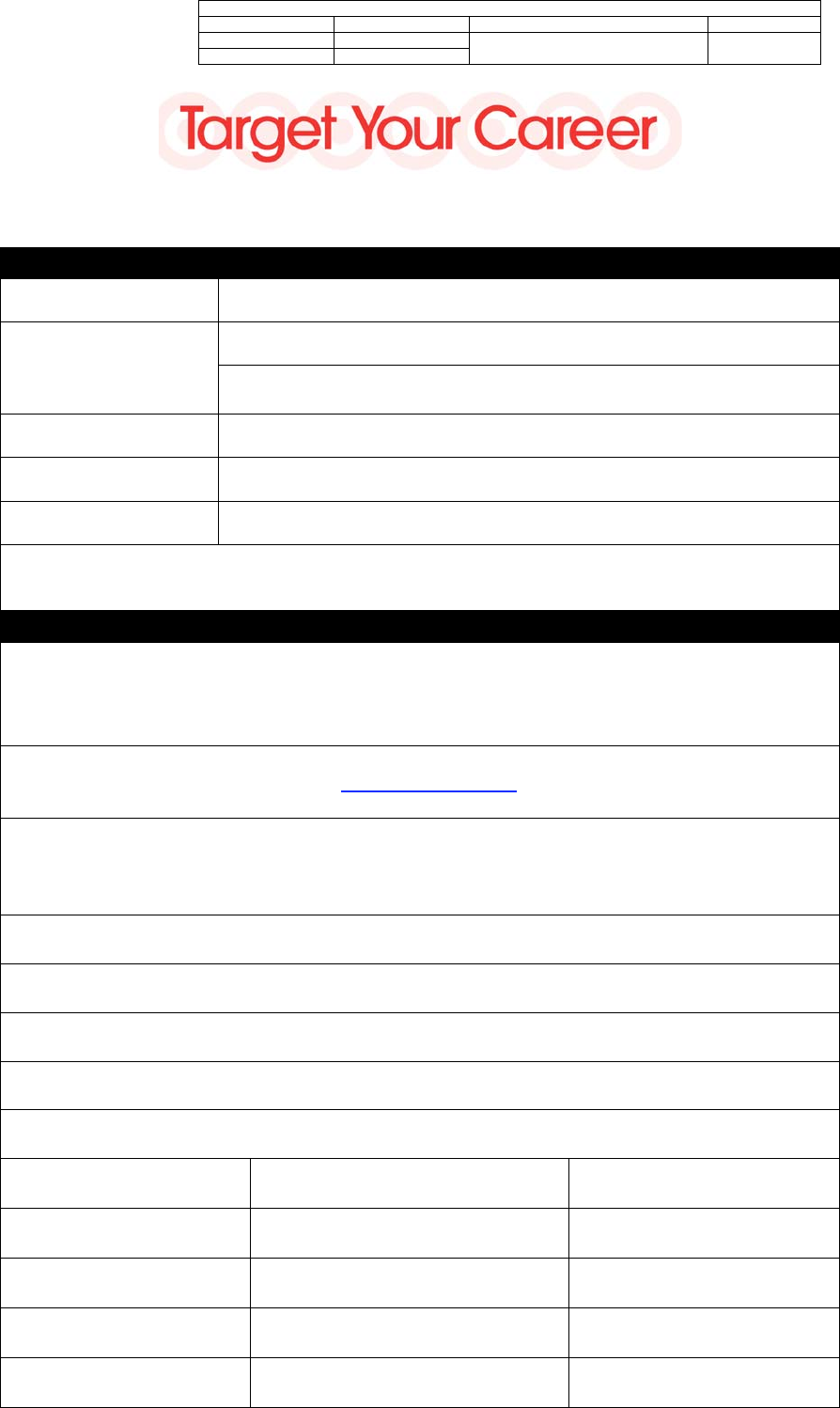 Store Use only
– to be completed upon receipt of application from applicant
Store Number:
Is privacy statement signed?



Yes



No
Has applicant retained
Reference Page?
Pag e 1 of 5
Targe t Store Re c rui tmen t Applicat ion Form
SECTION 1 – YOUR DETAILS
Name:
Address:
Postcode:
Phone N um ber:
Mobi le Numbe r:
Emai l addres s :
If you are under 21 years of age, please provide your date of birth
Note: where under 21 years of age, junior rates may apply.
____/____/____
SEC TION 2 – EMP LOY ME NT DETAIL S
Pleas e indicate wh at ty pe of pos iti on yo u are interes ted i n:

Cust ome r Serv ic e As s is t ant

Admi nis trative Ass is t ant

Supervisor

Duty M anager (Ta rget C ountry only)
For store management or office based opportunities at our Head Office in Geelong
Victoria, pleas e ref er t o our we bs it e
www.target.com.au
Selec t w hat t ype of em ployment y ou w ould pref er:

H oliday s/ Chris tmas work
Do you cu rrent ly have paid
employment?
Have y ou prev ious ly held paid
employment?
Do you c urrent ly work in t he
retail i ndus t ry ?
Have yo u prev ious ly worked in
the retail indus t ry ?
Please list your employment history, if applicable. (This may include voluntary
employment)
Position Employer Dates employed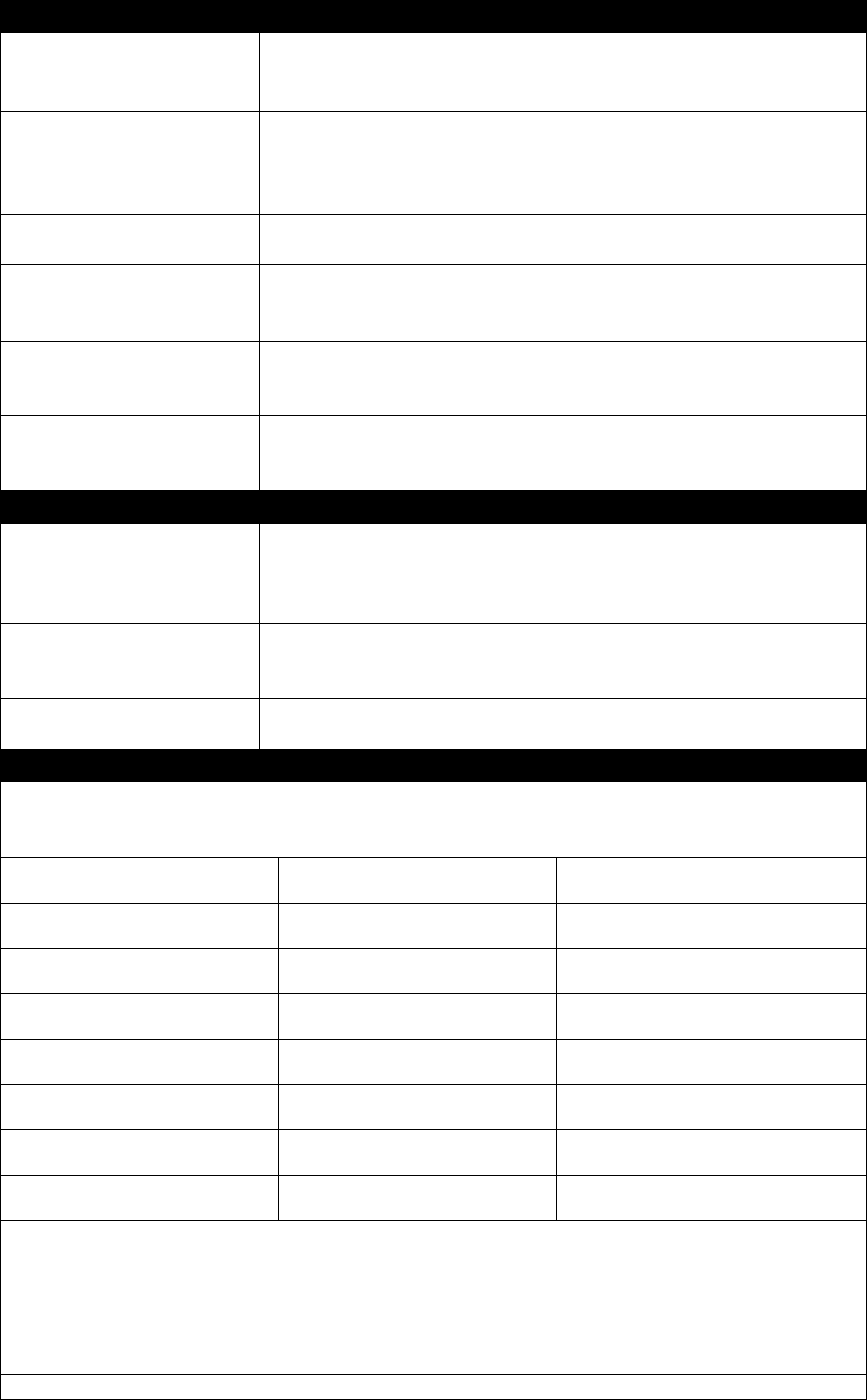 Pag e 2 of 5
SECTION 3 – EDUCATIO N DETAILS
Are you currently
studying:
indic at e y our c urrent
level of s t udy :
Na me of s ch ool/
educ at ion ins t it ut ion:
specif y the hi ghes t lev el
of st udy at t ained
Completion date of your
highes t level of st udy
attained (y ear)
Na me of s ch ool/
educ at ion ins t it ut ion
attended:
SECTION 4 – ACHIEVEMENTS, SKILLS OR TRAINING
List any achiev eme nt s
i.e. empl oyment,
educ at ion, personal or
sporting
List any addit ional s k ills
or trainin g y ou have
completed.
List y our hobbies ,
inter es t s or inv olv em ent s
SECTION 5 – AVAILABILI TY
Please indicate the days and times you are able to work. Note that you will not
necess arily be as ke d to w ork all the h ou rs you ar e avail abl e. The inf or mat ion en abl es us
to sourc e emp loyment opport unit ies ac cording t o y our availabilit y .
Day Start Finish
Monday
Tuesday
Wednesday
Thursday
Friday
Saturday
Sunday
Pleas e indicate the am ount of hours y ou are willi ng t o w ork in a 7 day period
If you are interes ted in C hristm as / holiday w ork , pleas e indicate your availabilit y t hrough

Pag e 3 of 5
this period:

Less t han 5 we ek day s

5 days including w eekend day s

Less than 5 days including weekend
days
If you have s c heduled holiday s , pleas e
specif y dates:
SECTION 6 – REFEREE DETAILS
Please list the details of two referees who can be contacted to provide either
empl oyment or charac t er ref erences. W here em ployment ref erees m ay not be available,
refer ences may inc lude a c ont ac t f rom s c hool/ univers ity i. e. t eac her, or f am ily f riend as a
char ac t er ref erenc e.
Referee 1
Relati ons hip with ref eree
Organisation
Referee t elephone numb er
Referee 2
Relati ons hip with ref eree
Organisation
Referee t elephone numb er
Please note that Target will only conduct reference check/s following an interview.
SECTION 7 – RIGHT TO WORK DETAILS
Are yo u an Aus t ralian or N ew
Zeal and perma nent res ident or
citizen?
Proc eed t o Sec t ion 8
Co mplete t his sec ti on
Please note you will be required to provide proof of your residency status (Visa and
Passp ort) if you are succ es sf ul thr ough t he int ervi ew pr ocess . Provi din g this inf or mat ion
authorises the Department of Immigration and Multicultural Affairs to release the details
of your work rights status. This allows Target to ensure we comply with Australian Visa
requireme nt s and enables y ou t o be ros t ered appr opriat ely ac cor ding to y our Vis a t y pe.
What hours does y our Vis a allow
you to work?

Pag e 4 of 5
SECTI ON 8 – PRIVA C Y STATEMENT
Personal information collected via this application will only be used for the purpose of
recru itment by T arget Aus t ralia Pt y Lt d.
The i nformatio n you sub mit to us may be disclos ed to referees, our t eam me mbers who
are inv olv ed in r ecru it ment or su pport roles , sec ur ity organis at ions , recr uit me nt agenc ies
and ot her t hird part ies wh o as s is t us in t he rec ruit m ent proc es s .
If y ou ch oose not t o prov ide any of the inf orm at ion requested, we may be unable to se nd
you information, f ully process y our applic at ion or properly c onsider y ou f or em ployme nt .
Any information we collect about you in future will be used and disclosed in the same
man ner as d escribe d abov e unless we tell you other wise in adva nce. You m ay req uest
acces s to pe rs onal inform at ion about y ou t hat is held by us .
Consent and Warranty
I conse nt to Targ et Australi a Pty Ltd using and disclosin g my person al infor mation in the
man ner descri be ab ove.
I warrant that:
•
I have read and un ders tan d t he above s t at eme nt .
•
I am qualif ied to work in Australia, a nd if requeste d, can prov ide evid ence of t hat
fact (birth certificate, citizenship certificate, photo ID and/or working Visa, as
appropriate)
•
All th e infor mation I submit (inclu ding this f orm a nd any attach ed resume) is tru e
and complete. I understand that any false or misleading information I provide
may lead to rejection of my application, review of any employment I accept with
Targ et Aus t ralia Pt y Lt d and pot ent ially my dismiss al f rom such emp loyment.
Na me: ____________ ____________ ____________ ____________ __
Signat ure: __________ ____________ ___________ ____________ __
Date: _____________ _______
Thank you for y our interest in applying for
a position at Target.
Your completed application can now be
Please retain this page of the application
form for your future reference
. This advises
you on how you will be notified as to the
success of your application for a position at
Target.
This will occ ur by either:
You will be invited to
attend an interview
A Manager from Target will call you to
arrange a time for you to come into the
store for an interview.
At the completion of your interview the
Manager will confirm with you how you
will continue to be notified throughout the
recruitment process.
OR
What if I don't hear
anything?
We receive a large amount of
applications at our store and sometimes
we do not have opportunities to
accommodate all applicants.
If you have not had a response from the
store for a period of 3 months or more
and you are still interested in being
considered for a position, you are
encouraged to resubmit a new
application directly to the store of your
choice.