Fillable Printable Rtb 2007 033 Attach3
Fillable Printable Rtb 2007 033 Attach3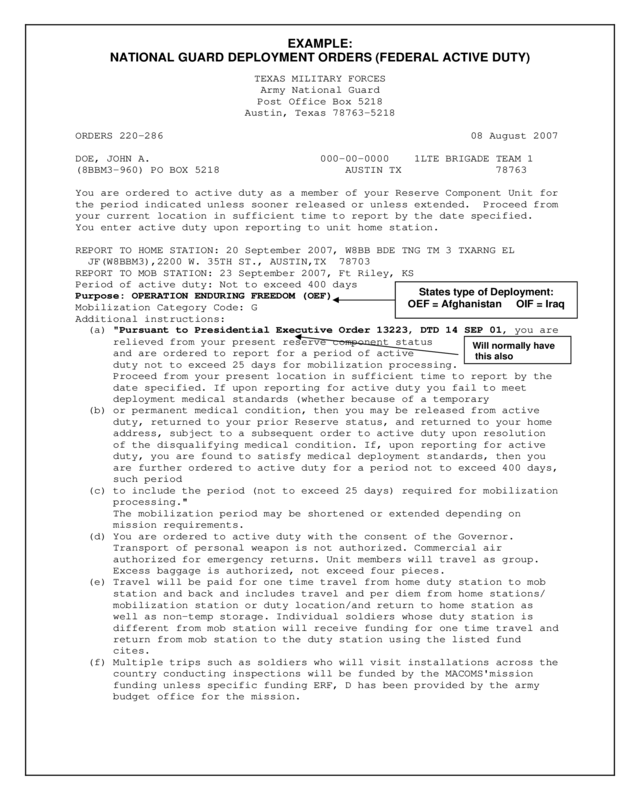 Rtb 2007 033 Attach3 EXAMPLE:
NATIONAL GUARD DEPLOYMENT ORDERS (FEDERAL ACTIVE DUTY)
TEXAS MILITARY FORCES
Army National Guard
Post Office Box 5218
Austin, Texas 78763-5218
ORDERS 220-286 08 August 2007
DOE, JOHN A.
000-00-0000 1LTE BRIGADE TEAM 1
(8BBM3-960) PO BOX 5218 AUSTIN TX 78763
You are ordered to active duty as a member of your Reserve Component Unit for
the period indicated unless sooner released or unless extended. Proceed from
your current location in sufficient time to report by the date specified.
You enter active duty upon reporting to unit home station.
REPORT TO HOME STATION: 20 September 2007, W8BB BDE TNG TM 3 TXARNG EL
JF(W8BBM3),2200 W. 35TH ST., AUSTIN,TX 78703
REPORT TO MOB STATION: 23 September 2007, Ft Riley, KS
Period of active duty: Not to exceed 400 days
Purpose: OPERATION ENDURING FREEDOM (OEF)
Mobilization Category Code: G
Additional instructions:
(a) "
Pursuant to Presidential Executive Order 13223, DTD 14 SEP 01,
you are
relieved from your present reserve component status
and are ordered to report for a period of active
duty not to exceed 25 days for mobilization processing.
Proceed from your present location in sufficient time to report by the
date specified. If upon reporting for active duty you fail to meet
deployment medical standards (whether because of a temporary
(b) or permanent medical condition, then you may be released from active
duty, returned to your prior Reserve status, and returned to your home
address, subject to a subsequent order to active duty upon resolution
of the disqualifying medical condition. If, upon reporting for active
duty, you are found to satisfy medical deployment standards, then you
are further ordered to active duty for a period not to exceed 400 days,
such period
(c) to include the period (not to exceed 25 days) required for mobilization
processing."
The mobilization period may be shortened or extended depending on
mission requirements.
(d) You are ordered to active duty with the consent of the Governor.
Transport of personal weapon is not authorized. Commercial air
authorized for emergency returns. Unit members will travel as group.
Excess baggage is authorized, not exceed four pieces.
(e) Travel will be paid for one time travel from home duty station to mob
station and back and includes travel and per diem from home stations/
mobilization station or duty location/and return to home station as
well as non-temp storage. Individual soldiers whose duty station is
different from mob station will receive funding for one time travel and
return from mob station to the duty station using the listed fund
cites.
(f) Multiple trips such as soldiers who will visit installations across the
country conducting inspections will be funded by the MACOMS'mission
funding unless specific funding ERF, D has been provided by the army
budget office for the mission.
States type of Deployment:
OEF = Afghanistan OIF = Iraq
Will normally have
this also

EXAMPLE:
NATIONAL GUARD DEPLOYMENT ORDERS (FEDERAL ACTIVE DUTY)
ORDERS 220-286 HQ TX NG, OTAG, 08 August 2007
Additional instructions (cont):
(g) Following statement must be included on each individual mobilization
order: Family members may be eligible for TRICARE (military health
care) benefits. For details call 1-888-DoD-CARE (1-888-363-2273) or go
to web address www.tricare.osd.mil/reserve/ or email TRICARE
Issue and Equipment. Units will be processed on active duty at their
assigned mob station.
(h) Soldier will hand-carry(if available) complete MPRJ health and dental,
training and clothing records, if moving as an individual. Bring copies
of rental or mortgage agreement, marriage certificate, birth
certificate, birth certificate of natural children, or documentation of
dependency or child support. Bring copies of family care plan, wills,
power of attorney, and any other documentation affecting the soldier's
pay status.
(i) The mobilization period may be shortened or extended depending on
mission requirements.
Weapons are authorized to be transported in performance of duty per
Federal Regulations.
(j) RC units and individuals: If you have questions regarding your
employment and reemployment rights, call 1-800-336-4590 (National
Committee for employer support of the Guard and Reserve) or check on
line at WWW.ESGR.ORG
(k) OPERATION ENDURING FREEDOM
(l) The National Defense Authorization Act 2004 sec 703 authorizes early
eligibility for health benefits. A member of the Reserve component who
issued a delayed-effective-date active-duty order, or is covered by
such an order, that is for a period of active duty of more than 30
days, in support of a contingency operations, as defined in 10
USC(a)(13)(B), shall be eligible along with member's dependents, for
medical and dental care, on either the
(m) date of issuance of such an order, or 60 days prior to mobilization,
whichever is later.
Army One Source is available to assist Soldiers and family members to
seek solutions in dealing with life's issues and questions during
deployments.
Contact by phone at(US 1-800-464-8107 or outside the US at 1-484-530-
5889)
(n) Pertaining to Permanent Order No. 1A-07-131-072
(o) HQ's 1st U.S. Army, 4705 N. WHEELER DRIVE, FOREST PARK, GA
(p) Meals and lodging will be provided at no cost to the Soldier. Claims
for reimbursement require a statement of non-availability control
number.
(q) For unresolved pay issues, contact the ARNG Pay Ombudsman at toll-free
ORDERS 220-286 HQ TX NG, OTAG, 08 August 2007
FOR THE ADJUTANT GENERAL:
\\\\\\\\\\\\\////////////
\\ HQ, TXARNG //
\\ OFFICIAL //
\\\\\\\\\\\\\////////////
DISTRIBUTION: LEE D. SCHNELL