Fillable Printable Syndicate Agreement for the National Lottery
Fillable Printable Syndicate Agreement for the National Lottery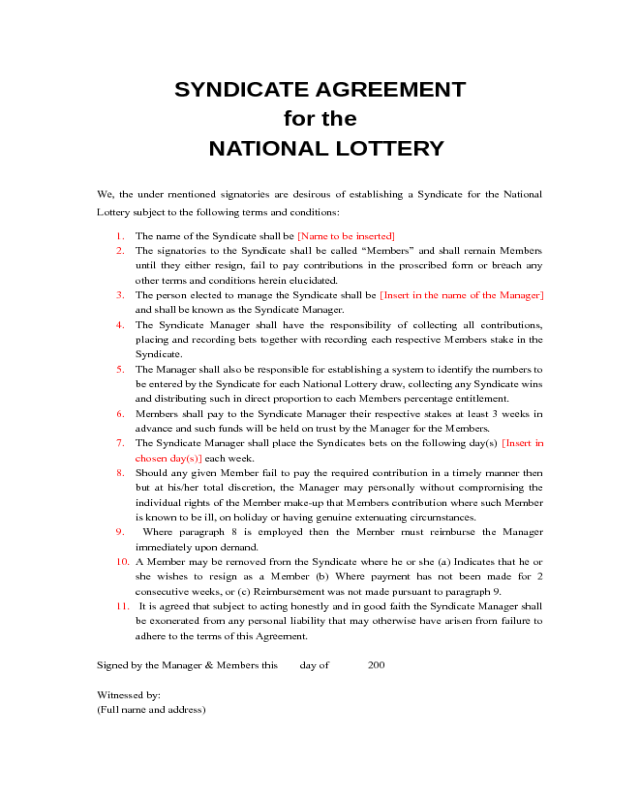 Syndicate Agreement for the National Lottery
SYNDICATE AGREEMENT
for the
NATIONAL LOTTERY
We,theundermentionedsignatoriesaredesirousofestablishingaSyndicatefortheNational
Lottery subject to the following terms and conditions:
1.
The name of the Syndicate shall be
[Name to be inserted]
2.
ThesignatoriestotheSyndicateshallbecalled"Members"andshallremainMembers
untiltheyeitherresign,failtopaycontributionsintheproscribedformorbreachany
other terms and conditions herein elucidated.
3.
The personelectedto managethe Syndicate shallbe
[Insert inthe nameof the Manager]
and shall be known as the Syndicate Manager.
4.
TheSyndicateManagershallhavetheresponsibilityofcollectingallcontributions,
placingand recordingbets togetherwith recordingeachrespectiveMembersstakeinthe
Syndicate.
5.
The Manager shall also be responsible for establishing a system to identify the numbers to
be entered by the Syndicate for each National Lottery draw, collecting any Syndicate wins
and distributing such in direct proportion to each Members percentage entitlement.
6.
MembersshallpaytotheSyndicateManagertheirrespectivestakesatleast3weeksin
advance and such funds will be held on trust by the Manager for the Members.
7.
The SyndicateManagershall placethe Syndicatesbetson thefollowing day(s)
[Insert in
chosen day(s)]
each week.
8.
ShouldanygivenMemberfailtopaytherequiredcontributioninatimelymannerthen
butathis/hertotaldiscretion,theManagermaypersonallywithoutcompromisingthe
individual rights of the Member make-up that Members contribution where such Member
is known to be ill, on holiday or having genuine extenuating circumstances.
9.
Whereparagraph8isemployedthentheMembermustreimbursetheManager
immediately upon demand.
10.
A MembermayberemovedfromtheSyndicatewherehe orshe(a)Indicatesthatheor
shewishestoresignasaMember(b)Wherepaymenthasnotbeenmadefor2
consecutive weeks, or (c) Reimbursement was not made pursuant to paragraph 9.
11.
It is agreed thatsubject to acting honestly and in good faith theSyndicate Managershall
beexoneratedfromanypersonal liabilitythatmay otherwisehavearisenfromfailureto
adhere to the terms of this Agreement.
Signed by the Manager & Members this day of 200
Witnessed by:
(Full name and address)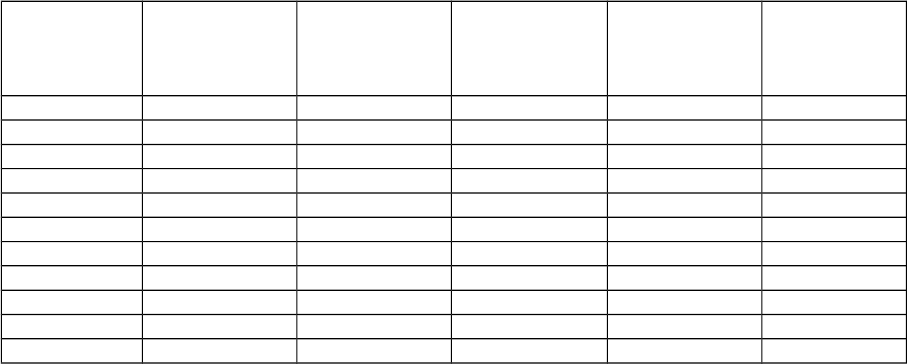 SCHEDULE OF MEMBERS
(Manager must confirm the leaving date using a red pen)
NameStake% of Prize
Date
Joined/
Left
Signature
of
Member
Signature
of
Manager