Fillable Printable VA Form 10-2407
Fillable Printable VA Form 10-2407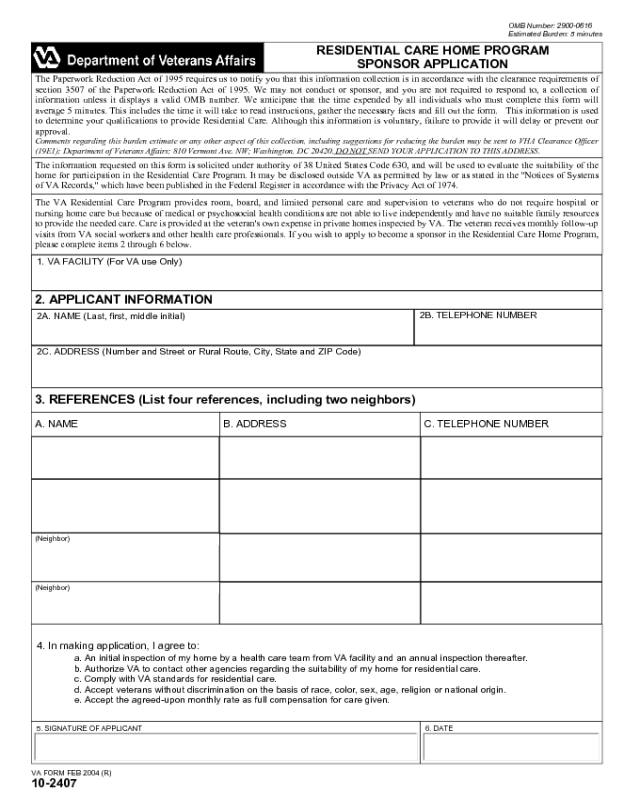 VA Form 10-2407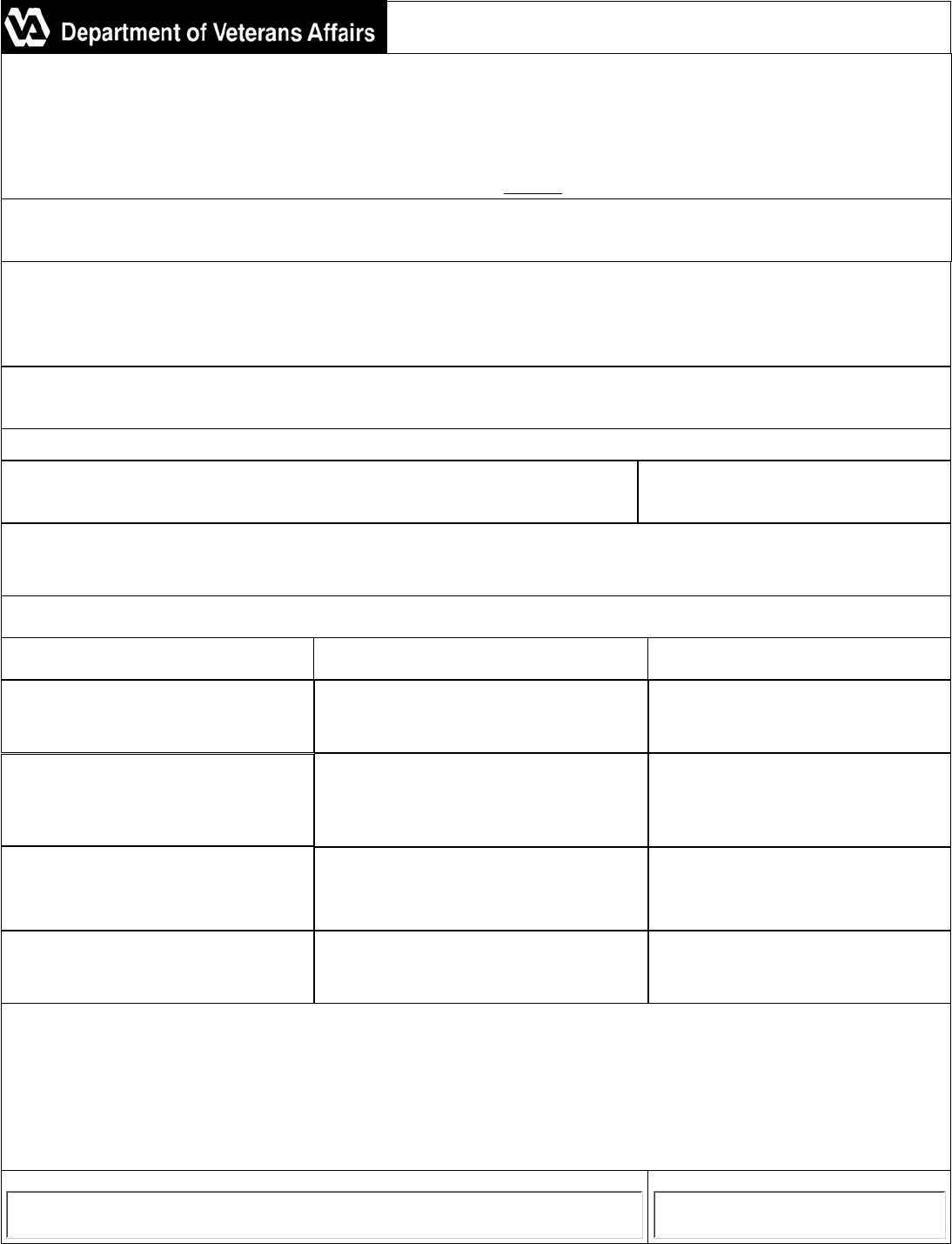 The information requested on this form is solicited under authority of 38 United States Code 630, and will be used to evaluate the suitability of the
home for participation in the Residential Care Program. It may be disclosed outside VA as permitted by law or as stated in the "Notices of Systems
of VA Records," which have been published in the Federal Register in accordance with the Privacy Act of 1974.
VA FORM FEB 2004 (R)
10-2407
OMB Number: 2900-0616
Estimated Burden: 5 minutes
RESIDENTIAL CARE HOME PROGRAM
SPONSOR APPLICATION
The VA Residential Care Program provides room, board, and limited personal care and supervision to veterans who do not require hospital or
nursing home care but because of medical or psychosocial health conditions are not able to live independently and have no suitable family resources
to provide the needed care. Care is provided at the veteran's own expense in private homes inspected by VA. The veteran receives monthly follow-up
visits from VA social workers and other health care professionals. If you wish to apply to become a sponsor in the Residential Care Home Program,
please complete items 2 through 6 below.
3. REFERENCES (List four references, including two neighbors)
A. NAME
B. ADDRESS
C. TELEPHONE NUMBER
(Neighbor)
4. In making application, I agree to:
a. An initial inspection of my home by a health care team from VA facility and an annual inspection thereafter.
b. Authorize VA to contact other agencies regarding the suitability of my home for residential care.
c. Comply with VA standards for residential care.
d. Accept veterans without discrimination on the basis of race, color, sex, age, religion or national origin.
e. Accept the agreed-upon monthly rate as full compensation for care given.
6. DATE
(Neighbor)
The Paperwork Reduction Act of 1995 requires us to notify you that this information collection is in accordance with the clearance requirements of
section 3507 of the Paperwork Reduction Act of 1995. We may not conduct or sponsor, and you are not required to respond to, a collection of
information unless it displays a valid OMB number. We anticipate that the time expended by all individuals who must complete this form will
average 5 minutes. This includes the time it will take to read instructions, gather the necessary facts and fill out the form. This information is used
to determine your qualifications to provide Residential Care. Although this information is voluntary, failure to provide it will delay or prevent our
approval.
Comments regarding this burden estimate or any other aspect of this collection, including suggestions for reducing the burden may be sent to VHA Clearance Officer
(19E1); Department of Veterans Affairs; 810 Vermont Ave. NW; Washington, DC 20420. DO NOT SEND YOUR APPLICATION TO THIS ADDRESS.
2. APPLICANT INFORMATION
5. SIGNATURE OF APPLICANT
2A. NAME (Last, first, middle initial)
1. VA FACILITY (For VA use Only)
2B. TELEPHONE NUMBER
2C. ADDRESS (Number and Street or Rural Route, City, State and ZIP Code)