Fillable Printable Vba 21 8940 Are
Fillable Printable Vba 21 8940 Are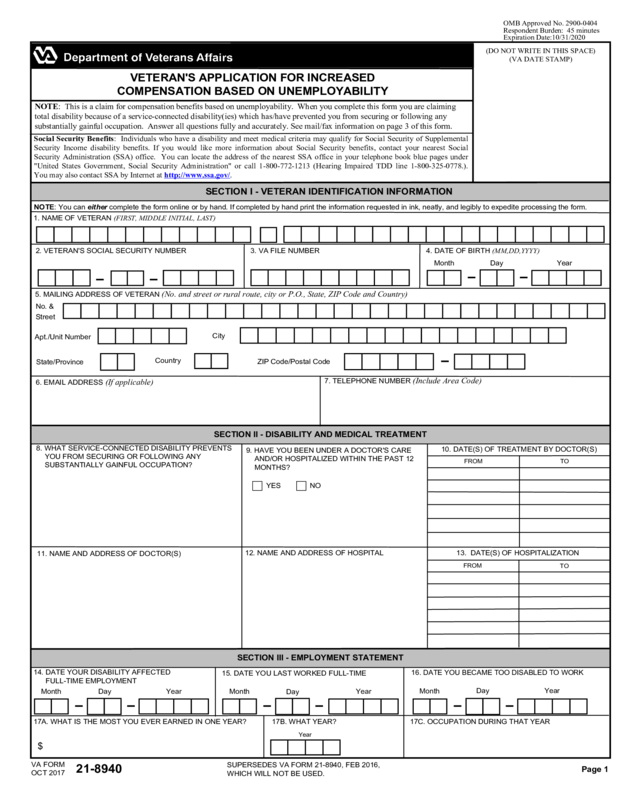 Vba 21 8940 Are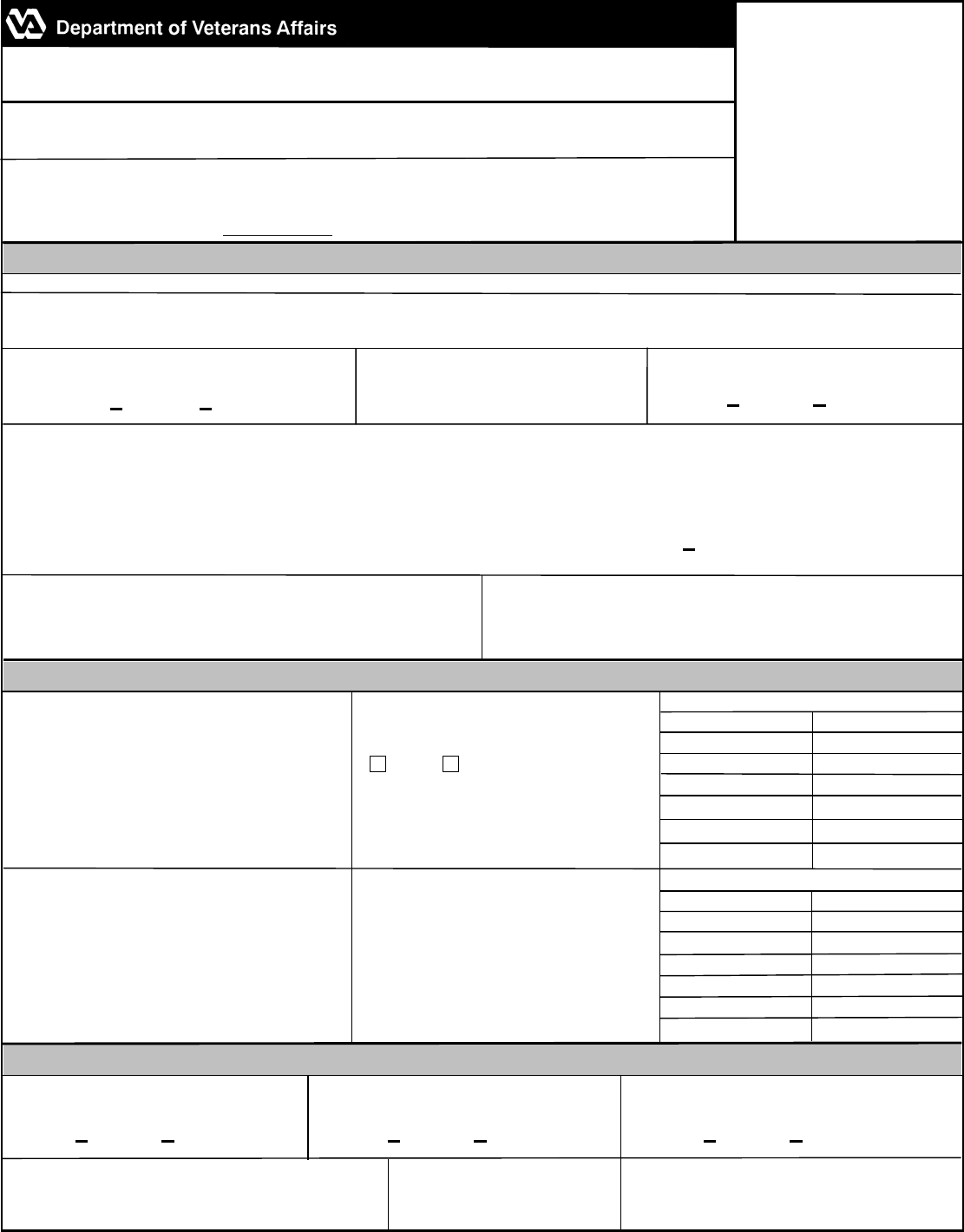 FROM
13. DATE(S) OF HOSPITALIZATION
SECTION III - EMPLOYMENT STATEMENT
NOTE
: This is a claim for compensation benefits based on unemployability. When you complete this form you are claiming
total disability because of a service-connected disability(ies) which has/have prevented you from securing or following any
substantially gainful occupation. Answer all questions fully and accurately. See mail/fax information on page 3 of this form.
SECTION II - DISABILITY AND MEDICAL TREATMENT
VETERAN'S APPLICATION FOR INCREASED
COMPENSATION BASED ON UNEMPLOYABILITY
OMB Approved No. 2900-0404
Respondent Burden: 45 minutes
Expiration Date:10/31/2020
Social Security Benefits
: Individuals who have a disability and meet medical criteria may qualify for Social Security of Supplemental
Security
Income
disability
benefits.
If
you
would
like
more
information
about
Social
Security
benefits,
contact
your
nearest
Social
Security Administration (SSA) office. You can locate the address of the nearest SSA office in your telephone book blue pages under
"United
States
Government,
Social
Security
Administration"
or
call
1-800-772-1213
(Hearing
Impaired
TDD
line
1-800-325-0778.).
You may also contact SSA by Internet at
http://www.ssa.gov/
.
17A. WHAT IS THE MOST YOU EVER EARNED IN ONE YEAR?
$
VA FORM
OCT 2017
21-8940
SUPERSEDES VA FORM 21-8940, FEB 2016,
WHICH WILL NOT BE USED.
Page 1
14. DATE YOUR DISABILITY AFFECTED
FULL-TIME EMPLOYMENT
15. DATE YOU LAST WORKED FULL-TIME
16. DATE YOU BECAME TOO DISABLED TO WORK
1. NAME OF VETERAN
(FIRST, MIDDLE INITIAL, LAST)
17B. WHAT YEAR?
17C. OCCUPATION DURING THAT YEAR
3. VA FILE NUMBER
2. VETERAN'S SOCIAL SECURITY NUMBER
4. DATE OF BIRTH
(MM,DD,YYYY)
6. EMAIL ADDRESS
(If applicable)
5. MAILING ADDRESS OF VETERAN
(No. and street or rural route, city or P.O., State, ZIP Code and Country)
11. NAME AND ADDRESS OF DOCTOR(S)
12. NAME AND ADDRESS OF HOSPITAL
10. DATE(S) OF TREATMENT BY DOCTOR(S)
9. HAVE YOU BEEN UNDER A DOCTOR'S CARE
AND/OR HOSPITALIZED WITHIN THE PAST 12
MONTHS?
8. WHAT SERVICE-CONNECTED DISABILITY PREVENTS
YOU FROM SECURING OR FOLLOWING ANY
SUBSTANTIALLY GAINFUL OCCUPATION?
TO
Month
Month
Year
Day
YearDayMonth
No. &
Street
Apt./Unit Number
City
ZIP Code/Postal Code
State/Province
Country
Year
(DO NOT WRITE IN THIS SPACE)
(VA DATE STAMP)
SECTION I - VETERAN IDENTIFICATION INFORMATION
NOTE
: You can
either

complete the form online or by hand. If completed by hand print the information requested in ink, neatly, and legibly to expedite processing the form.
7. TELEPHONE NUMBER
(Include Area Code)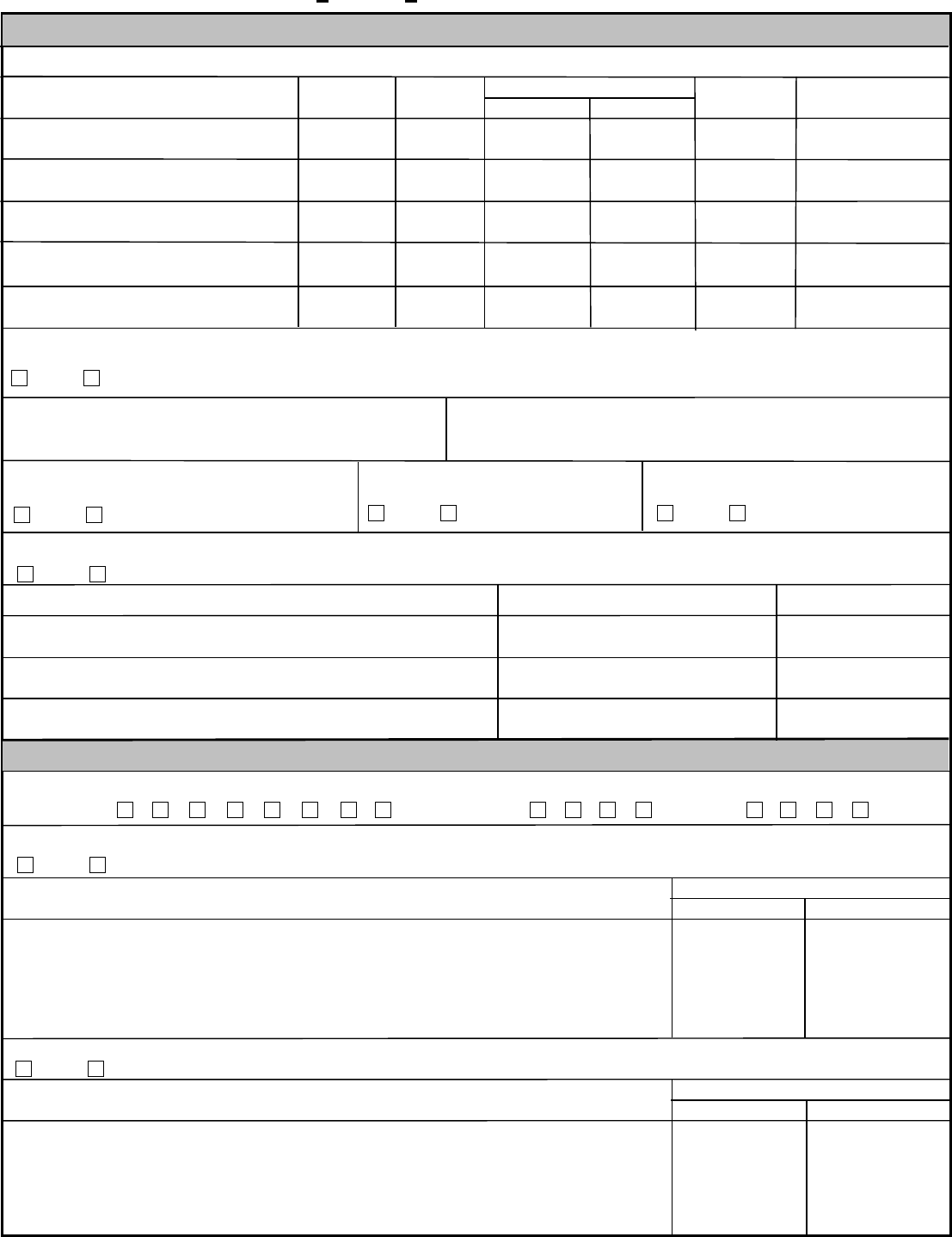 VA FORM 21-8940, OCT 2017
Page 2
VETERAN'S SOCIAL SECURITY NO.
SECTION III - EMPLOYMENT STATEMENT
(Continued)
A. NAME AND ADDRESS OF EMPLOYER
(OR UNIT)
B. TYPE OF
WORK
C. HOURS
PER WEEK
F. HIGHEST GROSS
EARNINGS PER MONTH
E. TIME LOST
FROM ILLNESS
D. DATES OF EMPLOYMENT
18H. INDICATE YOUR TOTAL EARNED INCOME FOR THE PAST 12 MONTHS
18I. IF PRESENTLY EMPLOYED, INDICATE YOUR CURRENT MONTHLY EARNED
INCOME
$
$
19. DID YOU LEAVE YOUR LAST JOB/SELF-EMPLOYMENT
BECAUSE OF YOUR DISABILITY?
20. DO YOU RECEIVE/EXPECT TO RECEIVE
DISABILITY RETIREMENT BENEFITS?
21. DO YOU RECEIVE/EXPECT TO RECEIVE
WORKERS COMPENSATION BENEFITS?
(If "Yes," give the facts in Item 26,
"Remarks")
18G. IF YOU ARE CURRENTLY SERVING IN THE RESERVE OR NATIONAL GUARD, DOES YOUR SERVICE CONNECTED DISABILITY PREVENT YOU FROM
PERFORMING YOUR MILITARY DUTIES?
YES
NO
18. LIST ALL YOUR EMPLOYMENT INCLUDING SELF-EMPLOYMENT FOR THE LAST FIVE YEARS YOU WORKED
(Include any military duty including inactive duty for training)
A. NAME AND ADDRESS OF EMPLOYER
B. TYPE OF WORK
22. HAVE YOU TRIED TO OBTAIN EMPLOYMENT SINCE YOU BECAME TOO DISABLED TO WORK?
(If "Yes," complete Items 22A, 22B, and 22C)
C. DATE APPLIED
25C. DATES OF TRAINING
23. EDUCATION
(Check highest year completed)
GRADE SCHOOL
HIGH SCHOOL
COLLEGE1
2
3
4
5
6
7
8
4 3
2
24A. DID YOU HAVE ANY OTHER EDUCATION AND TRAINING BEFORE YOU WERE TOO DISABLED TO WORK?
(If "Yes," complete Items 24B, and 24C)
24B. TYPE OF EDUCATION OR TRAINING
24C. DATES OF TRAINING
25B. TYPE OF EDUCATION OR TRAINING
25A. HAVE YOU HAD ANY EDUCATION AND TRAINING SINCE YOU BECAME TOO DISABLED TO WORK?
(If "Yes," complete Items 25B, and 25C)
BEGINNING
COMPLETION
SECTION IV - SCHOOLING AND OTHER TRAINING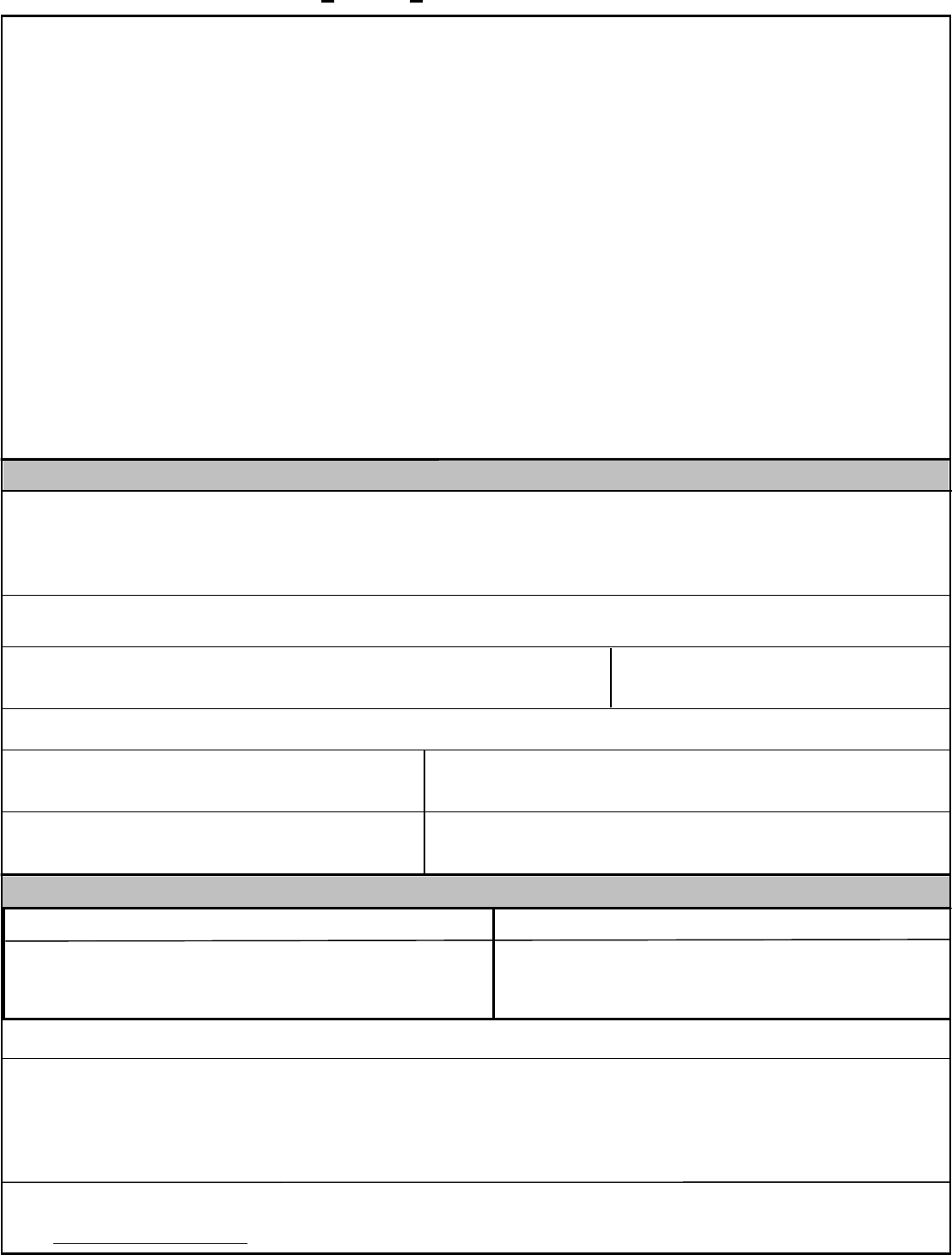 SECTION IV - AUTHORIZATION, CERTIFICATION, AND SIGNATURE
AUTHORIZATION
FOR
RELEASE
OF
INFORMATION
:

I

authorize

the

person

or

entity,

including

but

not

limited

to

any

organization,

service

provider,

employer,

or
Government
agency,
to
give
the
Department
of
Veterans
Affairs
any
information
about
me
except
protected
health
information,
and
I
waive
any
privilege
which
makes
the
information confidential.
CERTIFICATION
OF
STATEMENTS:
I
CERTIFY
THAT
as

a

result

of

my

service-connected

disabilities,

I

am

unable

to

secure

or

follow

any

substantially

gainful
occupation and
that
the statements
in
this application
are
true and
complete
to
the
best
of
my
knowledge
and
belief.
I
understand
that
these
statements will
be
considered in
determining my eligibility for VA benefits based on unemployability because of service-connected disability.
I UNDERSTAND THAT IF I AM GRANTED SERVICE-CONNECTED TOTAL DISABILITY BENEFITS BASED ON MY UNEMPLOYABILITY, I MUST IMMEDIATELY INFORM
VA IF I RETURN TO
WORK. I ALSO UNDERSTAND THAT TOTAL DISABILITY
BENEFITS PAID TO ME
AFTER I BEGIN WORK
MAY BE CONSIDERED AN
OVERPAYMENT REQUIRING REPAYMENT TO VA.
27. SIGNATURE OF CLAIMANT
(Do Not Print) (Sign in ink)
WITNESS TO
SIGNATURE
OF CLAIMANT
IF
MADE "X"
MARK.
NOTE:
Signature made
by
mark must
be
witnessed by
two
persons to
whom
the person
making
the
statement is personally know and the signature and address of such witnesses must be shown below.
29A. SIGNATURE OF WITNESS
(Sign in ink)
29B. ADDRESS OF WITNESS
30A. SIGNATURE OF WITNESS
(Sign in ink)
30B. ADDRESS OF WITNESS
PENALTY
: The law provides severe penalties which include fine or imprisonment or both for the willful submission of any statement or evidence of a material fact, knowing it to
be false or for the fraudulent acceptance of any payment to which you are not entitled.
PRIVACY ACT NOTICE
: VA will not disclose

information collected on this form to any source other than what has been authorized under the Privacy Act of 1974 or Title 38,

Code of
Regulations 1.576
for
routine uses (i.e.,
civil
or
criminal law enforcement,
congressional
communications, epidemiological or
research
studies,
the collection of
money
owed to the
United
States, litigation
in
which
the
United
States
is
a
party or has an interest,
the
administration
of
VA
programs
and
delivery
of VA benefits, verification of
identity
and
status,
and
personnel
administration) as identified in the VA system of records, 58VA21/22/28, Compensation, Pension, Education, and Vocational Rehabilitation and Employment Records - VA, published in the
Federal Register. Your obligation to respond is required to obtain or retain benefits. Giving us your SSN account information is mandatory. Applicants are required to provide their SSN under
Title 38, U.S.C. 5101(c)(1). VA will not deny an individual benefits for refusing to provide his or her SSN unless the disclosure of the SSN is required by a Federal Statute of law in effect prior
to January 1, 1975, and still in effect. The requested information is considered relevant and necessary to determine maximum benefits provided under the law. The responses you submit are
considered confidential (38 U.S.C. 5701). Information submitted is subject to verification through computer matching programs with other agencies.
VA FORM 21-8940, OCT 2017
Page 3
28. DATE SIGNED
VETERAN'S SOCIAL SECURITY NO.
RESPONDENT BURDEN
: We need this information to determine your eligibility for compensation. Title 38, United States Code, allows us to ask for this information. We estimate that you
will need an average of 45 minutes to review the instructions, find the information, and complete this form. VA cannot conduct or sponsor a collection of information unless a valid OMB
control number is displayed. You are not required to respond to a collection of information if this number is not displayed. Valid OMB control numbers can be located on the OMB Internet
Page at
www.reginfo.gov/public/do/PRAMain
. If desired, you can call 1-800-827-1000 to get information on where to send comments or suggestions about this form.
SECTION V - WHERE TO SEND CORRESPONDENCE
MAIL TO:
FAX TO:
Department of Veterans Affairs
Evidence Intake Center
PO Box 4444
Janesville, WI 53547-4444
844-531-7818 (Toll Free)
OR
Local: 248-524-4260