Fillable Printable Vba 29 0532 1 Are
Fillable Printable Vba 29 0532 1 Are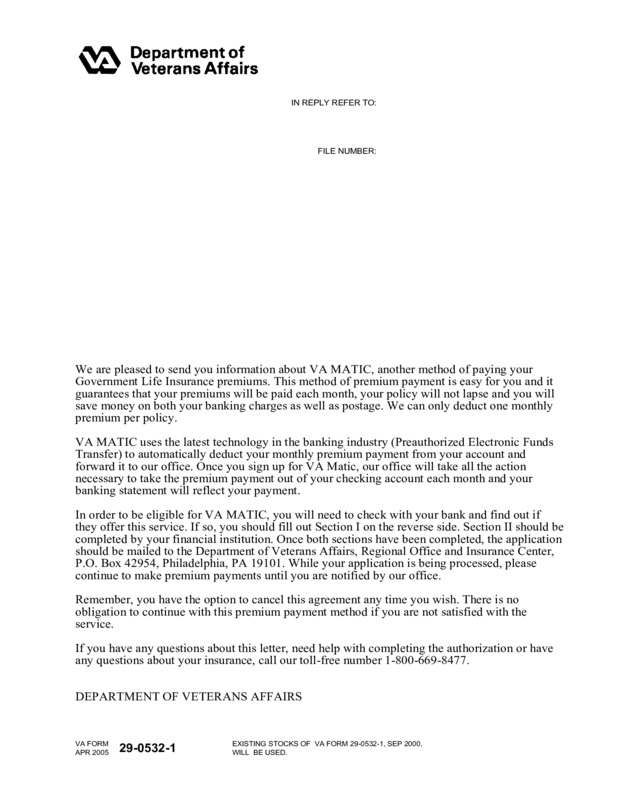 Vba 29 0532 1 Are

IN REPLY REFER TO:
FILE NUMBER:
We are pleased to send you information about VA MATIC, another method of paying your
Government Life Insurance premiums. This method of premium payment is easy for you and it
guarantees that your premiums will be paid each month, your policy will not lapse and you will
save money on both your banking charges as well as postage. We can only deduct one monthly
premium per policy.
VA MATIC uses the latest technology in the banking industry (Preauthorized Electronic Funds
Transfer) to automatically deduct your monthly premium payment from your account and
forward it to our office. Once you sign up for VA Matic, our office will take all the action
necessary to take the premium payment out of your checking account each month and your
banking statement will reflect your payment.
In order to be eligible for VA MATIC, you will need to check with your bank and find out if
they offer this service. If so, you should fill out Section I on the reverse side. Section II should be
completed by your financial institution. Once both sections have been completed, the application
should be mailed to the Department of Veterans Affairs, Regional Office and Insurance Center,
P.O. Box 42954, Philadelphia, PA 19101. While your application is being processed, please
continue to make premium payments until you are notified by our office.
Remember, you have the option to cancel this agreement any time you wish. There is no
obligation to continue with this premium payment method if you are not satisfied with the
service.
If you have any questions about this letter, need help with completing the authorization or have
any questions about your insurance, call our toll-free number 1-800-669-8477.
DEPARTMENT OF VETERANS AFFAIRS
VA FORM
APR 2005
29-0532-1
EXISTING STOCKS OF VA FORM 29-0532-1, SEP 2000,
WILL BE USED.
SECTION II - TO BE COMPLETED BY FINANCIAL INSTITUTION
SECTION I - TO BE COMPLETED BY INSURED
PRIVACY ACT INFORMATION:
The VA will not disclose information collected on this form to any source other than what has been authorized
under the Privacy Act of 1974 or Title 5, Code of Federal Regulations 1.526 for routine uses identified in the VA system of records, 36VA00,
Veterans and Armed Forces Personnel U.S. Government Life Insurance Records - VA, published in the Federal Register. Your obligation to respond
is voluntary, but your failure to provide us the information could impede processing.
RESPONDENT BURDEN:
We need this information to establish your eligibility for VA Insurance benefits (38 U.S.C. 5902). Title 38, United
States Code, allows us to ask for this information. We estimate that you will need an average of 30 minutes to review the instructions, find the
information, and complete this form. VA cannot conduct or sponsor a collection of information if this number is not displayed. Valid OMB control
numbers can be located on the OMB Internet page at
//www.reginfo.gov/public/do/PRAMain
. If desired, you can call 1-800-827-1000 to get
information on where to send comments or suggestions about this form.
VA MATIC AUTHORIZATION
2. INSURANCE FILE NUMBER
3. ADDRESS OF INSURED
(Include number and street or rural route, city or P.O., State, and ZIP Code)
1. FIRST, MIDDLE, LAST NAME OF INSURED
OMB Approved No. 2900-0492
Respondent Burden: 30 minutes
4. DAYTIME TELEPHONE NUMBER
5. SOCIAL SECURITY NUMBER
I HEREBY authorize the Department of Veterans Affairs to start a deduction from my account at the financial institution
stated below for the purpose of paying Government Life Insurance premiums. I further authorize VA to adjust the amount
of this deduction if my premiums increase or decrease. I understand that each deduction will be in the amount of my
monthly premium payment and the deduction shall be made on the premium due date. Unless otherwise specified by me,
this authorization will cover all of the Government Life Insurance policies under the Insurance File Number shown in
Item 2.
6. SIGNATURE OF INSURED7. DATE SIGNED
IF YOU HAVE ANY QUESTIONS ABOUT YOUR INSURANCE, PLEASE CALL OUR TOLL-FREE NUMBER - 1-800-669-8477
8. NAME OF BANK OR FINANCIAL INSTITUTION9. TYPE OF DEPOSITOR ACCOUNT
10. ADDRESS OF BANK OR FINANCIAL INSTITUTION
(Include Area Code)
11. TELEPHONE NUMBER OF BANK OR
INSTITUTION
(Include Area Code)
12. ACCOUNT NUMBER
14. SIGNATURE OF FINANCIAL INSTITUTION REPRESENTATIVE15. DATE SIGNED
13. TRANSIT ROUTING NUMBER FOR EFT
(Electronic Funds Transfer)
VA FORM 29-0532-1 APR 2005