Fillable Printable Vehicle Bill of Sale Example - Montana
Fillable Printable Vehicle Bill of Sale Example - Montana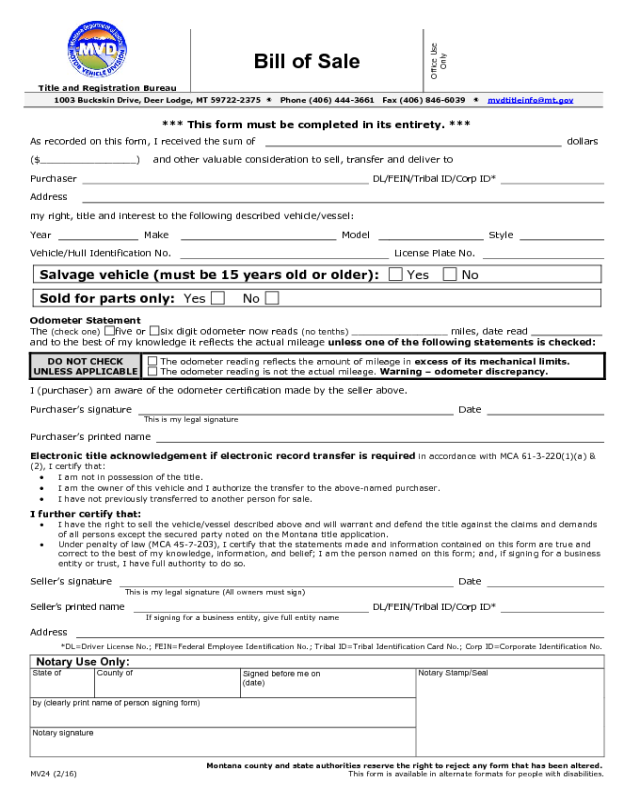 Vehicle Bill of Sale Example - Montana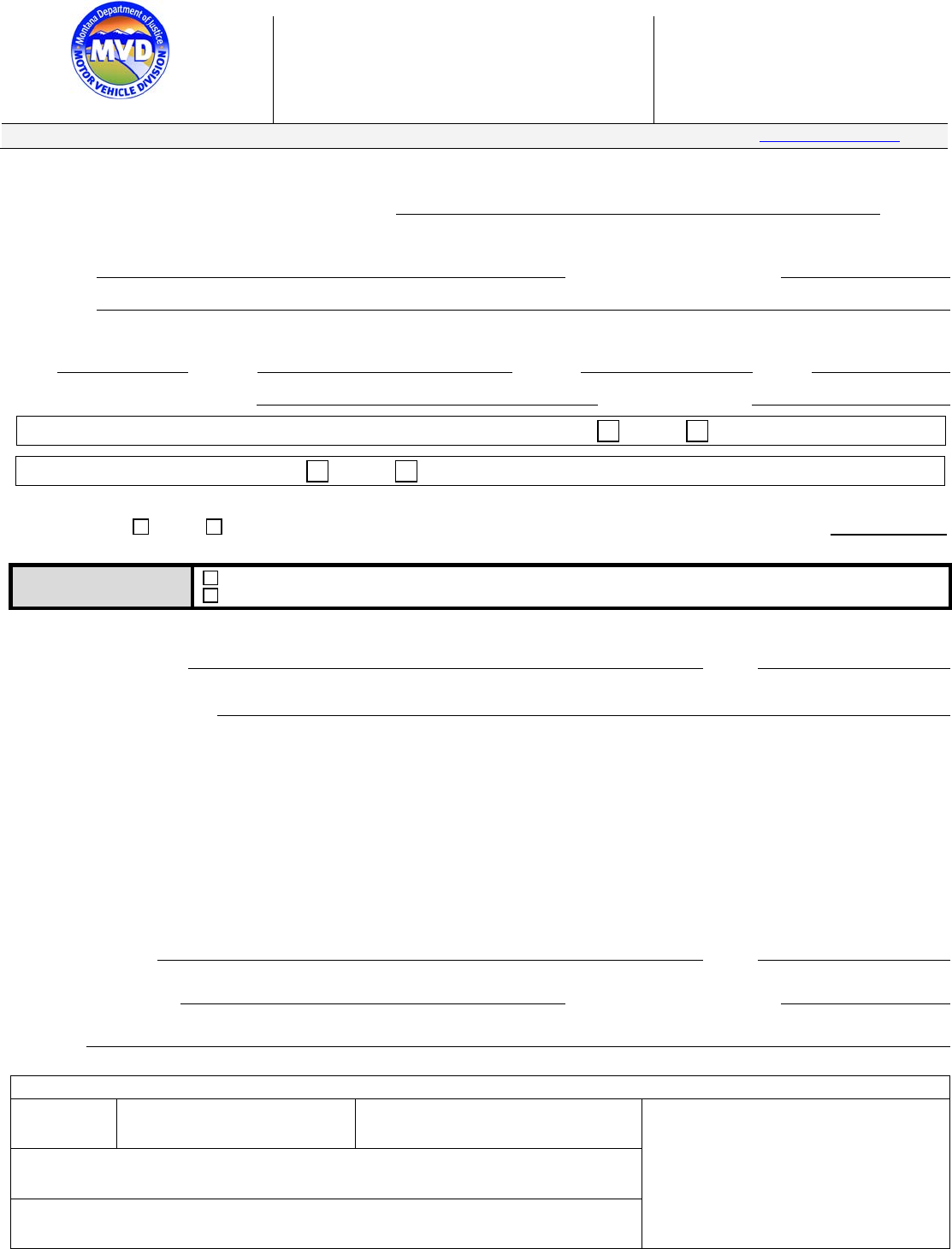 Title and Registration Bureau
Only
1003 Buckskin Drive, Deer Lodge, MT 59722
-
2375
 Phone (406)

444

-

3661

Fax (406) 846

-

6039

 [email protected]
*** This form must be
completed in its entirety. ***
As recorded on this form,
I received the sum of
a
nd other valuable consideration to sell, transfer and deliver to
DL/FEIN/Tribal ID/Corp ID
*
m
y right, title and interest to the following described vehicle/vessel:
Vehicle/Hull I
dentification

No.
Salvage vehicle (must be 15 year s o ld or older)
:

Yes

No
Sold for parts only: Yes

No
The
(check one)
five

or

six

digit odometer now reads

(no tenths)

________________
m iles, date read
and
to
the best of my knowledge

it reflects the actual mileage

unless one of the following statements is checked:
The odometer reading reflects the amount of mileage in

excess of its mechanical limits.
The odometer reading is not th

e actual mileage.

Warning – odometer discrepancy.
I (
purchaser

)
am aware of the odometer certification made by the seller
above

.
This is my legal signature
Electronic title acknowledgement
if electronic
record
transfer is requ ired

in accordance wit h MCA 61

-3-

220(1)(a) &
•
I am not in possession of the title

.
•
I am the owner of this vehicle and I authorize the transfer to the above-

named purchaser

.
•
I have not previously transferred to another person for sale.
•
I have the right to sell the vehic le/vessel de scribed above a nd will warrant and defend the title ag ainst the claims and dema

nds
o
f all persons except the secured p a rty noted
on the Montana t

itle ap plication
.
nder penalty of law (MCA 45
-7-

203), I cert ify that the statements made an d inf ormation contained on this form are true and
correct to the best of my knowledge, information, and belief; I am the person named on this form; and, if signin
g for a busi ne
ss
e
ntity or trust, I have full authority to do so.
This is my legal signature
(All owners must sign)
DL/FEIN/Tribal ID/Corp ID
*
If signing for a business

entity, give full entity name
*DL=Driver License No.; FEIN=Federal Employee Identification No.; Tribal ID=Tribal Identification Card No.; Corp I D=Corporate
Identification No.
(date)
by (clearly print name of person signing form)
Montana
county and state authorities reserve the right to reject any form that has been altered
.
This form is available in alternate formats for people with disabilities
.