Fillable Printable Basic Company Profile Sample
Fillable Printable Basic Company Profile Sample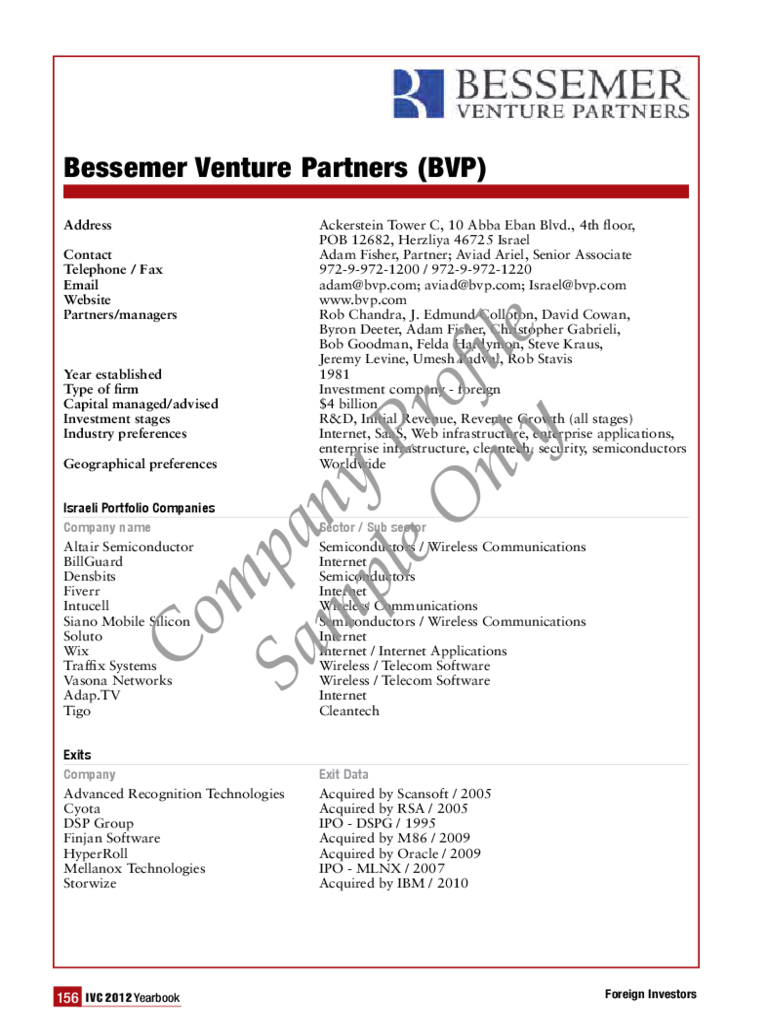 Basic Company Profile Sample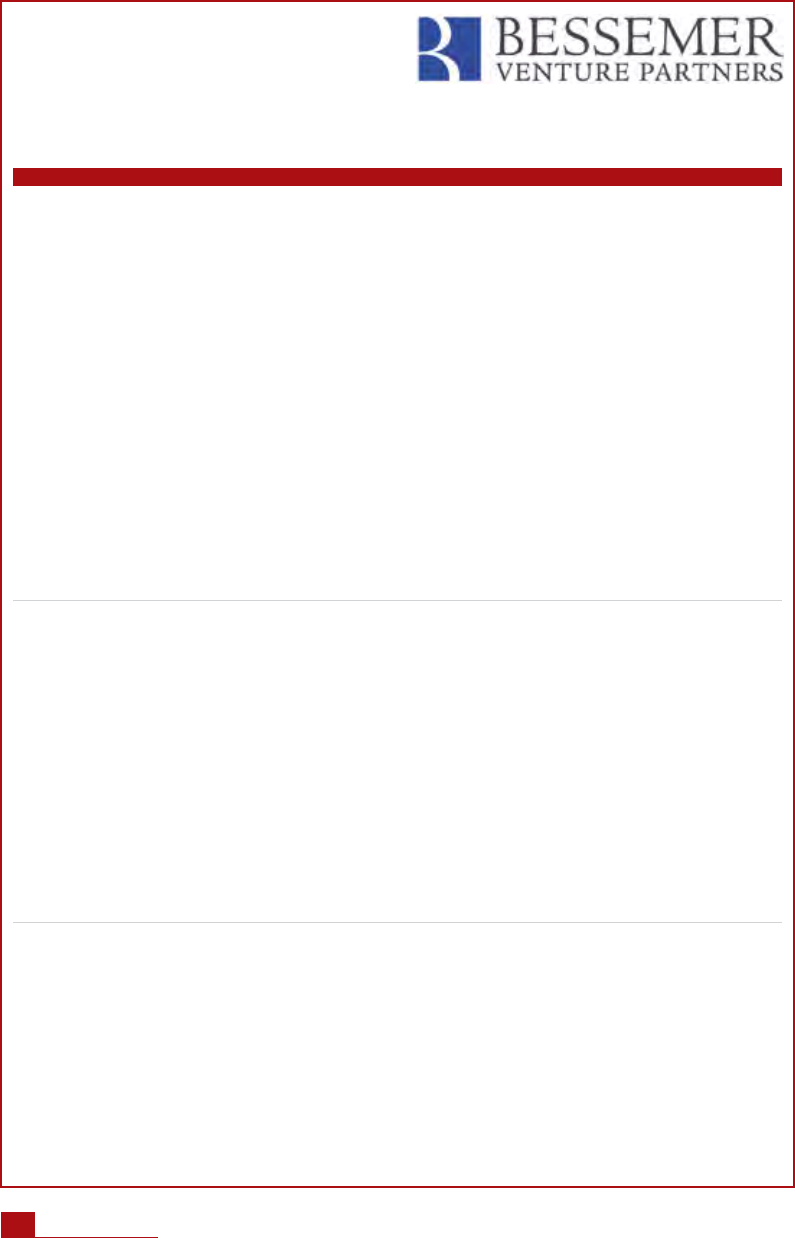 156
Foreign Investors
Bessemer Venture Partners (BVP)
Address
Ackerstein Tower C, 10 Abba Eban Blvd., 4th floor,
POB 12682, Herzliya 46725 Israel
Contact
Adam Fisher, Partner; Aviad Ariel, Senior Associate
Telephone / Fax
972-9-972-1200 / 972-9-972-1220
Partners/managers
Rob Chandra, J. Edmund Colloton, David Cowan,
Byron Deeter, Adam Fisher, Christopher Gabrieli,
Bob Goodman, Felda Hardymon, Steve Kraus,
Jeremy Levine, Umesh Padval, Rob Stavis
Type of firm
Investment company - foreign
Capital managed/advised
$4 billion
Investment stages
R&D, Initial Revenue, Revenue Growth (all stages)
Industry preferences
Internet, SaaS, Web infrastructure, enterprise applications,
enterprise infrastructure, cleantech, security, semiconductors
Geographical preferences
Worldwide
Israeli Portfolio Companies
Company name Sector / Sub sector
Altair Semiconductor Semiconductors / Wireless Communications
BillGuard Internet
Densbits Semiconductors
Fiverr Internet
Intucell Wireless Communications
Siano Mobile Silicon Semiconductors / Wireless Communications
Soluto Internet
Wix Internet / Internet Applications
Traffix Systems Wireless / Telecom Software
Vasona Networks Wireless / Telecom Software
Adap.TV Internet
Tigo Cleantech
Exits
Company Exit Data
Advanced Recognition Technologies Acquired by Scansoft / 2005
Cyota Acquired by RSA / 2005
DSP Group IPO - DSPG / 1995
Finjan Software Acquired by M86 / 2009
HyperRoll Acquired by Oracle / 2009
Mellanox Technologies IPO - MLNX / 2007
Storwize Acquired by IBM / 2010
Company Profile
Sample Only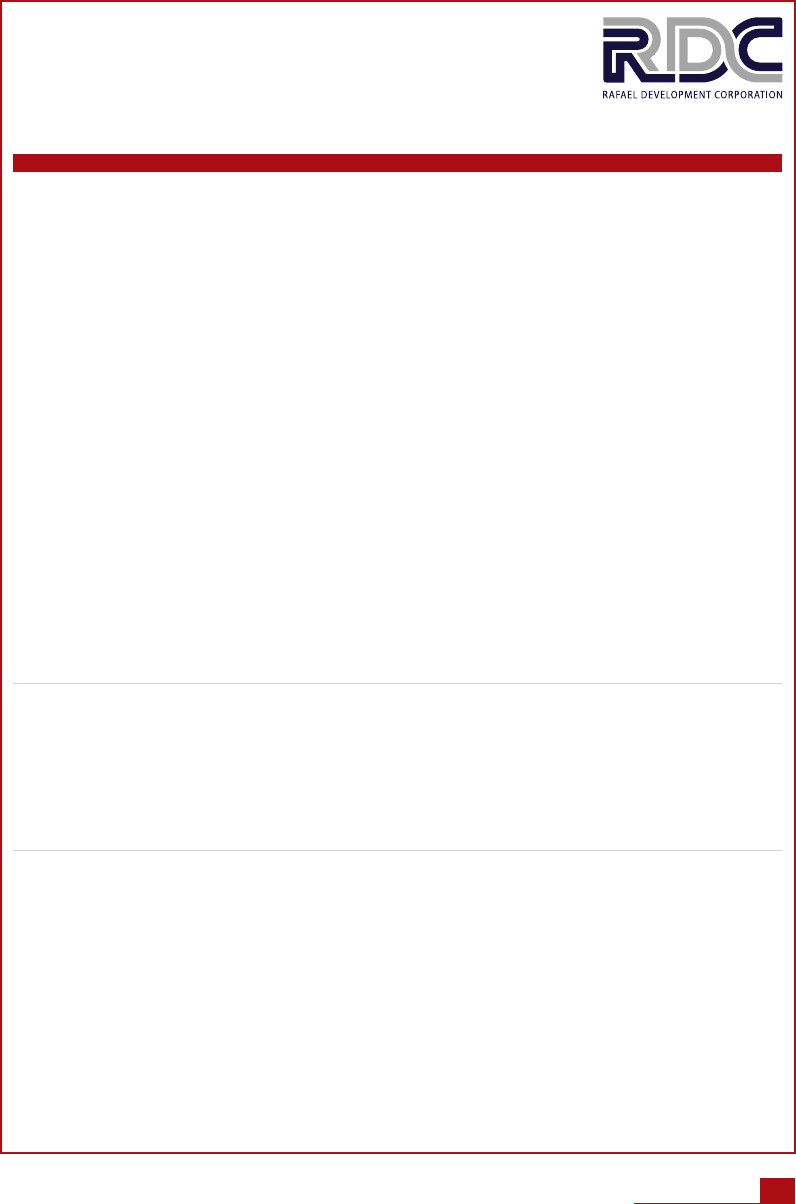 Investment Companies
231
RDC – Rafael Development Corporation Ltd.
Main address
3 Azrieli Center, Triangle Tower, 42nd floor, Tel Aviv 67023 Israel
Contact
Giora Shaked, CEO; Lior Levinsky, Director of Finance
Telephone / Fax
972-3-607-5500
Main investors/shareholders
Elron Electronic Industries, RAFAEL Advanced Defense Systems
Type of firm
Sprouting, Investment and Holding Company
Investment stages
All from seed and R&D to IPO
Industry preferences
Cleantech, life sciences, biomedical, renewable energy, materials
technologies, semiconductors, cybertechnology.
LS phase preferences
Discovery / Pre-clinical / Phase I / Phase II / Phase III / Clinical
trials / FDA-approved / CE-approved
Rafael Development Corporation is a unique investment company that turns exciting ideas into
successful businesses. RDC, 50.1 percent-owned by Elron (IDB) and 49.9 percent by Rafael Advanced
Defense Systems, combines Rafael's scientific know-how, advanced research and development
capabilities, technological innovation and resourcefulness with Elron's strong financial base, extensive
business know-how, and vast expertise in managing global technology companies.
At RDC we identify ideas that show potential and growth and make them come to life. Unlike a
corporate VC fund, we have the resources to go the distance and nurture ideas from seed to sustainable
businesses. This allows us to offer a more personal approach and guarantees that each and every
portfolio company receives our full attention and support on the way to success.
Portfolio Companies
Company name Sector / Sub sector
Kyma Medical Technologies Life Sciences / Medical Devices
Sync-Rx Life Sciences / Imaging
Smart Wave Medical Life Sciences / Medical Devices
Given Imaging Life Sciences / Medical Devices
Actisafe Transportation / Car Safety
Exits
Company name Sector / Sub sector
Given Imaging (IPO) Life Sciences / Medical Devices
3DV (acquired) Semiconductors / Video, Image & Audio
Avantry (acquired) Communications / Wireless Infrastructure
Ingeneo Technologies (acquired) IT & Enterprise Software / Enterprise Infrastructure
Medingo (acquired) Life Sciences / Medical Devices
Oramir (acquired) Semiconductors / Manufacturing Equipment & EDA
SELA (acquired) Semiconductors / Fabrication & Testing
Witcom (merged) Communications / Wireless Infrastructure
Starling (IPO, acquired) Communications / Wireless Infrastructure
Board Members
Arie Mientkavich, Chairman; Ilan Biran, Ari Bronshtein, David Vaish, Zvika Slovin,
Roni Potasman, Yaron Elad, Moshe Maor
Company Profile
Sample Only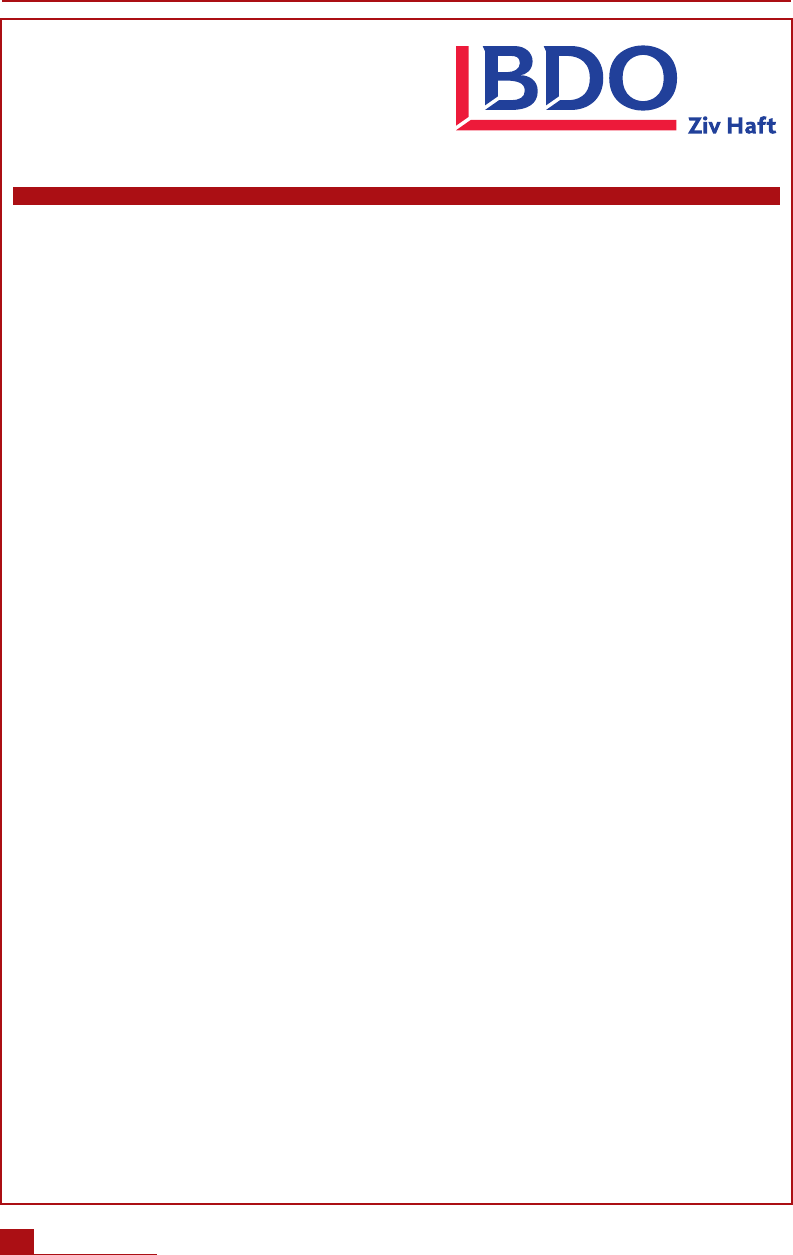 174
Service Providers
BDO Ziv Haft
Address
Amot Bituach House, Bldg. B, 46-48 Menachem Begin Road, Tel Aviv
66180 Israel
Contact
Michal Yashar, Marketing Communications Manager
Telephone / Fax
972-3- 638-0152 / 972-3-638-0157
Partners/managers
Shlomo Ziv, President & Founder; Dan Margalit, Chairman & CEO;
Erez Soffer, Managing Partner; Shahar Ziv, Managing Partner
High-Tech Division
Yaniv Cohen, Partner & Head of High-Tech Division; Lavy Giat, Senior
Partner; Hofit Gotesdyner, Partner; Lior Shahar, Partner; Avi Oz, Partner
Consulting Group
Udi Savithsky, Head of BDO Consulting Group; Pini Shmueli Nisan,
Partner; Yigal Toledano, Partner; Yaron Peled, Partner; Sharon Witkowski
Tabib, Partner
Tax
Eyal Rubin, Senior Tax Partner; Eli Alice, International Tax Partner
Description
BDO Ziv Haft is a dynamic, business-oriented accounting and consulting firm, ranking among the five
leading firms in Israel. Established in 1983, BDO Ziv Haft is part of the BDO International network,
one of the world's five leading accounting and business consulting networks. The BDO network is
represented in more than 110 countries and deployed in over 600 offices with 30,000-plus employees
throughout the world. BDO Ziv Haft's membership in the BDO network enables the firm's clients to
receive personalized and reliable local services in a wide range of areas in business centers worldwide.
BDO Ziv Haft maintains six branches across Israel with more than 1,000 employees, as well as Israel
desks in India and China and an accounting office in Georgia. The firm is proud of its highly
professional and experienced high-tech group, which accompanies companies from seed to exit and
beyond. We offer specialized expertise in sectors as diverse as software, IT, hardware, Internet, telecom,
wireless, semiconductors, medical devices, pharmaceuticals, cleantech and more. We integrate business
advisory, accounting and tax services into a single unit.
The services we provide include:
• Auditing and accounting
. Auditing (PCAOB, ICFR, US/ISRAELI GAAS, ISA, SAS 70, etc.) &
Accounting (SEC Reporting, US GAAP, IFRS, ISEC Reporting & ISRAELI GAAP)
• Raising private and public capital
. Our strong global network comprised of investment banks,
venture capital firms and private investors uniquely positions us to create connections between
investors and high-tech companies. We have extensive experience in taking high-tech firms public in
Israel, the US, the UK and Asia.
• Local and international tax consultancy
. We provide diversified tax services, including consulting,
obtaining pre-rulings, international taxation (in conjunction with the international BDO network)
and employee stock option plans.
• M&A activity
. Includes structuring and restructuring deals
• Valuations and due diligence.
• Planning and implementation of financial information technologies
. Systems analysis & design, EDP
auditing, ERP, CRM, balanced scorecard, performance management, security services and business
intelligence
• Government funds
. Verification of eligibility and preparation and submission of reports to assist
clients seeking government funding for business ventures
Company Profile
Sample Only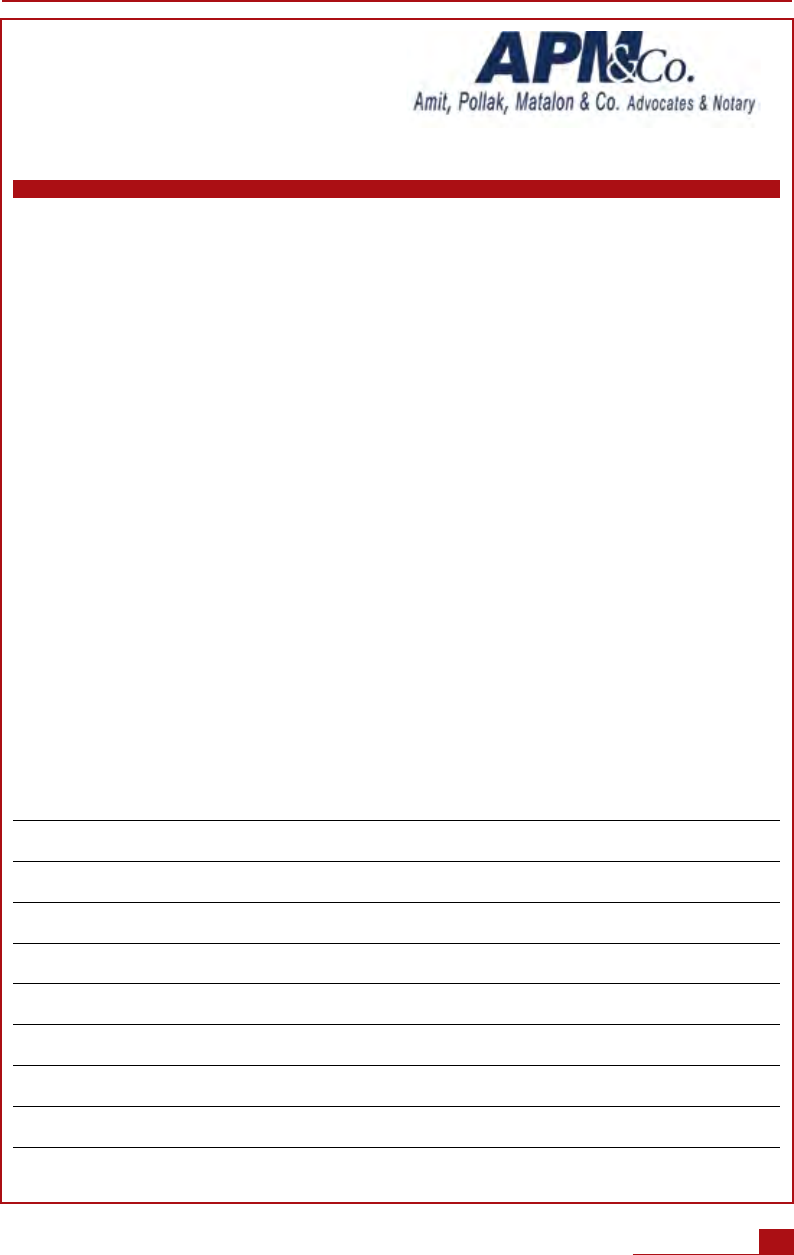 183
Service Providers
Amit, Pollak, Matalon & Co. Advocates & Notary
Main address
Nitsba Tower, 17 Yitzhak Sadeh St., 19th floor, Tel Aviv 67775 Israel
Contact
Yonatan Altman, Managing Partner/VC Partner
Telephone / Fax
972-3-568-9000 / 972-3-568-9001
Description
APM & Co. is a renowned Israeli law firm with a robust commercial, corporate and litigation practice. Established
in 1956, the firm draws on over 55 years of excellence to offer an up-to-date and innovative approach to the
practice of law. APM & Co. provides a comprehensive range of legal services to an Israeli and international
client base that spans across all business sectors.
APM & Co. has extensive experience in high-tech and venture capital investments (all stages), securities offerings,
spinoffs, mergers and acquisitions, joint ventures and international agreements. The firm advises domestic and
foreign venture capital funds and entrepreneurs with respect to formation, finance, tax structure, intellectual
property, employment and other issues. APM & Co.'s dynamic professionals take a proactive role and focus on
providing practical solutions.
APM & Co. clients include leading Israeli enterprises, venture capital and private equity funds, software houses,
high-tech companies, technological incubators, banking institutions, insurance companies, trade unions, and
real estate developers and contractors. The firm also counsels multinational companies, mutual fund managers,
stock brokers, provident funds and pension funds in all legal aspects of asset management.
Practice Areas
•VentureCapital•High-TechandM&A•CorporateandSecurities•PublicandPrivateOfferings•IPOs•
IntellectualProperty•Investments•Banking•Licensing•InternationalJointVentures•InternationalTrade•
HedgeFunds•Tax•Antitrust•CapitalMarkets•Litigation•Environmental•Bankruptcy,Liquidationand
Reorganization•LaborandEmployment•RegulatoryandCompliance
Key Personnel
Yonatan AltmanManaging Partner
Venture Capital, High-Tech and M&A
Tel: 972-3-568-9010
Tax, CapitalMarkets, Public
&
Private
Offerings
Tel: 972-3-568-9090
Venture Capital, High-Tech and M&A
Tel: 972-3-568-9089
Venture Capital, High-Tech and M&A
Tel: 972-3-568-9030
Venture Capital, High-Tech and M&A
Tel: 972-3-568-9030
Venture Capital, High-Tech and M&A
Tel: 972-3-568-9010
Taxation
Tel: 972-3-568-9090
Venture Capital, High-Tech and M&A
Tel: 972-3-568-9030
Company Profile
Sample Only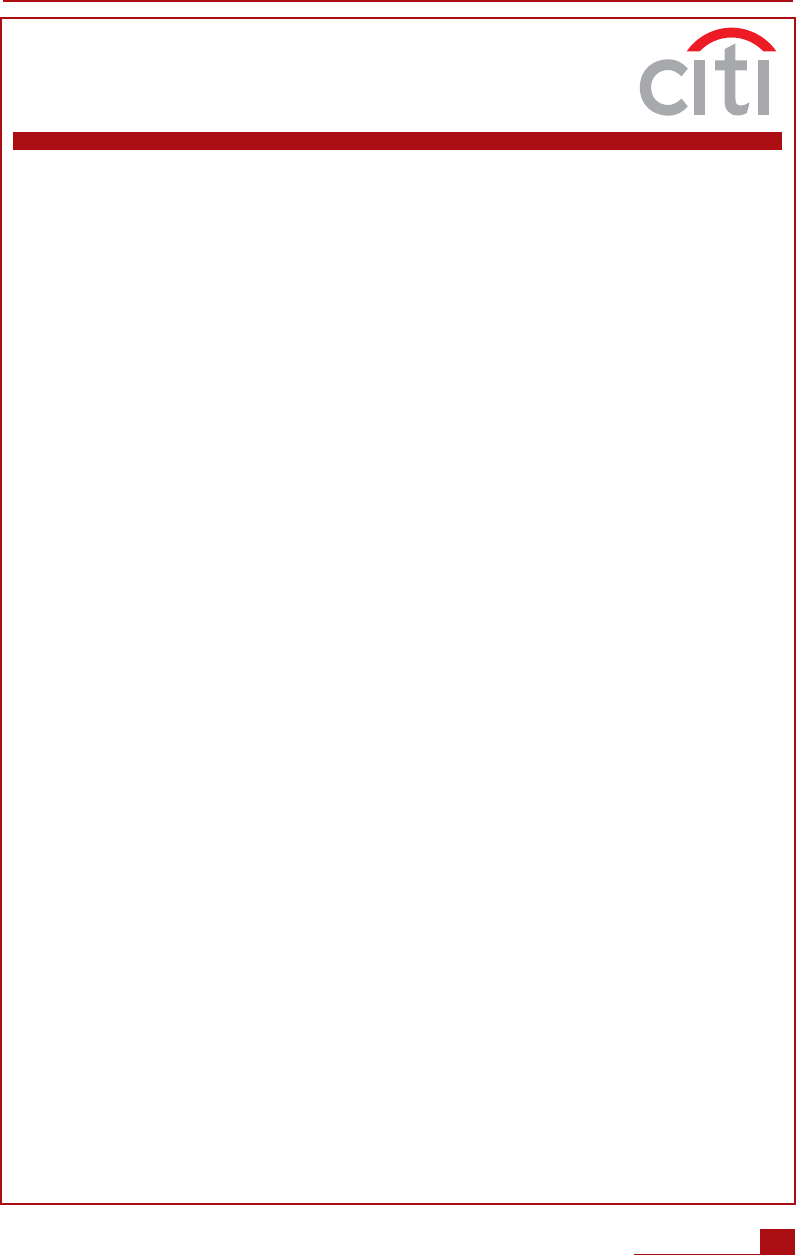 179
Service Providers
Citigroup Inc., Global Banking
Address
Platinum House, 21 Ha'arba'ah Street, 11th floor, Tel Aviv 64739 Israel
Contact
Itay Makov, Alain Dobkin, David Brooks
Telephone / Fax
972-3-684-2500 / 972-3-684-2501
Partners/managers
Itay Makov, Alain Dobkin, David Brooks
Description
Citigroup Global Banking, the corporate and investment banking division of Citigroup Inc., is one of
the largest banking and securities firms globally, doing business in more than 140 countries. Citigroup
Global Banking offers comprehensive financial advisory and capital raising and other corporate banking
services to corporations, institutions and governments worldwide, providing advice on complex financial
transactions including public and private equity and debt capital raising, mergers and acquisitions,
strategic derivative transactions, financial restructurings and privatizations.
Israeli clients have greatly benefited from Citi's ability to channel its global expertise across a broad range
of products and services and geographies in key industry segments, including technology, healthcare,
chemicals, energy, real estate, financial services and telecom. Citi has one of the largest full-time local
staffs of investment banking professionals committed to advising Israeli companies and has advised on
more than 125 transactions since 2000, with a total value exceeding US$50 billion.
Citi began serving Israeli clients over 20 years ago through its investment banking arm (formerly Salomon
Smith Barney) and in 1996 opened a corporate banking office in Israel. In 2000, Citi became the first
international bank to receive a banking license and establish a full-service, integrated banking operation
in Israel. In 2009, Citi Israel established equity and corporate bond trading desks to complement its
full-service trading room, providing clients with direct access to foreign exchange, fixed income, equity,
credit and currency markets as well as various derivative solutions. Furthermore, as a member of the
Tel Aviv Stock Exchange (TASE) and the TASE Clearing House, Citi offers comprehensive settlement,
clearing and corporate action services to international institutional investors. Citi's dedication to service
and innovation has received recognition through numerous prestigious awards including the Best
Investment Bank, Best Debt House, Best Equity House and Best M&A House in Israel by
Euromoney

,
and Leading Bank in Shekel Trade among other awards.
Selected 2011 Citi-led transaction highlights in the Israeli market include:
Mergers & Acquisitions
Advised Fundtech on its sale to GTCR, $390 million (11/11); advised CVCI on its acquisition of Ness
Technologies, $307 million (10/11); advised Elbit Imaging, Plaza Centers and Eastgate Property on their
acquisition of a 52% stake in EDT Retail, $728 million (7/11); advised Israel Chemicals Limited on its
acquisition of Scotts Miracle-Gro, $270 million (2/11)
Equity
Gazit-Globe NYSE IPO, $93 million - joint bookrunner (12/11); Israel Corp. accelerated equity offering,
$101 million - sole bookrunner (7/11); Protalix follow-on offering, $22 million - joint bookrunner
(3/11)
Debt
Teva Pharmaceutical global bond offerings, $5 billion and $750 million - joint bookrunner (11/11 &
3/11); Israel Chemicals revolving loan facility, $650 million - co-arranger (12/11); Amdocs revolving
credit facility, $500 million - lender (12/11); Teva Pharmaceutical - syndicated loans, $4 billion and $1.5
billion mandated lead arranger (6/11 & 1/11)
Equity Derivatives
Ofer Shipping / Israel Corporation, $130 million - sole arranger (7/11); Koor Industries/Credit Suisse,
CHF500 million - sole arranger ('10 & '11); Delek Group/Noble Energy, $120 million - sole arranger
('10 & '11)
Company Profile
Sample Only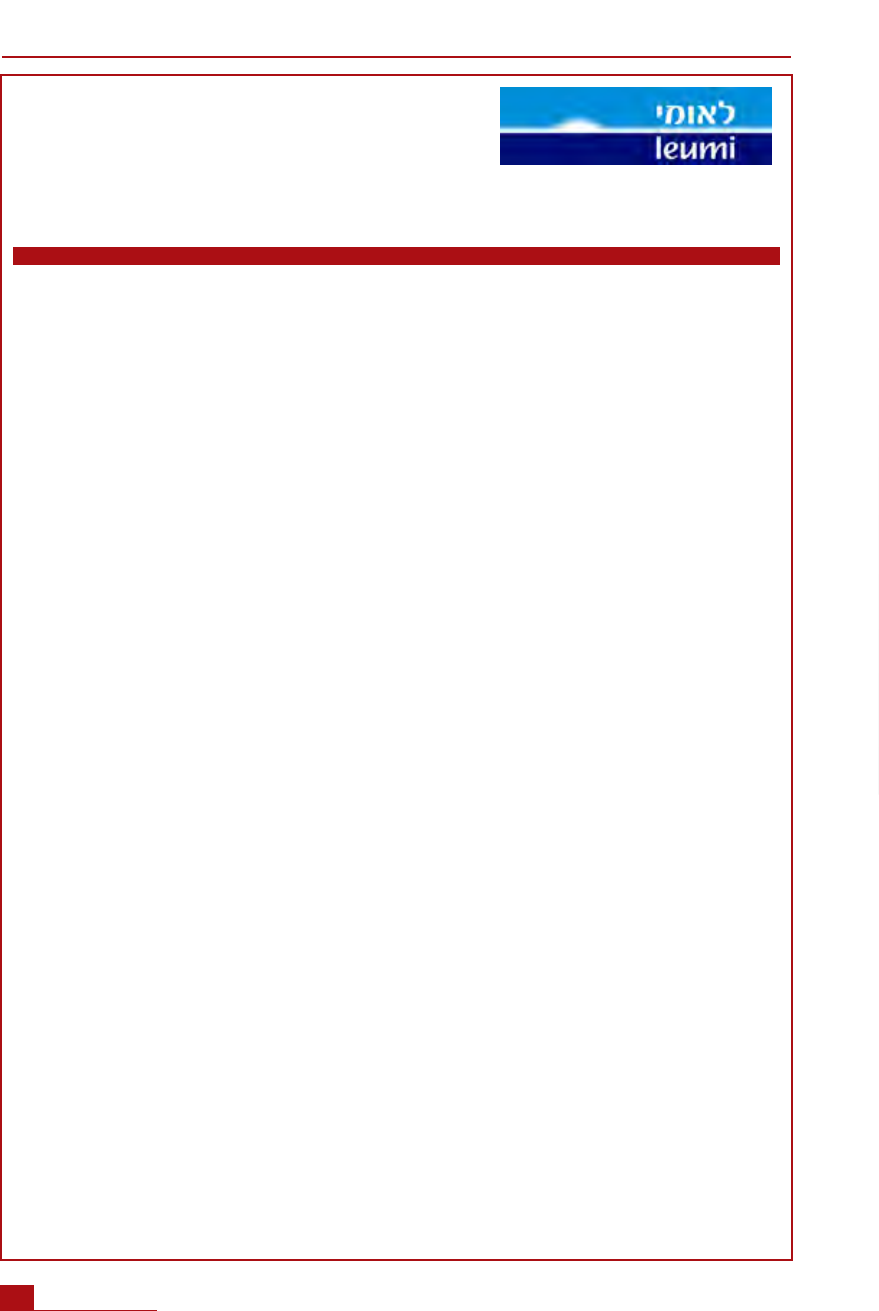 210
Service Providers
◆
PROFESSIONAL SERVICES
◆
Bank Leumi le-Israel BM
Description
Providing services to high-tech sector customers requires unique skills beyond those of traditional
business banking. Accordingly, unique business branches have been established in technology-oriented
industrial areas with specially trained staff. The branches offer (with assistance from our head office
High-Tech and Start-up unit) a full range of financial services such as unique credit and investment
products, trade finance support, and attractive benefits for businesses and executives.
High-Tech Financing Unit
Address
34 Yehuda Halevi St., Tel Aviv 65157 Israel
Telephone / Fax
972-3-514-7789 / 972-3-514-9982
Website
www.biz.leumi.co.il
Contact information for Leumi's high-tech branch managers:
Leumi Online
www.leumi.co.il
Leumi Mobile
//m.leumi.co.il
Leumi Facebook
facebook.com/leumidigital
Leumi Twitter
twitter.com/leumidigital
Leumi Blog
www.leumiblog.co.il
biz.leumi.co.il
We at Leumi understand that you need a trusted advisor who can think business, speak your language and
support your unique financial requirements. Our experienced hi-tech teams are committed to your success.
Leumi provides the dedicated one-on-one guidance, leadership and connections you need on the way to
business growth - today and into the future.
• 11 full-service high-tech business branches nationwide and globally, including in Silicon Valley, USA.
• An unmatched spectrum of innovative financial products and services that support your present and long
term goals.
• Team of experts supporting your venture at all stages (Preseed, Seed, Early Stage, Mezzanine, Initial Revenue,
Revenue Growth, Mature).
Leumi's high-tech branches in Israel:
• Herzliya: Tel: 09-9716400 • Ramat Hahayal: Tel: 03-7654300 • Raananna-Kfar Sabah: Tel: 09-7622300 • Har Hozvim: Tel: 02-5489300
• Bourse (Ramat Gan): Tel: 03-6111300 • Haifa Head Office: Tel: 04-8547121 • Rehovot: Tel: 08-9313300
• Petach Tikva:Tel:03-9056300 • Kiriyat Arieh: Tel: 03-9288300 • Netanya: Tel: 09-8920300 •Ayalon: Tel: 03-9351090
Leumi.
Make the right
connection for
high
-
tech success.
Together we go further.
leumi usb 1147.indd 12/15/12 4:38 PM
Company Profile
Sample Only