Fillable Printable Company Profile Example
Fillable Printable Company Profile Example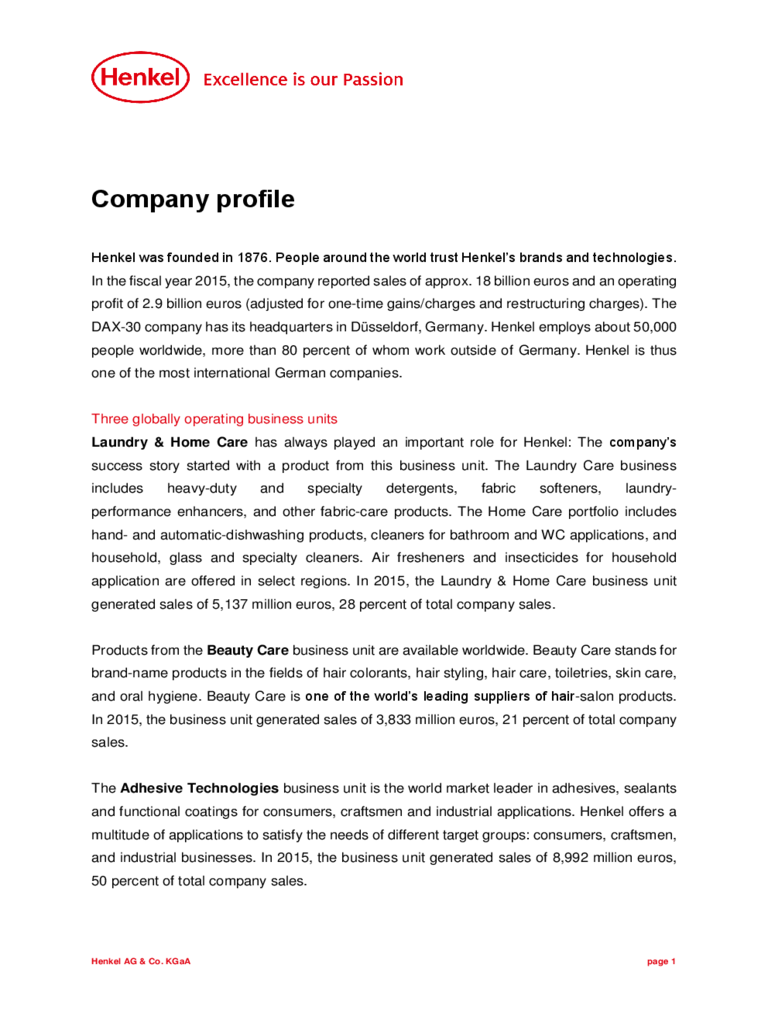 Company Profile Example

Henkel AG & Co. KGaA page 1
Company profile
Henkel was founded in 1876. People around the world trust Henkel's brands and technologies.
In the fiscal year
2015, the companyreported sales of approx. 18 billion euros and an

operating
profit of 2.9 billion euros (adjusted for one-time gains/charges and restructuring charges). The
DAX
-30 company has its headquarters in Düsseldorf, Germany. Henkel employs about

50,000
people worldwide, more than 80 percent of whom work outside of Germany.
Henkel is thus
one of the most international German companies.
Three globally operating business units
Laundry & Home Care
has always played an important role for Henkel: The

company's
success story started with a product from this business unit. The LaundryCare business
includes heavy-duty and specialty detergents
,
fabric softeners, laundry-
performance enhancers, and other fabric-care products. The Home Care portfolio includes
hand
- and automatic-dishwashing products, cleaners for bathroom and WC applications, and
household, glass and specialty cleaners. Air fresheners and insecticides for household
application are offered in select regions. In 2015, the Laundry& Home Care businessunit
generated sales of 5,137 million euros
,
28 percent of total company sales.
Products from the
Beauty Care

business unit areavailable worldwide. Beauty Care standsfor
brand-name products in the fields of hair colorants, hair styling, hair care, toiletries, skin care,
and
oral hygiene. Beauty Care is one of the world's leading suppliers of hair

-salon products.
In
2015
, the business unit generated sales of
3,
833 million euros
,
21 percent of total company
sales.
The
Adhesive Technologies

business unit is the world market leader in adhesives, sealants
and functional coatings for consumers, craftsmen and industrialapplications. Henkel offers a
multitude of applications to satisfy the needs of different target groups: consumers, craftsmen,
and industrial businesses. In 2015, the business unit generated sales of
8,

992
million euros
,
50
percent of total company sales.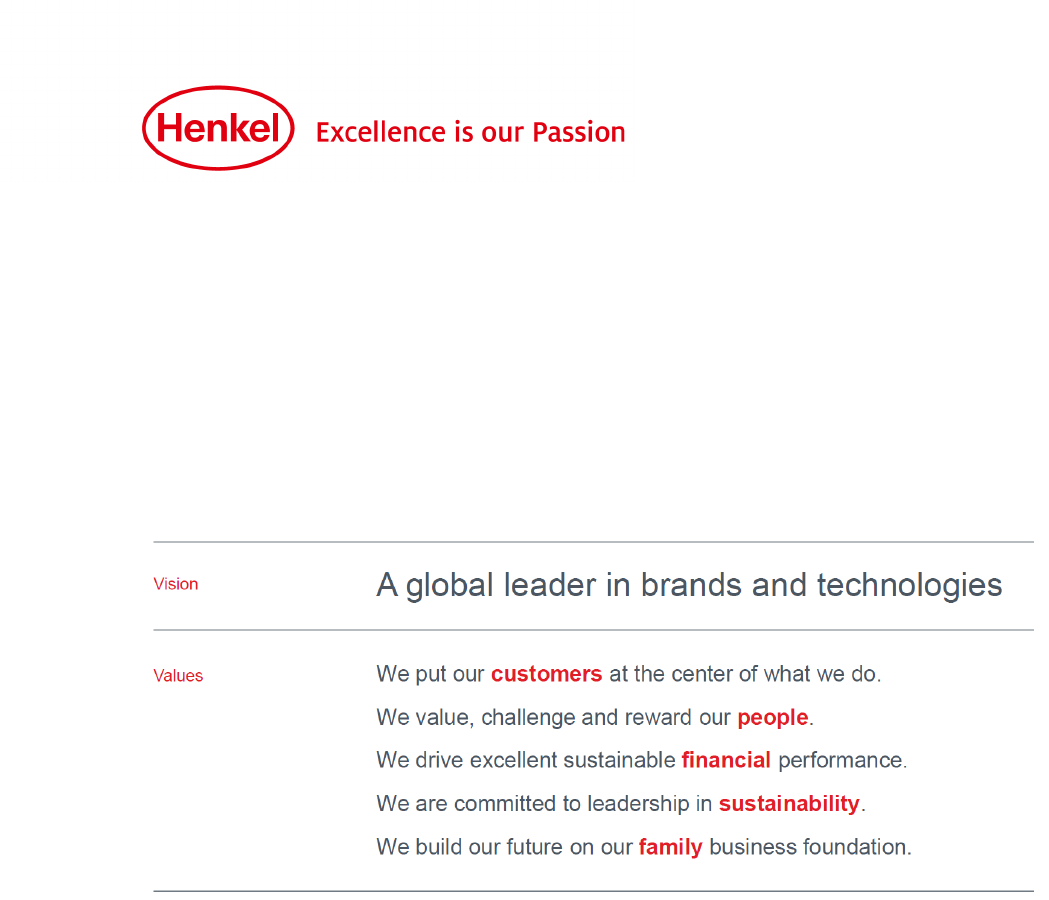 Henkel AG & Co. KGaA page 2
Our vision
A global leader i
n
brand
s an

d

technologi

es

–

our vision giv

es us

a sens

e

of direction and
destination. It captur
es
o
ur
aspiration of being the best i
n
everything w
e
do. It i
s
the basi
s
for
what w
e
all stan
d
for a
s
on
e
company. Our vision an
d
our value
s
guide the choices and
decision
s
our employee
s
make every day.
Strategy
Our strategy is built on the foundation of our corporate values and will drive our successful
development in the coming years in order to achieve our long-term vision for Henkel:
to become a global leader in brands and technologies.
In order to steer the focus of the entire organization toward our strategy and ensure its
successful implementation, we have defined four strategic priorities: Outperform
– Globalize

–
The basis for our strategy was a detailed analysis of major long-term market trends. We
identified three megatrends,which will affect our different businesses over the next years:
consolidation, emerging markets and speed.

Henkel AG & Co. KGaA page 3
•
Consolidation in our supplier, manufacturer andcustomer baseas well as in our
competitive environment will continue. Size will become a critical success factor in the
future. Consequently, we need to grow our businesses.
•
We expect the shift of growth from mature to emerging markets to continue. As a result,
we need to expand our already strong footprint in these markets over the coming years.
•
We anticipate highly dynamic market evolution, and faster decision-making by suppliers,
customers andcompetitors. In addition, further digitalization will lead to changes in our
market environment. We therefore need to continue simplifying our processes and
increasing our operational excellence.
We have defined ambitious financialtargets for our company. By 2016, Henkel aims to grow
sales to 20 billion euros, of which10billion euros will come from emerging markets. For
adjusted earnings per preferred share (EPS), Henkel targets a compound annual growth rate
(CAGR) of 10 percent between now and 2016. These financialtargets are based on organic
growth, including continuous portfolio optimization, that is, small and mid-sized acquisitions as
well as divestment or discontinuation of nonstrategic activities. Potential major acquisitions or
divestments are not built into our financial targets.