Fillable Printable Professional Company Profile Sample
Fillable Printable Professional Company Profile Sample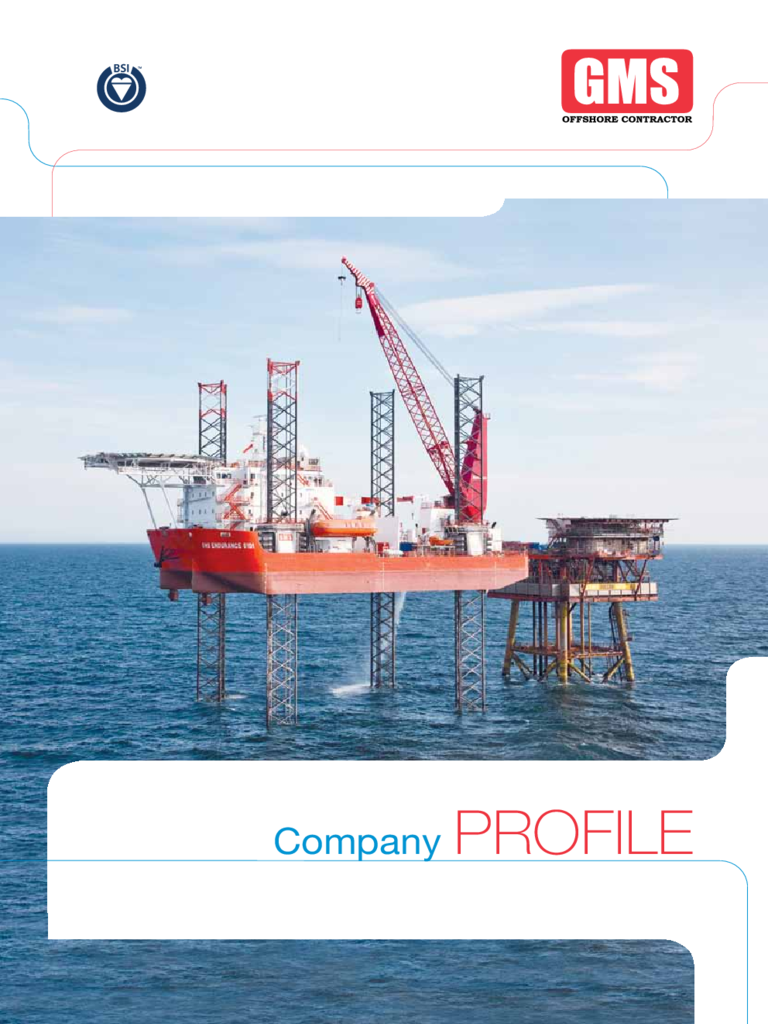 Professional Company Profile Sample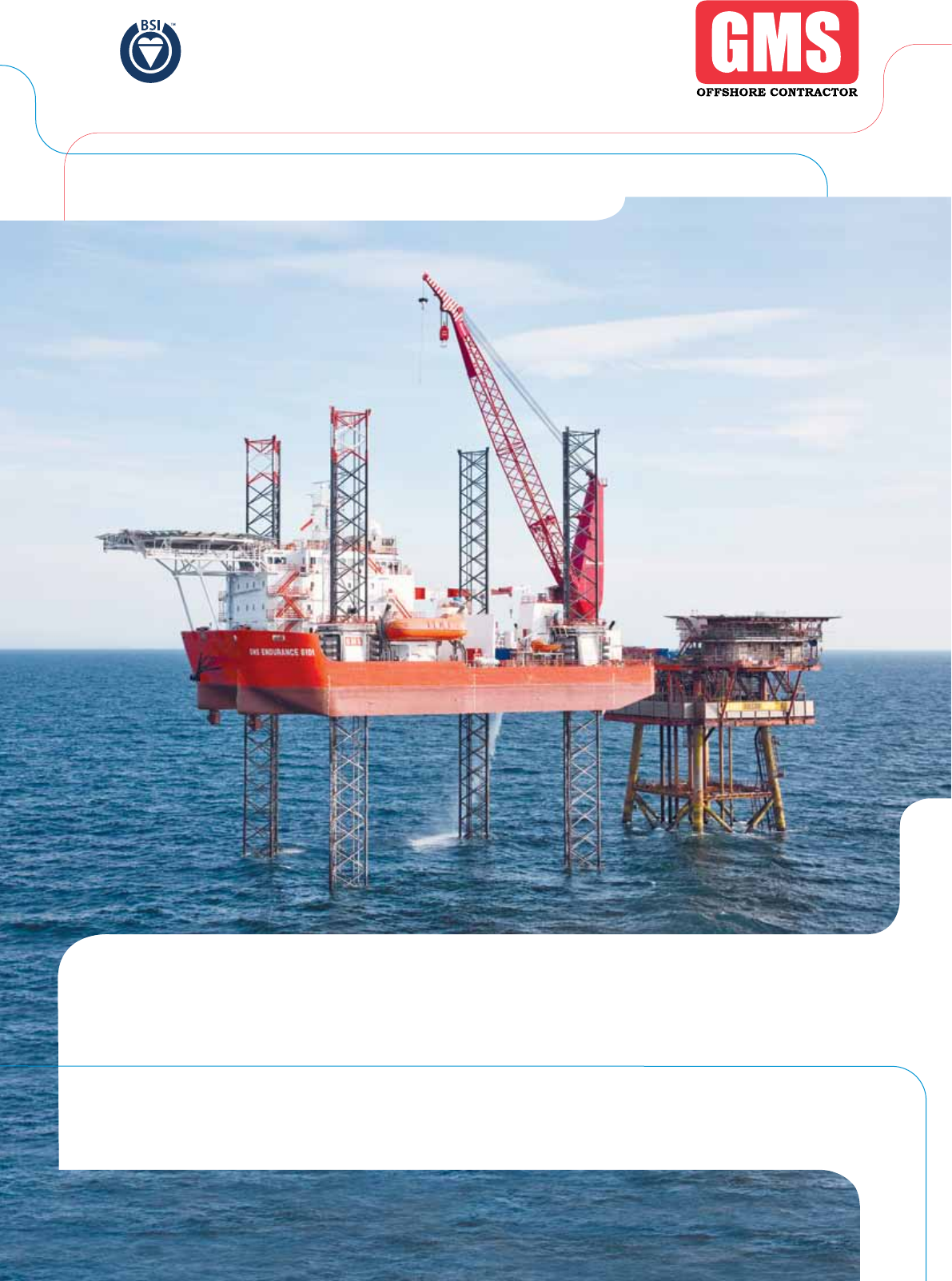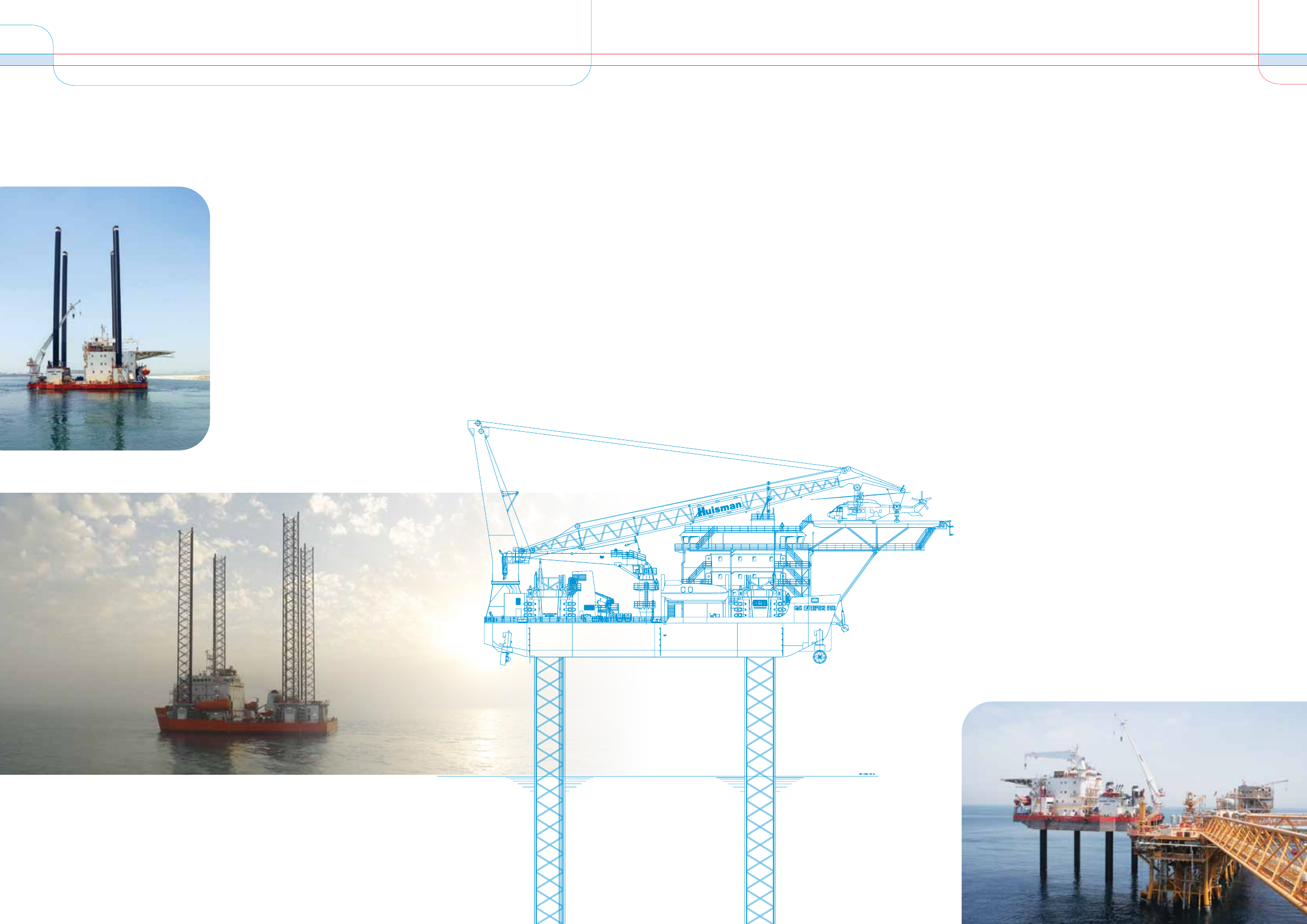 COMPANY PROFILE
1

GULF MARINE SERVICES
Introducing
GMS
Gulf Marine Services (GMS), a company listed on the London Stock
Exchange, was founded in Abu Dhabi in 1977 and has become one of
the largest providers of self-propelled, self-elevating accommodation
jackup barges in the world.
Our fleet serves the global oil, gas and renewable energy industries
from our operational and marketing offices in the United Arab Emirates,
Saudi Arabia, Singapore and the United Kingdom.
We are working worldwide, with our assets capable
of serving clients' requirements in the Middle East,
South East Asia, West Africa and Europe.
Our
MISSION
Provide modern, innovative and sustainable solutions
to our partners in the offshore energy sector.
Our
VISION
Be the leading global provider of Mobile Offshore Units.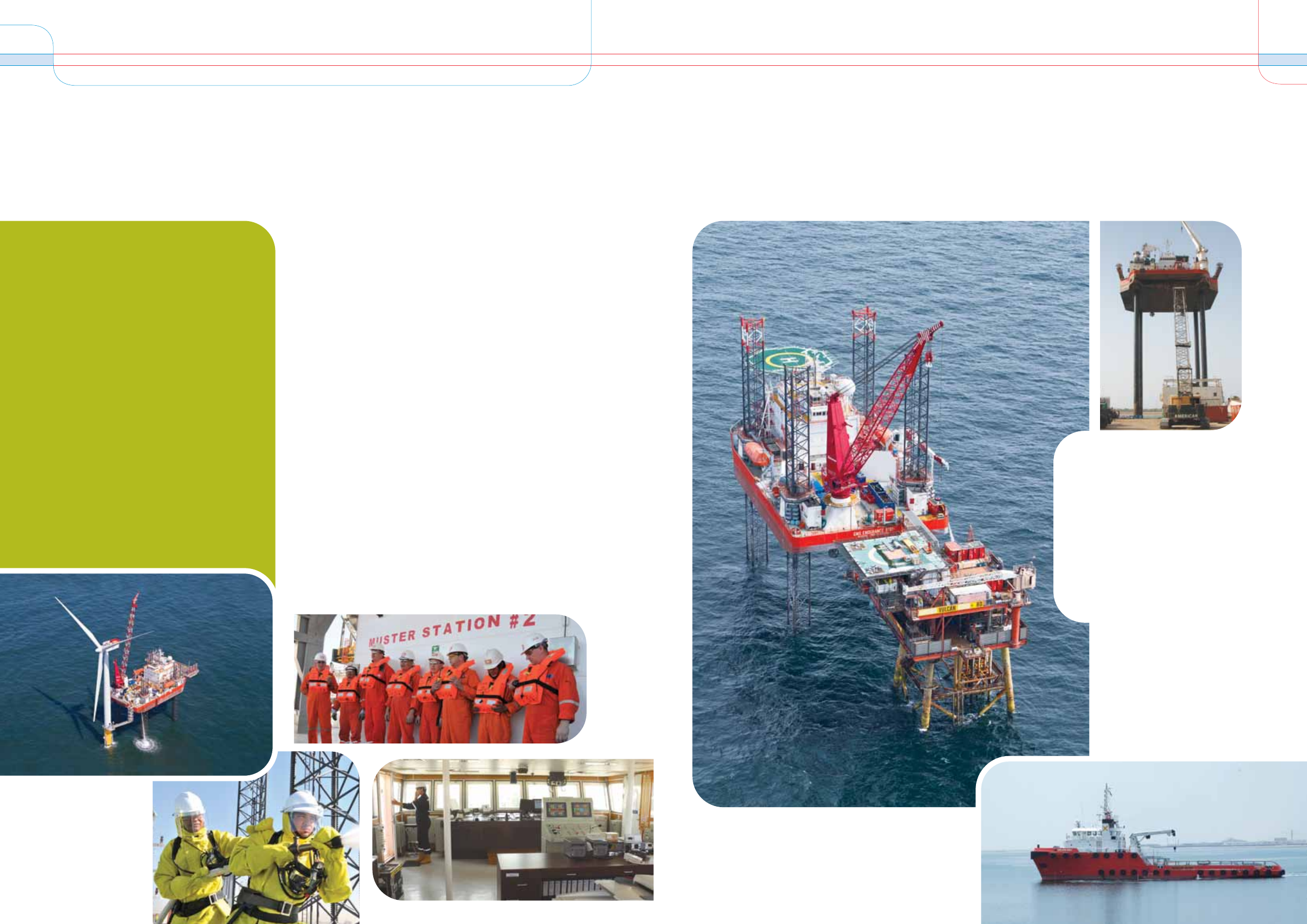 32
Our Services and Operational Capability
Our fleet of self-propelled jackup barges provides the stable platform
for delivery of a wide range of services throughout the total lifecycle
of offshore oil, gas and renewable energy activities, including:
•Drillingsupport,completionsandtesting
•Platformconstruction,hookupandcommissioning
•Wellinterventionandworkover
•Platformrestorationandmaintenance
•Wellabandonmentanddecommissioning
•Windturbineinstallationandmaintenance
•Divingsupportactivities
Our sophisticated vessels move quickly and independently, using their
own propulsion and without the need for the expensive support vessels
required by conventional jackup units. Once on location, the GMS
jackup units provide safe and stable platforms from which our clients
can operate independent of sea and weather conditions. Consistent
with our commitment to the environment, GMS' self-propelled jackups
provide clients with the most fuel-efficient offshore work platform, with
corresponding savings on emissions.
The facilities provided on board our units are designed to ensure the
highest standards of safety and comfort for both client personnel and
marine crew.
All GMS' vessels are ABS classed for operation as Mobile Offshore Units.
Our Commitment to
QUALITY, HEALTH, SAFETY AND ENVIRONMENT
Our Facilities
GMS has a state-of-the-art facility
in Abu Dhabi's Mussafah industrial
district, where we build and maintain
our vessels.
Our facilities include:
•Quayside
•Warehouse
•Fabricationunit
•Sophisticatedmarinesupportequipment
Our commitment is to:
•EliminateHSEincidentsacrossouroperations
•Preventpollution
•Investigateandpreventrecurrenceofqualityand
HSE-relatednon-conformances
•SettoughbutachievableQHSEobjectives,monitor
progress and ensure continuous improvement
•Minimiseourimpactontheenvironment
•Trainanddevelopallouremployees
•Ensurecompliancewithallapplicablelocaland
international legislation
The company's integrated management system
isbasedontheprinciplesofISO9001:2008,ISO
14001:2004,andOHSAS18001andincorporates
therequirementsoftheIMO:ISMcodeforthesafe
management and operation of our vessels. The
management system is accredited by the British
StandardsInstitute.Ourjackupbargesworkinginthe
NorthSeaalsocomplywiththeOffshoreInstallations
(SafetyCase)Regulations2005.TheSafetyCase
approach to managing risk is a standard also applied
to the rest of our fleet working outside the UK.
COMPANY PROFILEGULF MARINE SERVICES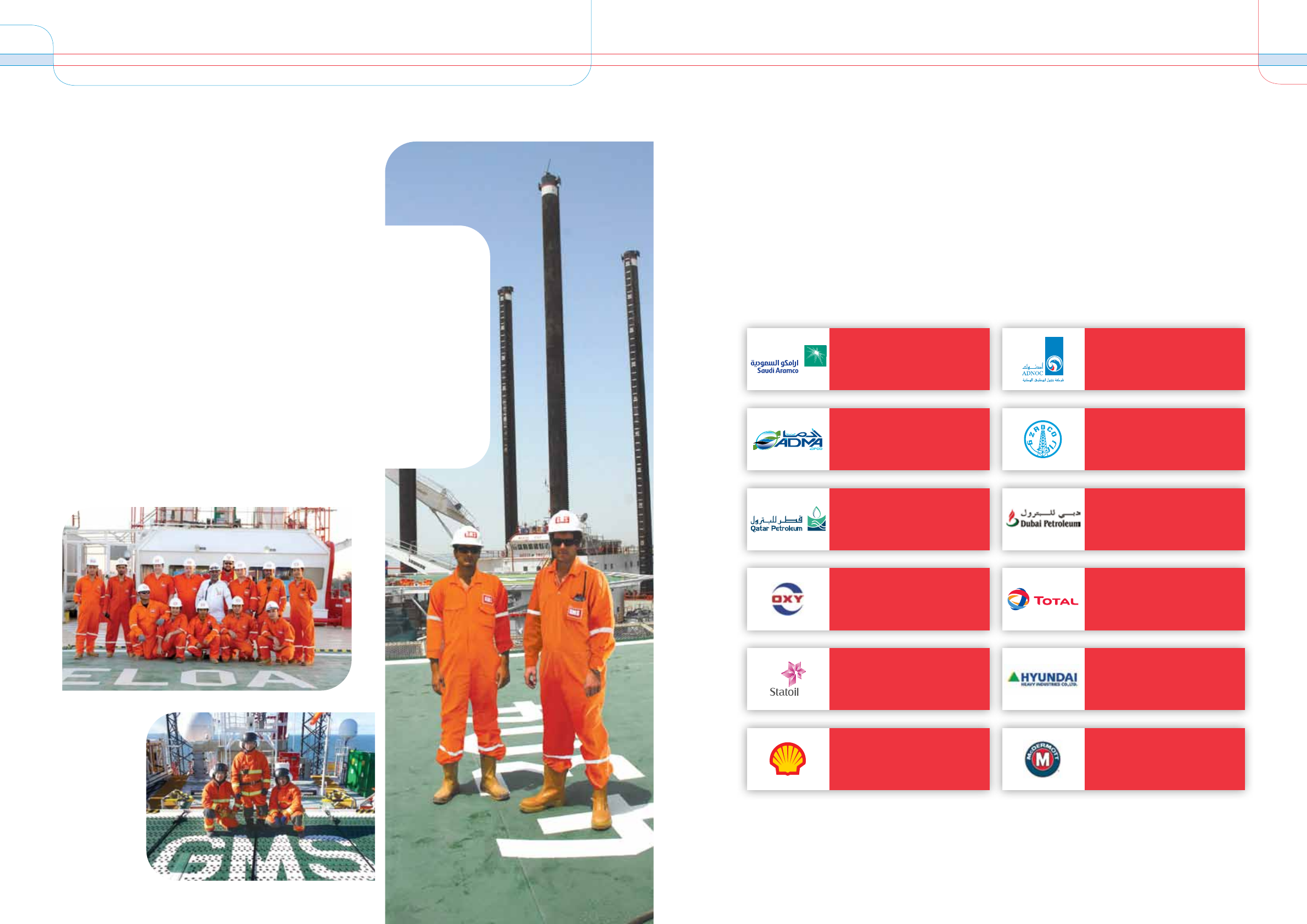 54
Our
CLIENTS
We are proud to offer high quality offshore support services to our multi-national
clients, which include major international oil companies, and engineering,
procurement and construction contractors.
COMPANY PROFILEGULF MARINE SERVICES
Hyundai Heavy Industries
Saudi Aramco
ADMA-OPCO
Qatar Petroleum
Occidental Petroleum
Statoil
Shell
ADNOC
Dubai Petroleum
TOTAL ABK
ZADCO
McDermott
Our
PEOPLE
GMS prides itself on operational excellence, which can be directly attributed
to our highly competent and diverse workforce, both on land and at sea.
Our worldwide vessel operations are supported by regionally-based teams
that include commercial, fleet management, safety and technical professionals.
We work hard to ensure we recruit the right person for the job, and through our
individual performance management processes evaluate and develop the capability
and competence of our people. This includes a successful leadership development
and graduate programme. Our core values of excellence, innovation, integrity, leadership,
respect and teamwork underpin the way we work together to provide our clients with
efficient and safe operational services.
We value our employees, not just for what they do, but for the way they do it and
we demonstrate our appreciation through our reward and recognition schemes.
GMS people are passionate about their work.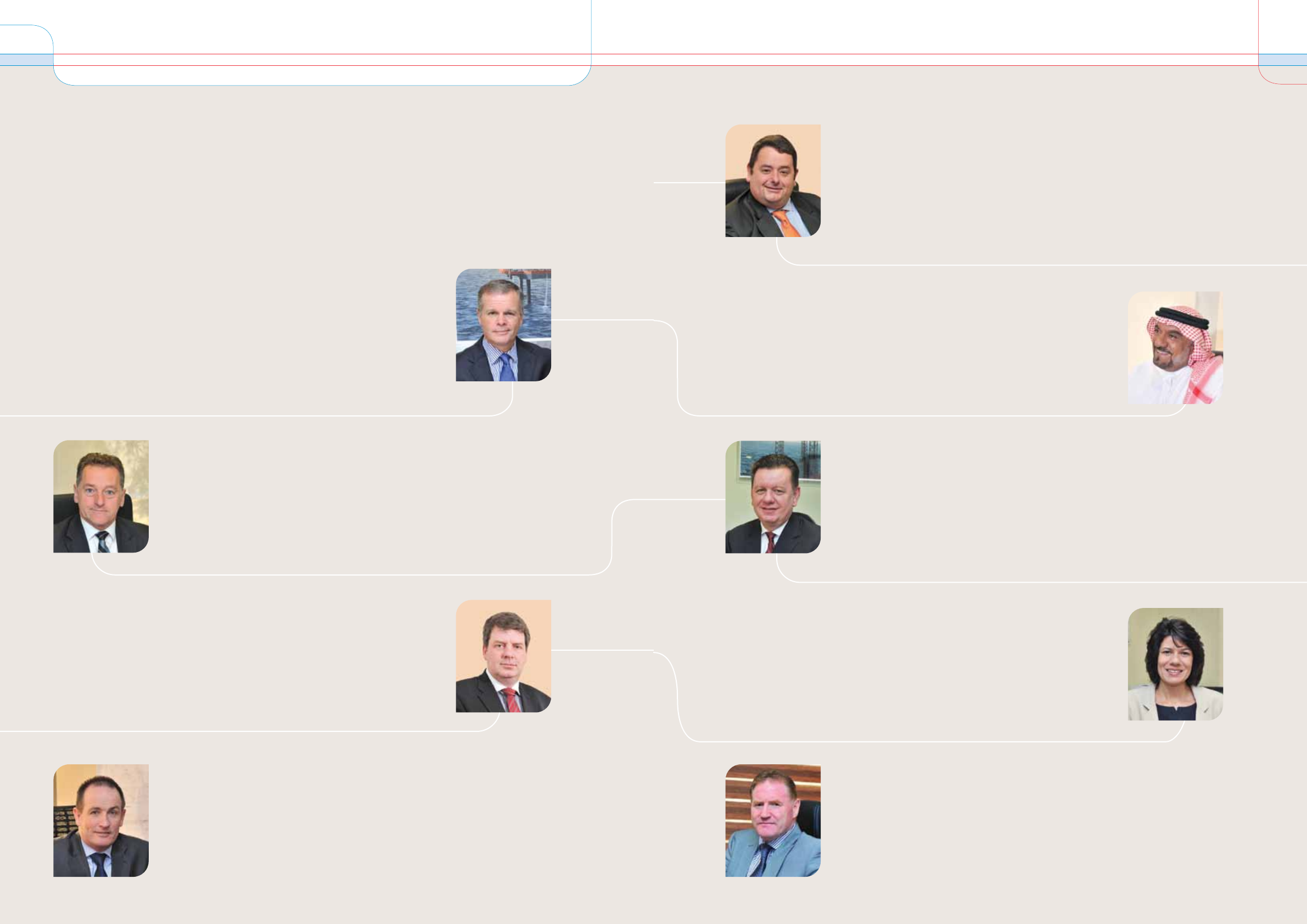 76
COMPANY PROFILEGULF MARINE SERVICES
DUNCAN ANDERSON
CHIEFEXECUTIVEOFFICER
MrDuncanAndersonjoinedGMSin2007andisaUKCharteredEngineer,withapost
graduatedegreeinMarineMachineryMonitoringControl.Hebringsawealthofexperience
to the executive team gained from his prior role as COO at the UAE-based Lamnalco Group
wherehemanagedaeetof90vessels,aswellasincreasingtheircustomerbaseinWest
Africa and the Middle East. Mr Anderson was also COO of Gulf Offshore North Sea, the
largestoffshoresupportvesseloperatorintheNorthSea.InhisroleasCEO,MrAnderson
is responsible for managing the future growth of GMS stemming from the projected increase
in demand in marine offshore-related projects in the oil, gas and renewables sectors.
Additionally, Mr Anderson and his team will bolster GMS' leadership globally by addressing
customisation requirements in this field.
DENNIS JUL PEDERSEN
CHIEFOPERATINGOFFICER
MrDennisJulPedersenjoinedGMSinFebruary2013asGeneralManagerofthecompany's
Aberdeenofce.MrPedersenwaspromotedtoCOOinAugust2013;heisbasedinthe
Abu Dhabi office and is responsible for all of GMS' offshore assets and operations worldwide.
Mr Pedersen is a Master Mariner and holds a Master of Business Administration in Oil and
GasManagement.Hehasspentanumberofyearsonoffshoresupportvesselsanddrilling
rigsbeforetakinguptherstonshoreroleasHeadofMarineandDivingControlwithMaersk
Oil.Hehassinceheldanumberofseniormanagementpositionswithinoileldserviceand
offshoreshippingcompanies,asGeneralManagerforInterMoorMarineServices,Operations
DirectorforSiemOffshoreandHeadofMarinewithFugroGeoteam.
JOHN BROWN
CHIEFFINANCIALOFFICER
MrJohnBrownjoinedGMSin2014andisaScottishCharteredAccountant.Priortojoining
GMS,hewasFinanceDirectorfornineyearsatBowlevenplc,aUK-listedoilandgas
company.MrBrown'spreviousappointmentsincludeFinanceDirectorforThistleMining
Inc,adual-listedCanadiangoldminingcompany,DirectoratBritishLinenAdvisers,and
FinanceDirectorforPaladinResources,aUK-listedindependentoilandgasexplorationand
production company.
GMS is led by multi-national professionals who continually address
the ever-changing challenges of the offshore energy industry.
STEPHEN REID
HSSEQDIRECTOR
MrStephenReidjoinedGMSin2014andisresponsiblefortheHealth,Safety,Security,
EnvironmentandQualityarrangementswithinGMSactivitiesonshoreandoffshore.He
holdsaMasterofBusinessAdministrationandisaCharteredMemberoftheInstituteof
OccupationalSafetyandHealth.MrReidhasspentanumberofyearsintheoilandgas
industry,holdingpositionsasRegionalQHSEManagerforGEOilandGas(UK)andPSL
EnergyServices(Azerbaijan),HeadofSupportServicesandGlobalHSSEManagerforKCA
Deutag(Azerbaijan,AberdeenandGlobal)andCorporateHSSEQManager(GulfDrilling
International(Qatar).
MOHAMMED ANTAR
SUPPORTSERVICESDIRECTOR
MrMohammedAntarjoinedGMSin2007.Priortojoining,hewasLogisticsManagerforve
yearsintheLogisticsDivisionofADMA-OPCOwithaworkforceofaround770personnel,
anannualbudgetofUS$105m,andaround15majorcontracts.StillunderADMA-OPCO,
healsoworkedasaManageratDasIslandfor13yearsintheServiceDivision.TheDivision's
mainfunctionwastoprovidesupportservicesforthewholeofDasIsland,whichincluded
Abu Dhabi Gas Liquefaction Company (ADGAS).
ANDY ROBERTSON
FINANCEDIRECTOR
MrAndyRobertsonjoinedGMSin2008.HewaseducatedatRobertGordonUniversitywith
aBAinAccountancyandFinanceandisanassociatememberoftheCharteredInstituteof
Management Accountants. Prior to joining GMS, he spent six years working in the oil and gas
industry for AMEC, having taken up postings in the UK, USA and China and had responsibility
for finance operations in major oil and gas regions including Europe, Americas, Asia and the
Middle East. These roles had a strong focus on delivering improvement/change to process,
practiceandprocedure.Healsohassignicantmarine/shippingexperiencegainedinavariety
of finance-related roles with P&O and Coflexip Stena Offshore.
MARK PRESTON
COMMERCIALDIRECTOR
MrMarkPrestonjoinedGMSin2008,bringingmorethan20yearsofcommercialexperience
withinthemarineandoffshoreindustry.HeisaCharteredShipbrokerwithinternationalbusiness
developmentexperiencegainedintheoilandgasindustry.Hehasundertakenthecommercial
management and control of large scale projects which include the provision of Early Production
SystemsandtheconversionofaFloatingProductionandStorageFacilityforEuropeanclients.
JOHN PETTICREW
TECHNICALDIRECTOR
MrJohnPetticrewjoinedGMSin2009.Hebringswithhimmorethan25yearsofexperiencein
the project and new construction management of small to large projects, ranging from harbour
tugs through naval frigates to major refurbishment and new construction of semi-submersible
and jackup oil rigs. Mr Petticrew has spent a number of years in the UAE working for two of the
region's largest new construction and repairs companies, Dubai Drydocks World and Lamprell
Energy.Priortothis,hespent17yearswithIrvingShipbuilding,thelargestshiprepairand
construction company in Canada.
LINDA MURRAY
HUMANRESOURCESDIRECTOR
MsLindaMurrayjoinedGMSin2011andhasmorethan20yearsofglobalHRexperience
workingwithnumerousorganisations,bothinthecorporateandINGOsector.Hercorporate
experienceincludesoilandgas,alternativeenergy,B2CandB2B,particularlyinemerging
markets. Prior to joining GMS, Ms Murray was a Director of Transformation with Save the
Children UK, where she was responsible for leading a project team in the transition of country
offices into a single international organisation. Before this, Ms. Murray was with BP Alternative
Energy,partoftheBPGroup,asHeadofHRandTalentManagementforEmergingConsumer
Market, a global start up business.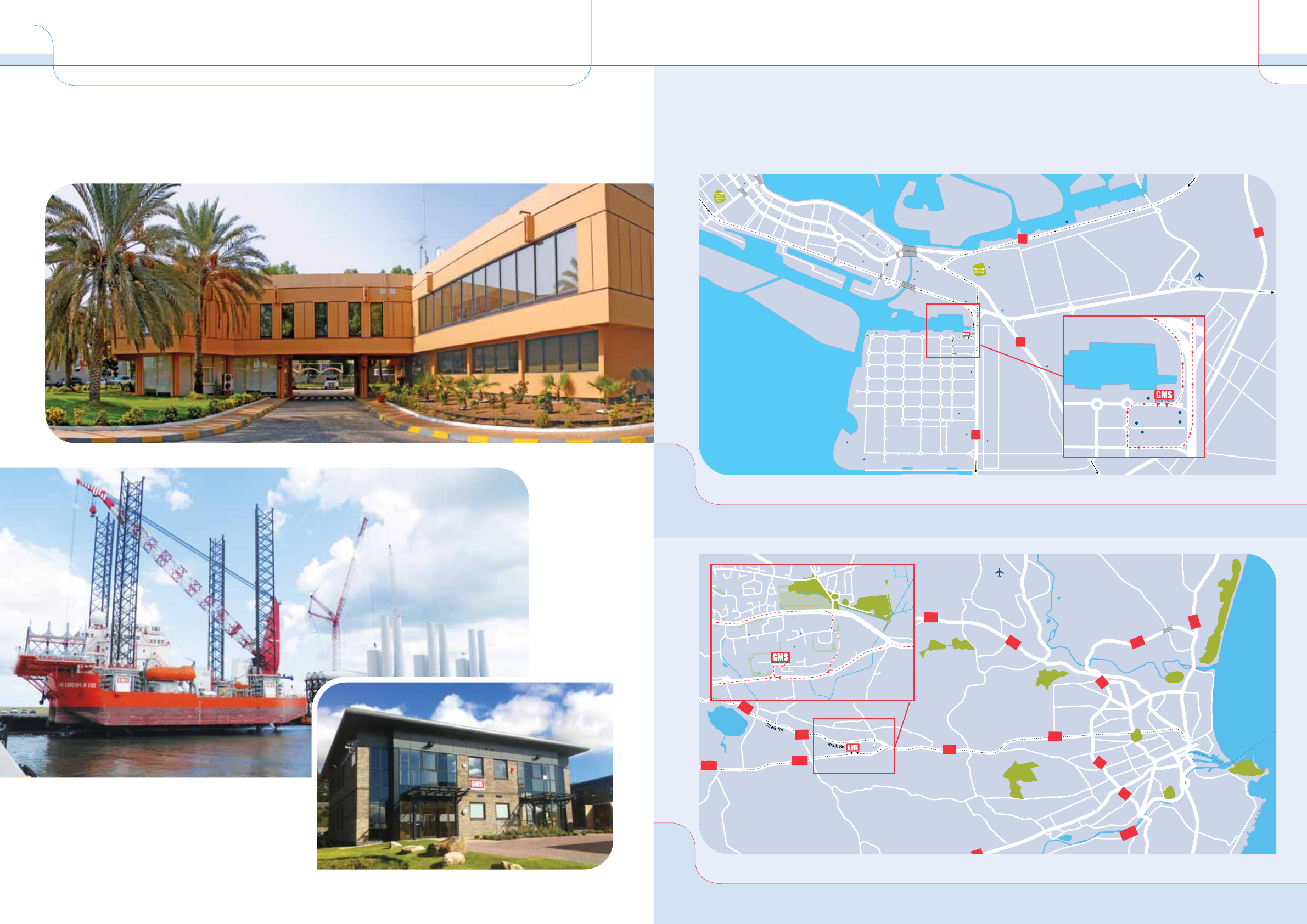 8
Masdar
City
Khalifa
City
Mussafah
City
Sheikh Mohd
Bin Zayed
City
Maqta
Bridge
Sheikh Zayed
Bridge
Mussafah
Bridge
Abu Dhabi
Golf &
Equistrian
Club
Abu Dhabi
Golf Club
Al Jazira
Sports Club
Carrefour
Zayed
Sports
City
Grand
Sheikh Zayed
Mosque
Abu Dhabi
Cricket Stadium
Abu Dhabi
University
ADNOC Patrol Station
Emirates Driving
Company
Delma Mall
Al Noor Hospital
Mussafah Port
Esnaad
Emirates Steel
Factory
Bin Jabar Group
Novotel &
Ibis Gate Hotel
Al Raha
Beach Hotel
Abu Dhabi
International
Airport
Officer's
Club
Abu Dhabi
Media Zone
Khalifa Park
Shangri-La
Hotel
Fairmont
Bab-al-Bahr
Hotel
Traders Hotel
The Westin Hotel
From Dubai
(Sheikh Zayed Road)
From Abu Dhabi
To Al Ain
To
Al Ain - Dubai Road
(Sweihan Road)
To Al Ain
(Abu Dhabi - Al Ain Truck Road)
E11
E11
E22
E30
E22
E10
Al Bandar / Al Zeina
Al Raha Gardens
Mushrif Mall
M-1
M-8
M-9
M-10
M-11
Al Karamah St. (24th St.)
Muroor Road
Al Khaleej Al Arabi St. (30th St.)
Airport Road
Al Sadaa St. (19th St.)
17th St.
21st St.
23rd St.
25th St.
27th St.
29th St.
31st St.
A
i
r
p
o
r
t
R
o
a
d
A
l
S
a
l
a
m
S
t
.
6th St.
16th St.
16th St.
6th St.
6th St.
6th St.
7th St.
9th St.
11th St.
13th St.
13th St.
13th St.
13th St.
13th St.
15th St.15th St.
15th St.15th St.
15th St.
15th St.
17th St.
17th St.17th St.
17th St.
17th St.
17th St.
11th St.
11th St.
11th St.
11th St.
11th St.
9th St.9th St.
9th St.
9th St.
9th St.
7th St.
7th St.
7th St.
7th St.
8th St.
8th St.
10th St.
12th St.
12th St.
12th St.
12th St.
12th St.
12th St.
14th St.
14th St.
14th St.
14th St.
14th St.
14th St.
16th St.
18th St.
18th St.
18th St.
18th St.
16th St.16th St.
16th St.
16th St.
16th St.
10th St.
10th St.
10th St.
10th St.
10th St.
8th St.
8th St.
8th St.
M-12
M-13
M-14M-15
M-16
M-17
M-7
M-6
M-5
M-2
M-3
M-4
M-26
M-32/2
M-32/1
M-33M-38
M-37
First Gulf Bank
Abu Dhabi Municipality
Fugro Survey (Middle East) Ltd.
M-10
M-13
M-14M-15
M-16M-6
M-3
Mussafah
Police Station
Lifeline Hospital
Kirkhill
Industrial
Estate
Craibstone
Golf Club
Auchmill
Golf Course
Royal
Aberdeen
Golf Club
Seaton Park
Q
u
e
e
n
'
s
R
d
Hazelhead
Golf Course
Nigg Bay
Golf Club
Kingswells
Westhill
Skene
Kirkton of
Skene
Banchory
Devenick
Altens
Industrial
Estate
Mannofield
Northfield
R
i
v
e
r
D
o
n
R
i
v
e
r
v
i
e
w
D
r
D
y
c
e
D
r
D
y
c
e
D
r
B9077
Craigton Rd
Coast Rd
S
t
o
n
e
h
a
v
e
n
R
d
Bucksburn
Danestone
Dyce
Aberdeen
Airport
Aberdeen
Old
Aberdeen
Kittybrewster
Woodside
Esplanade
Park Rd
Golf Rd
Elon Rd
Elon Rd
Victoria St
Bieldside
A944
Duthie
Park
Victoria
Park
Torry
Loch of
Skene
Cults
A96
A90
A90
A96
Blackburn
Kinellar
A93
A90
A90
A90
Bridge
of Don
N Deeside Rd
Holburn St
Union Grove
A
u
c
h
m
i
l
l
R
d
Nigg
East Tullos
Industrial Estate
B9119
A944
A944
A944
Lawsonsdale Terrace
Lawsonsdale Dr
Straik Rd
Rowan Dr
Brimmond Dr
Old Skene
Guest House
Westhill Dr
Westhill Rd
Old Skene Rd
Premier Inn
Old Skene Rd
Enterprise Dr
Hallin Marine
Brodiach Burn
Divex
Mosscroft Ave
Costco
Wholesale
Straik Rd
Endeavour Dr
A944
P
r
o
s
p
e
c
t
R
d
P
r
o
s
p
e
c
t
P
I
P
r
o
s
p
e
c
t
R
d
E
n
t
e
r
p
r
i
s
e
D
r
D
i
s
c
o
v
e
r
y
D
r
B
r
o
d
i
a
c
h
B
u
r
n
P
a
r
k
s
i
d
e
A
r
m
h
a
l
l
D
r
Holiday Inn
Aberdeen
B9119
A944
N
A
n
d
e
r
s
o
n
D
r
B9119
B9119
A944
A944
Aberdeen- Kirkwall
GMS Mussafah Base P.O. Box: 46046, Abu Dhabi, United Arab Emirates
Gulf Marine Services - Middle East & SE Asia
Gulf Marine Services - Europe
36 Abercrombie Court, Prospect Road, Arnhall Business Park, Westhill, Scotland, AB32 6FE, United Kingdom
Tel: +44 (0) 1224 737200, Fax: +44 (0) 1224 737239, Email:
[email protected]
, www.gmsuae.com
COMPANY PROFILE
9

GULF MARINE SERVICES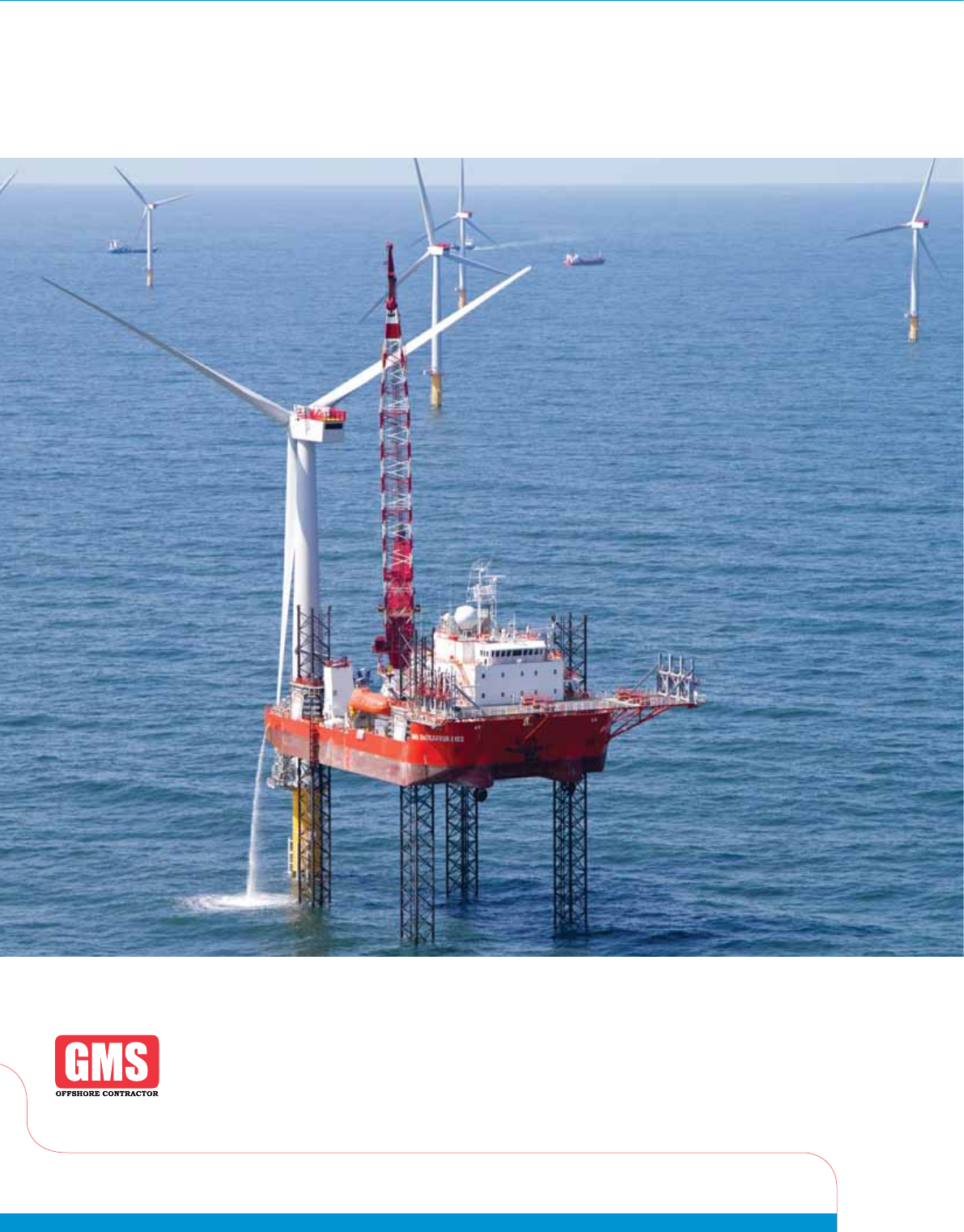 www.gmsuae.com
Gulf Marine Services