Fillable Printable Best Wedding Checklist Template
Fillable Printable Best Wedding Checklist Template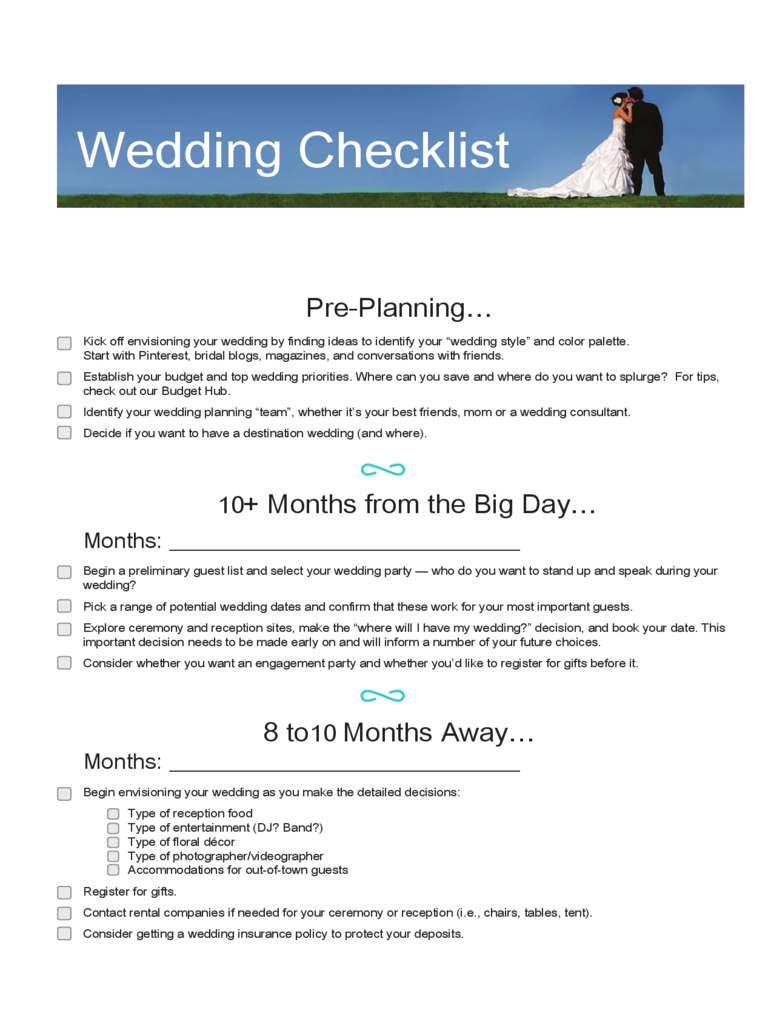 Best Wedding Checklist Template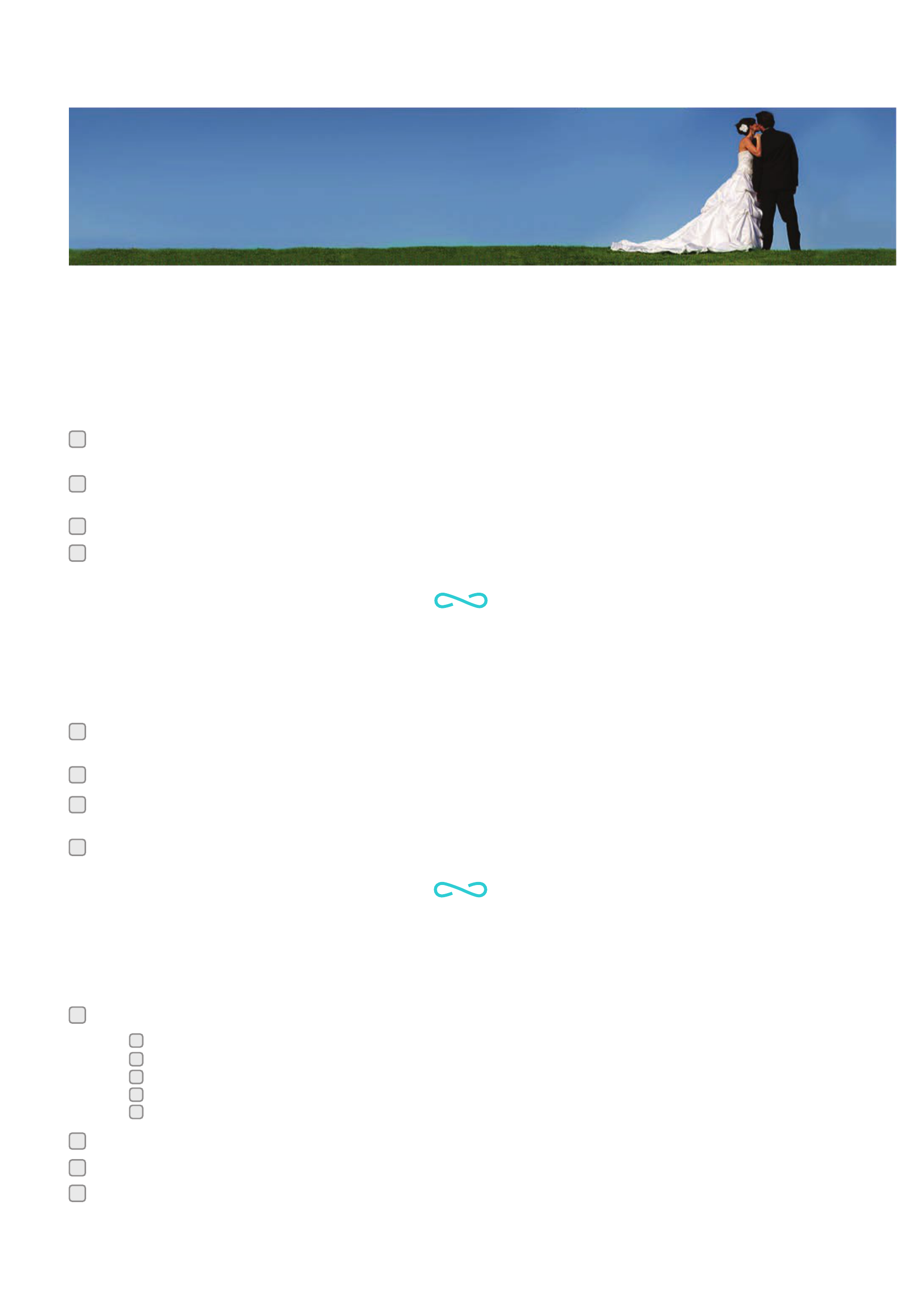 Kick off envisioning your wedding by finding ideas to identify your "wedding style" and color palette.
Start with Pinterest, bridal blogs, magazines, and conversations with friends.
Establish your budget and top wedding priorities. Where can you save and where do you want to splurge? For tips,
check out our Budget Hub.
Identify your wedding planning "team", whether it's your best friends, mom or a wedding consultant.
Decide if you want to have a destination wedding (and where).
Begin a preliminary guest list and select your wedding party — who do you want to stand up and speak during your
wedding?
Pick a range of potential wedding dates and confirm that these work for your most important guests.
Explore ceremony and reception sites, make the "where will I have my wedding?" decision, and book your date. This
important decision needs to be made early on and will inform a number of your future choices.
Consider whether you want an engagement party and whether you'd like to register for gifts before it.
Begin envisioning your wedding as you make the detailed decisions:
Type of entertainment (DJ? Band?)
Type of photographer/videographer
Accommodations for out-of-town guests
Register for gifts.
Contact rental companies if needed for your ceremony or reception (i.e., chairs, tables, tent).
Consider getting a wedding insurance policy to protect your deposits.
10
+ Months from the Big Day…
Months: _______________________________
Months: _______________________________
Pre-Planning…
Wedding Checklist Shop for and purchase wedding invitations, wedding rings and formalwear.
Order your wedding cake or consider something more unique, such as cupcakes.
Renew or get passports if you're planning on traveling abroad for your wedding or honeymoon.
Determine and hire your wedding-day transport, whether it's a limousine or other cars. Sometimes
more unique forms of transportation, such as antique cars, require over 3 months advance notice.
Groom: Rent the men's formalwear and assign your best man to be responsible for all groomsmen
attending their fittings and picking up their outfits.
Mail your wedding invitations (with enough time to spare for them to reply!).
Purchase gifts for parents, attendants and each other. Consider in-room baskets for traveling guests.
Book your stylist and makeup artist. Test them out to ensure you're happy with your wedding day look.
Apply for a marriage license by checking with the local bureau in the town where you'll wed.
Make any last-minute adjustments with vendors.
Write your vows and create a wedding program to hand out to guests.
Bride: Have your final gown fitting (if possible, have your maid of honor attend to learn how to bustle your dress).
Then have the dress pressed and bring it home, and call your bridesmaids to make sure they have their gowns
ready for the wedding.
You're Getting Close!
1
3 to 6 Months Left…
Months: _______________________________
Research and select your wedding dress and bridesmaids dresses.
Send save-the-date cards (especially if you're having a destination wedding or if you're marrying during
a tourist or holiday season).
Book ceremony musicians and any other remaining service providers.
Begin planning your honeymoon.
Months: _______________________________
Months: _______________________________
Review your final RSVP list and call any guests who have not yet responded.
Provide any "must-have" lists to your vendors, including (i) Must-have photos to the photographer and videographer,
and (ii) Your final song list (and list of "do not plays") to your entertainers (DJ or band).
Bride: Get your last pre-wedding haircut and color.
It's Just 2 Weeks Away…!
Dates: _______________________________ Assign wedding-party positions and the order of the party in procession and recession.
Hand off any items for setting the tables to the caterers and/or reception site manager
(e.g. place cards, table cards, menus, disposable cameras, favors).
Finalize all transportation details.
Bride: Ensure you have your gown steamed or pressed beforehand.
Groom: Go for final fitting and pick up your formalwear.
Provide all wedding professionals with an emergency phone number to call on the day of the wedding.
Write checks for payments to be made at the end of the reception, including tips. Check out our blog post on
tipping for some helpful tips.
Rehearse the ceremony with your wedding party, ceremony readers, immediate family and your
officiant at the ceremony site to iron out any details.
Bring any ceremony accessories to your wedding site.
The Day Before… Let The Fun Begin!
2
to 3 Days Before Your Wedding…
Dates: _______________________________
Call all wedding vendors to confirm your arrangements and answer any questions.
Give your reception site and caterer the final guest count. Don't forget to include vendors who will expect a meal (e.g.
photographers), and always check how many extra plates the caterer will prepare.
Supply the location manager(s) with a list of vendor requests, such as a table for the DJ or any space needed for floral
setups. Also, provide a schedule of vendor delivery and setup times and contact info.
Plan your final reception seating chart and print place and table cards.
Attend bachelor/bachelorette parties!
Groom: Consider getting your hair trimmed.
Dates: _______________________________
Dates: _______________________________
Give your marriage license to your officiant.
Attend your rehearsal dinner.
Present attendants with gifts at the rehearsal dinner, especially if the gifts are meant to be worn during the
ceremony.
The Night Before…
Dates: _______________________________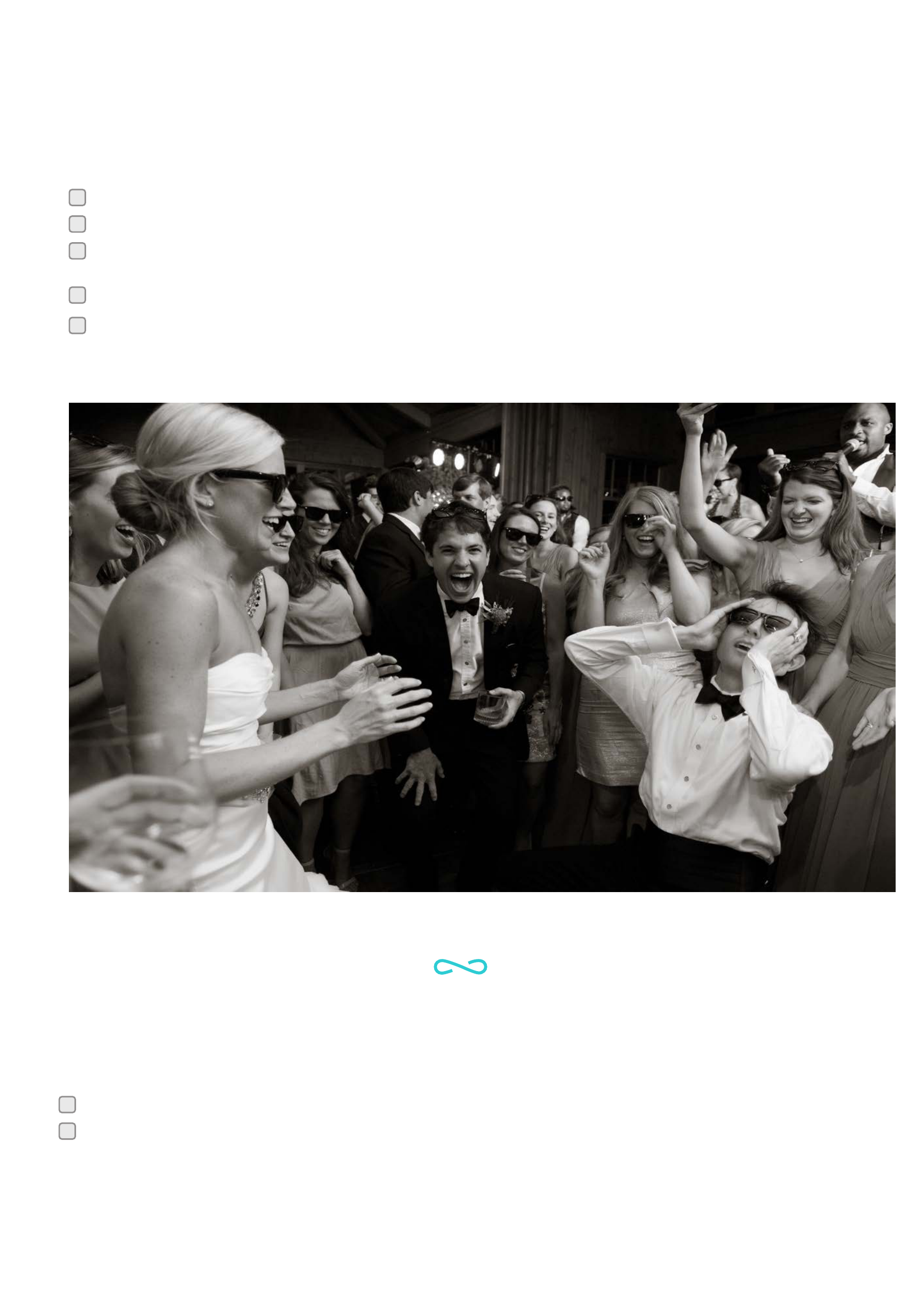 Give out any gifts you bought for your guests, family, or partner!
Give wedding bands to the best man and the maid of honor to hold during the ceremony.
Introduce your reception site manager to your maid of honor (or consultant) for questions or problems during the
reception.
Assign a family member or attendant to be the photographer's contact so he knows who is who.
HAVE FUN!
Your Wedding Day!
Dates: _______________________________
Write and send thank-you-notes to gift-bearing guests and vendors who were especially helpful.
Ensure people who are returning rentals and outfits do so.
After The Celebration…
Months: _______________________________
Photo by 6 of Four Photography