Fillable Printable Block Style Business Letter
Fillable Printable Block Style Business Letter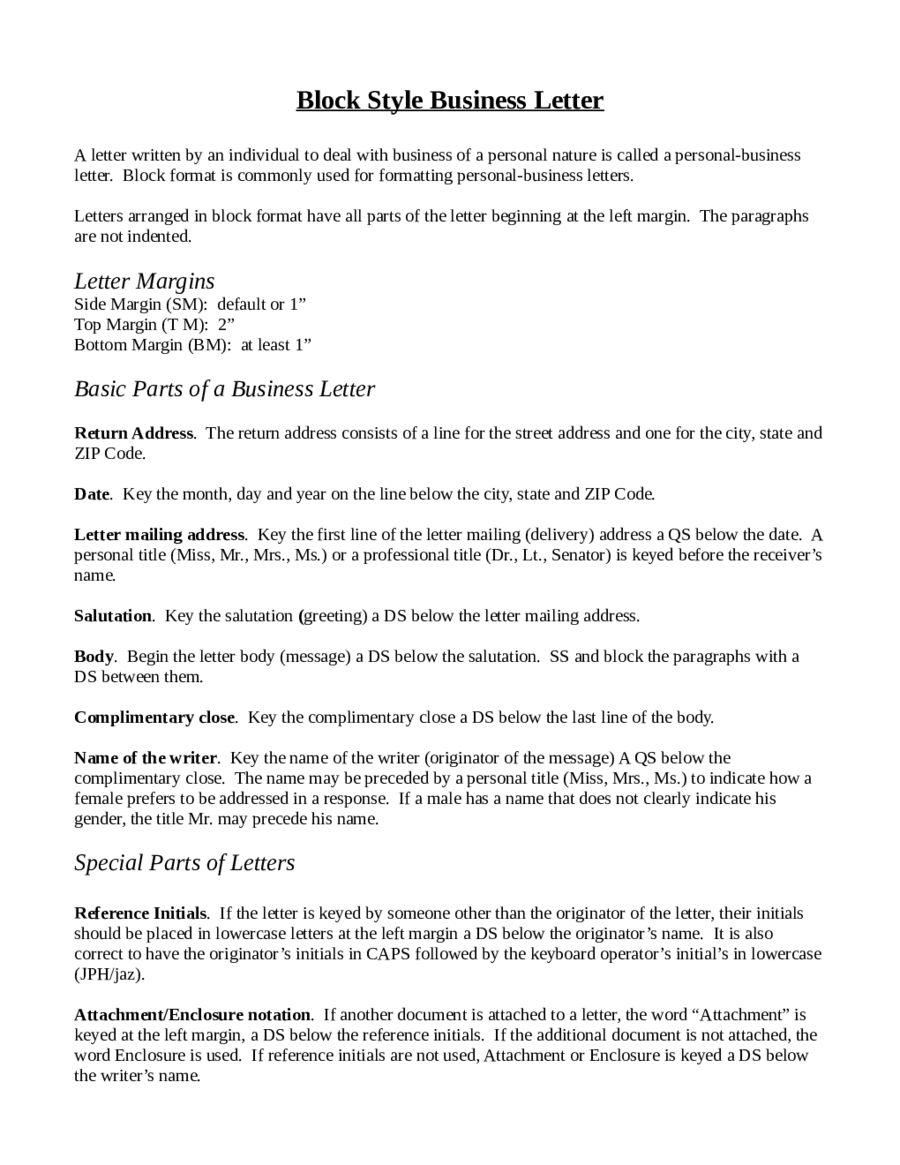 Block Style Business Letter

Block Style Business Letter
A letter written by an individual to deal with business of a personal nature is called a personal-business
letter. Block format is commonly used for formatting personal-business letters.
Letters arranged in block format have all parts of the letter beginning at the left margin. The paragraphs
are not indented.
Letter Margins
Side Margin (SM): default or 1"
Top Margin (T M): 2"
Bottom Margin (BM): at least 1"
Basic Parts of a Business Letter
Return Address
. The return address consists of a line for the street address and one for the city, state and
ZIP Code.
Date
. Key the month, day and year on the line below the city, state and ZIP Code.
Letter mailing address
. Key the first line of the letter mailing (delivery) address a QS below the date. A
personal title (Miss, Mr., Mrs., Ms.) or a professional title (Dr., Lt., Senator) is keyed before the receiver's
name.
Salutation
. Key the salutation
(
greeting) a DS below the letter mailing address.
Body
. Begin the letter body (message) a DS below the salutation. SS and block the paragraphs with a
DS between them.
Complimentary close
. Key the complimentary close a DS below the last line of the body.
Name of the writer
. Key the name of the writer (originator of the message) A QS below the
complimentary close. The name may be preceded by a personal title (Miss, Mrs., Ms.) to indicate how a
female prefers to be addressed in a response. If a male has a name that does not clearly indicate his
gender, the title Mr. may precede his name.
Special Parts of Letters
Reference Initials
. If the letter is keyed by someone other than the originator of the letter, their initials
should be placed in lowercase letters at the left margin a DS below the originator's name. It is also
correct to have the originator's initials in CAPS followed by the keyboard operator's initial's in lowercase
(JPH/jaz).
Attachment/Enclosure notation
. If another document is attached to a letter, the word "Attachment" is
keyed at the left margin, a DS below the reference initials. If the additional document is not attached, the
word Enclosure is used. If reference initials are not used, Attachment or Enclosure is keyed a DS below
the writer's name.