Fillable Printable E-mail Marketing Letter Sample
Fillable Printable E-mail Marketing Letter Sample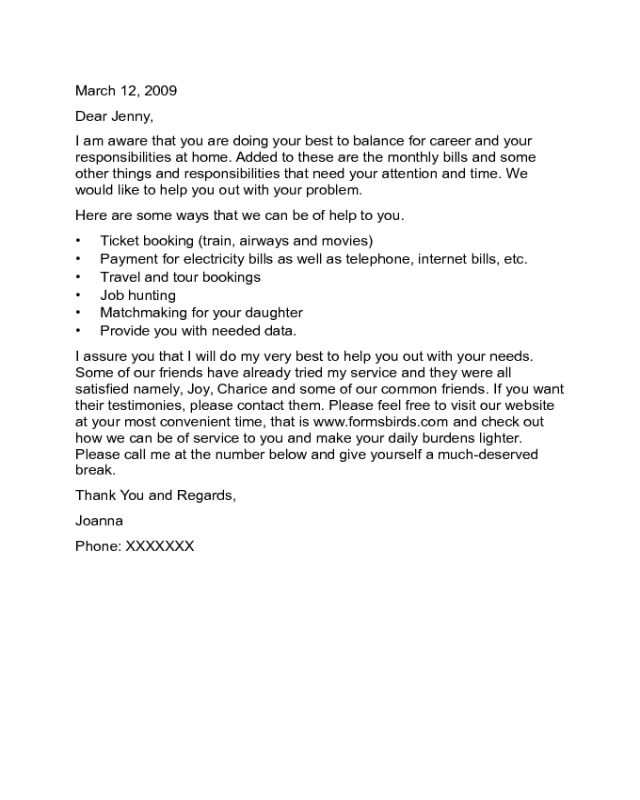 E-mail Marketing Letter Sample
March 12, 2009
Dear Jenny,
I am aware that you are doing your best to balance for career and your
responsibilities at home. Added to these are the monthly bills and some
other things and responsibilities that need your attention and time. We
would like to help you out with your problem.
Here are some ways that we can be of help to you.
•
Ticket booking (train, airways and movies)
•
Payment for electricity bills as well as telephone, internet bills, etc.
•
Travel and tour bookings
•
Matchmaking for your daughter
•
Provide you with needed data.
I assure you that I will do my very best to help you out with your needs.
Some of our friends have already tried my service and they were all
satisfied namely, Joy, Charice and some of our common friends. If you want
their testimonies, please contact them. Please feel free to visit our website
at your most convenient time, that is www.formsbirds.com
and check out
how we can be of service to you and make your daily burdens lighter.
Please call me at the number below and give yourself a much-deserved
break.
Thank You and Regards,
Joanna
Phone: XXXXXXX