Fillable Printable Business Marketing Letter Sample
Fillable Printable Business Marketing Letter Sample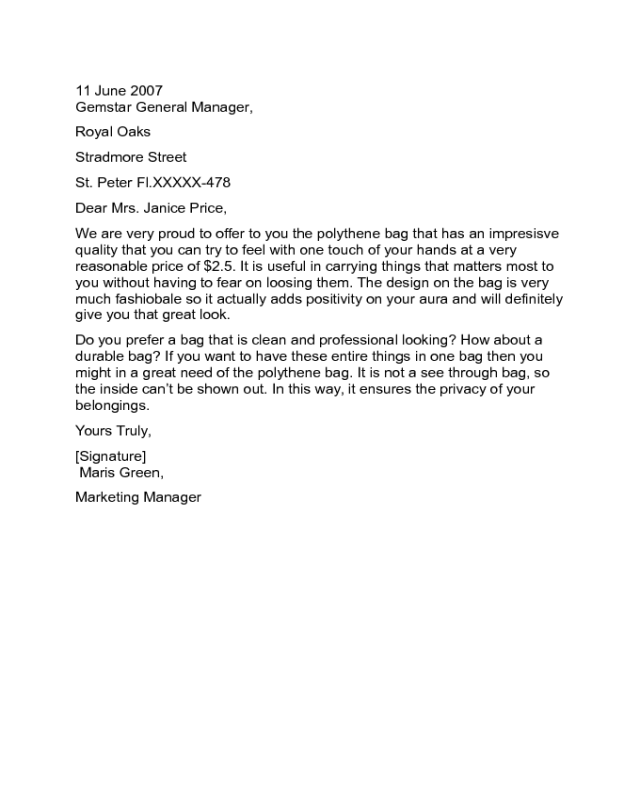 Business Marketing Letter Sample
11 June 2007
Gemstar General Manager,
Royal Oaks
Stradmore Street
St. Peter Fl.XXXXX-478
Dear Mrs. Janice Price,
We are very proud to offer to you the polythene bag that has an impresisve
quality that you can try to feel with one touch of your hands at a very
reasonable price of $2.5. It is useful in carrying things that matters most to
you without having to fear on loosing them. The design on the bag is very
much fashiobale so it actually adds positivity on your aura and will definitely
give you that great look.
Do you prefer a bag that is clean and professional looking? How about a
durable bag? If you want to have these entire things in one bag then you
might in a great need of the polythene bag. It is not a see through bag, so
the inside can't be shown out. In this way, it ensures the privacy of your
belongings.
Yours Truly,
[Signature]
Maris Green,
Marketing Manager