Fillable Printable Insurance Marketing Letter Sample
Fillable Printable Insurance Marketing Letter Sample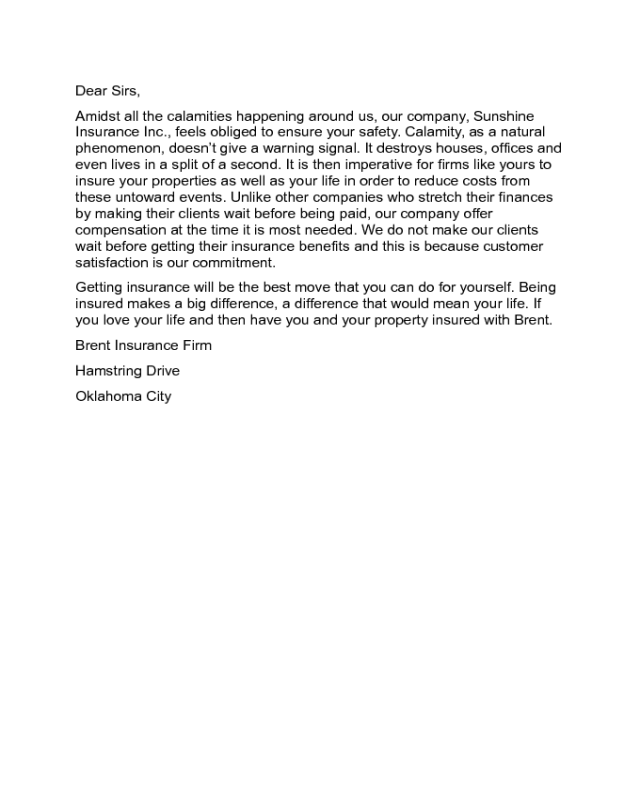 Insurance Marketing Letter Sample
Dear Sirs,
Amidst all the calamities happening around us, our company, Sunshine
Insurance Inc., feels obliged to ensure your safety. Calamity, as a natural
phenomenon, doesn't give a warning signal. It destroys houses, offices and
even lives in a split of a second. It is then imperative for firms like yours to
insure your properties as well as your life in order to reduce costs from
these untoward events. Unlike other companies who stretch their finances
by making their clients wait before being paid, our company offer
compensation at the time it is most needed. We do not make our clients
wait before getting their insurance benefits and this is because customer
satisfaction is our commitment.
Getting insurance will be the best move that you can do for yourself. Being
insured makes a big difference, a difference that would mean your life. If
you love your life and then have you and your property insured with Brent.
Brent Insurance Firm
Hamstring Drive
Oklahoma City