Fillable Printable Early Retirement Letter Sample
Fillable Printable Early Retirement Letter Sample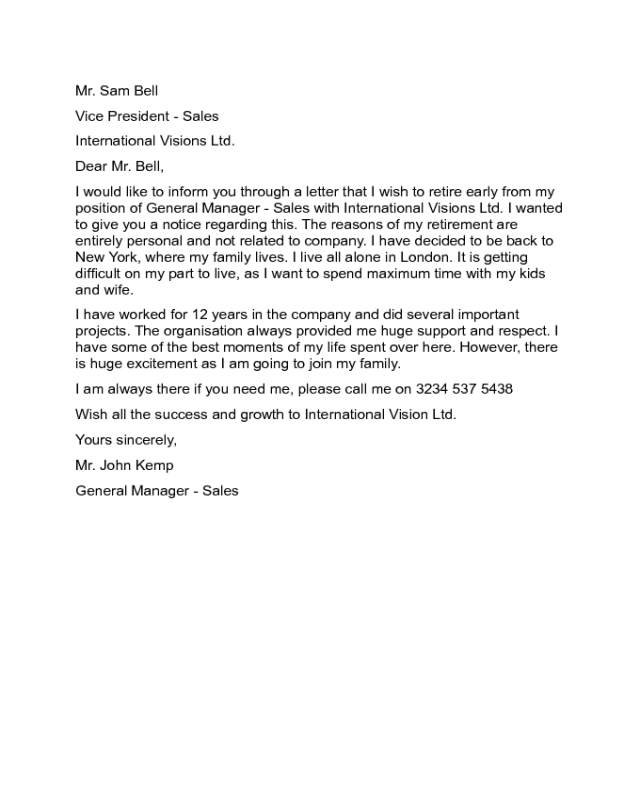 Early Retirement Letter Sample
Mr. Sam Bell
Vice President - Sales
International Visions Ltd.
Dear Mr. Bell,
I would like to inform you through a letter that I wish to retire early from my
position of General Manager - Sales with International Visions Ltd. I wanted
to give you a notice regarding this. The reasons of my retirement are
entirely personal and not related to company. I have decided to be back to
New York, where my family lives. I live all alone in London. It is getting
difficult on my part to live, as I want to spend maximum time with my kids
and wife.
I have worked for 12 years in the company and did several important
projects. The organisation always provided me huge support and respect. I
have some of the best moments of my life spent over here. However, there
is huge excitement as I am going to join my family.
I am always there if you need me, please call me on 3234 537 5438
Wish all the success and growth to International Vision Ltd.
Yours sincerely,
Mr. John Kemp
General Manager - Sales