Fillable Printable Email Welcome Message Template
Fillable Printable Email Welcome Message Template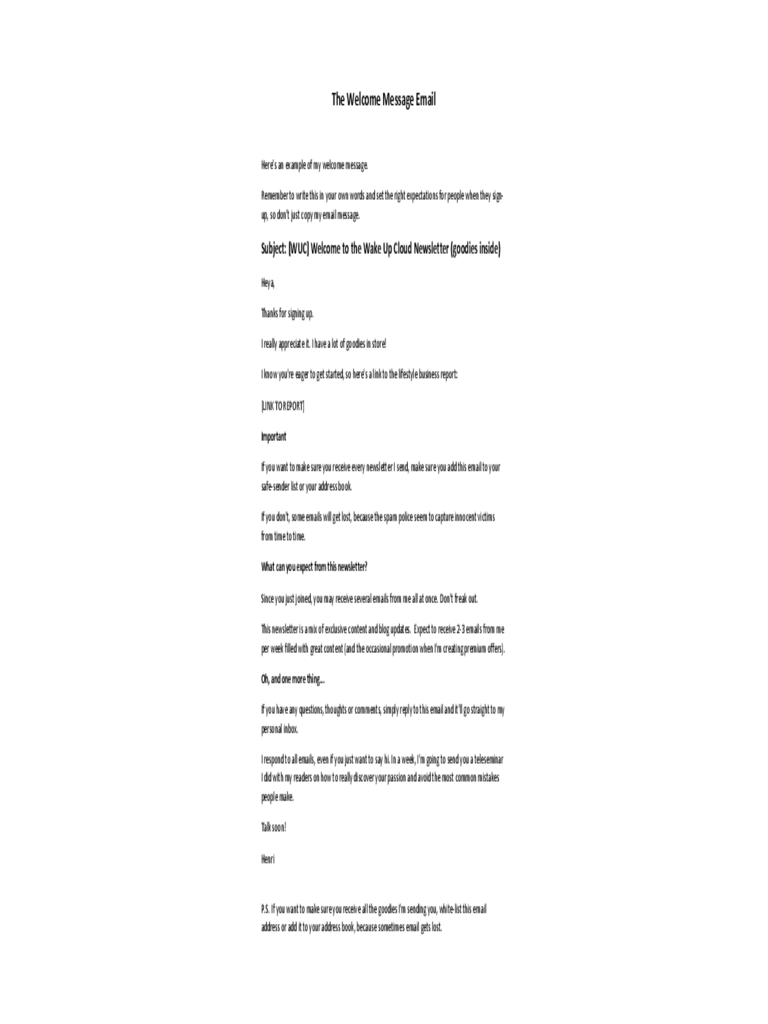 Email Welcome Message Template

The Welcome Message Email
Here's an example of my welcome message.
Remember to write this in your own words and set the right expectations for people when they sign-
up, so don't just copy my email message.
Subject: [WUC] Welcome to the Wake Up Cloud Newsletter (goodies inside)
Heya,
Thanks for signing up.
I really appreciate it. I have a lot of goodies in store!
I know you're eager to get started, so here's a link to the lifestyle business report:
[LINK TO REPORT]
Important
If you want to make sure you receive every newsletter I send, make sure you add this email to your
safe-sender list or your address book.
If you don't, some emails will get lost, because the spam police seem to capture innocent victims
from time to time.
What can you expect from this newsletter?
Since you just joined, you may receive several emails from me all at once. Don't freak out.
This newsletter is a mix of exclusive content and blog updates. Expect to receive 2-3 emails from me
per week filled with great content (and the occasional promotion when I'm creating premium offers).
Oh, and one more thing...
If you have any questions, thoughts or comments, simply reply to this email and it'll go straight to my
personal inbox.
I respond to all emails, even if you just want to say hi. In a week, I'm going to send you a teleseminar
I did with my readers on how to really discover your passion and avoid the most common mistakes
people make.
Talk soon!
Henri
P.S. If you want to make sure you receive all the goodies I'm sending you, white-list this email
address or add it to your address book, because sometimes email gets lost.