Fillable Printable Letter Of Invitation Sample
Fillable Printable Letter Of Invitation Sample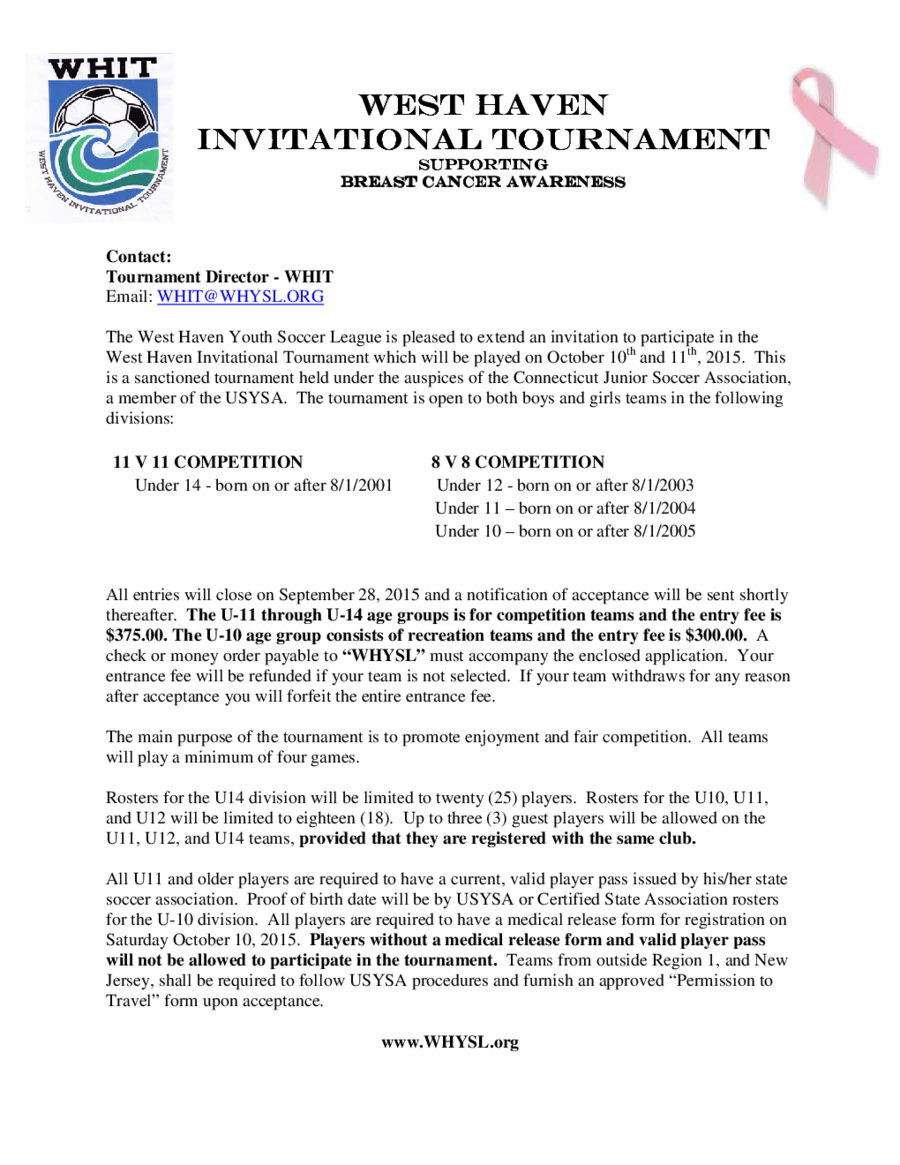 Letter Of Invitation Sample

West Haven
West Haven West Haven
West Haven
Invitational Tournament
Invitational TournamentInvitational Tournament
Invitational Tournament
supporting
supportingsupporting
supporting
Breast cancer awareness
Breast cancer awarenessBreast cancer awareness
Breast cancer awareness
Contact:
Tournament Director - WHIT
The West Haven Youth Soccer League is pleased to extend an invitation to participate in the
West Haven Invitational Tournament which will be played on October 10
th
and 11
th
, 2015. This
is a sanctioned tournament held under the auspices of the Connecticut Junior Soccer Association,
a member of the USYSA. The tournament is open to both boys and girls teams in the following
divisions:
11 V 11 COMPETITION
8 V 8 COMPETITION
Under 14 - born on or after 8/1/2001
Under 12 - born on or after 8/1/2003
Under 11 – born on or after 8/1/2004
Under 10 – born on or after 8/1/2005
All entries will close on September 28, 2015 and a notification of acceptance will be sent shortly
thereafter.
The U-11 through U-14 age groups is for competition teams and the entry fee is
$375.00. The U-10 age group consists of recreation teams and the entry fee is $300.00.
A
check or money order payable to
"WHYSL"
must accompany the enclosed application. Your
entrance fee will be refunded if your team is not selected. If your team withdraws for any reason
after acceptance you will forfeit the entire entrance fee.
The main purpose of the tournament is to promote enjoyment and fair competition. All teams
will play a minimum of four games.
Rosters for the U14 division will be limited to twenty (25) players. Rosters for the U10, U11,
and U12 will be limited to eighteen (18). Up to three (3) guest players will be allowed on the
U11, U12, and U14 teams,
provided that they are registered with the same club.
All U11 and older players are required to have a current, valid player pass issued by his/her state
soccer association. Proof of birth date will be by USYSA or Certified State Association rosters
for the U-10 division. All players are required to have a medical release form for registration on
Saturday October 10, 2015.
Players without a medical release form and valid player pass
will not be allowed to participate in the tournament.
Teams from outside Region 1, and New
Jersey, shall be required to follow USYSA procedures and furnish an approved "Permission to
Travel" form upon acceptance.
www.WHYSL.org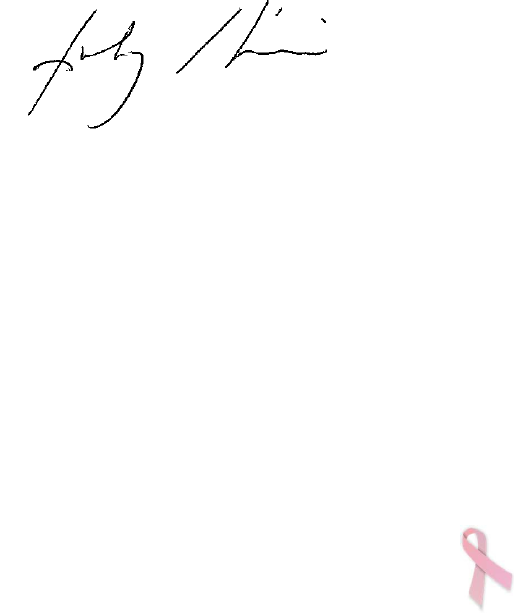 The first and second place awards will follow the completion of the finals. Participation awards
will only be presented to all U-10 players. We require that all teams exchange patches at the end
of each game.
Food concessions and sanitary facilities are available at the fields. Additional information
regarding registration, travel directions, lodging and tournament rules will be forwarded with the
acceptance letter.
If you are entering a team, please fill out the attached application form, enclose a copy of your
certified roster and return with payment as previously mentioned. All forms should be typed or
neatly printed and filled out completely. EARLY APPLICATION IS ENCOURAGED.
Please send all paperwork to:
West Haven Youth Soccer League - WHIT
Thank you,
John A. Vinci
Tournament Director
NOTE: The WHIT in support of Breast Cancer Awareness Month will donate $25.00 from each
entry fee to the Breast Cancer Awareness Program. It is our hope that this will help encourage
participating teams to sponsor their own events or fundraisers, prior to the tournament. You can
bring any and all proceeds in a check made out to
West Haven Breast Cancer Awareness
.
Since the tournament is about playing soccer: no breast cancer awareness events, solicitations,
or collections will be allowed anywhere at the venues.
Thank you for your support, it can help work wonders.
www.WHYSL.org