Fillable Printable Sample Letter Of Invitation
Fillable Printable Sample Letter Of Invitation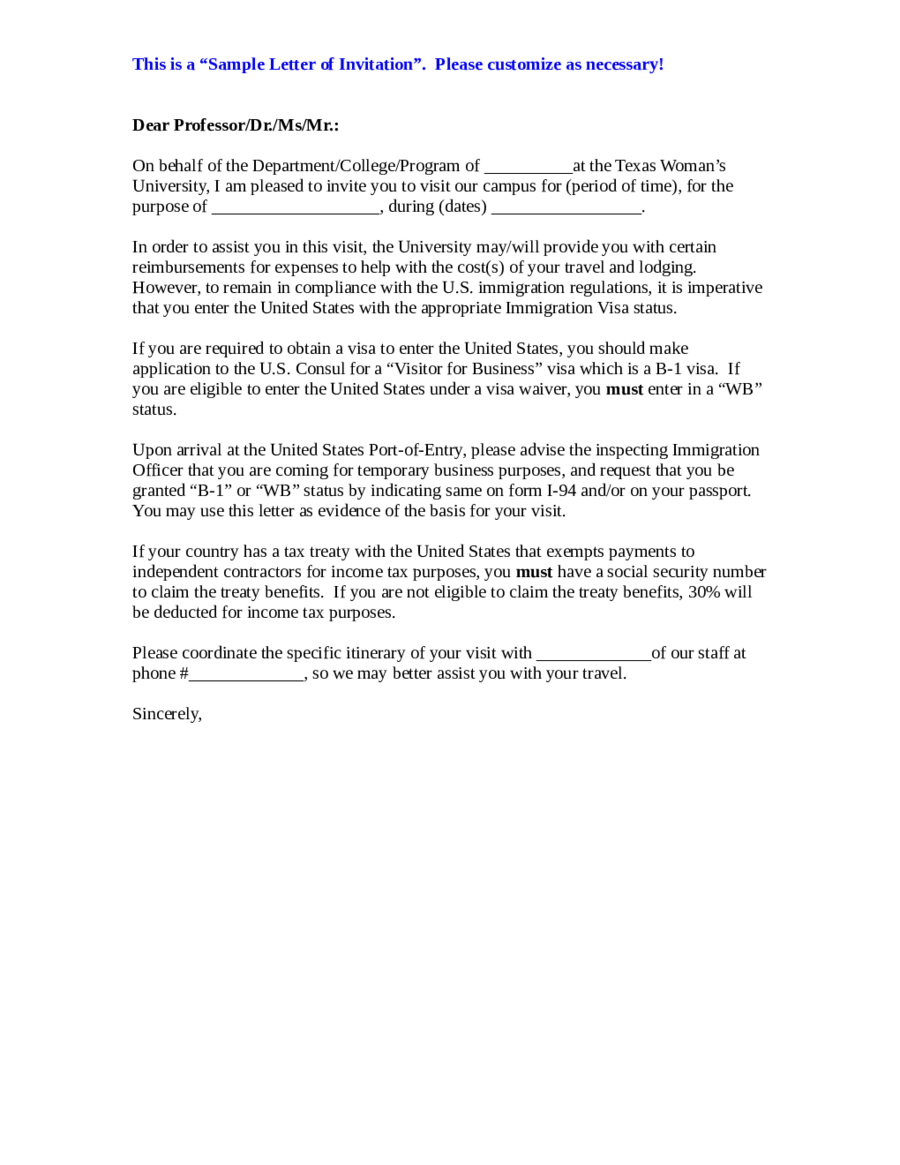 Sample Letter Of Invitation
This is a "Sample Letter of Invitation". Please customize as necessary!
Dear Professor/Dr./Ms/Mr.:
On behalf of the Department/College/Program of __________at the Texas Woman's
University, I am pleased to invite you to visit our campus for (period of time), for the
purpose of ___________________, during (dates) _________________.
In order to assist you in this visit, the University may/will provide you with certain
reimbursements for expenses to help with the cost(s) of your travel and lodging.
However, to remain in compliance with the U.S. immigration regulations, it is imperative
that you enter the United States with the appropriate Immigration Visa status.
If you are required to obtain a visa to enter the United States, you should make
application to the U.S. Consul for a "Visitor for Business" visa which is a B-1 visa. If
you are eligible to enter the United States under a visa waiver, you
must
enter in a "WB"
status.
Upon arrival at the United States Port-of-Entry, please advise the inspecting Immigration
Officer that you are coming for temporary business purposes, and request that you be
granted "B-1" or "WB" status by indicating same on form I-94 and/or on your passport.
You may use this letter as evidence of the basis for your visit.
If your country has a tax treaty with the United States that exempts payments to
independent contractors for income tax purposes, you
must
have a social security number
to claim the treaty benefits. If you are not eligible to claim the treaty benefits, 30% will
be deducted for income tax purposes.
Please coordinate the specific itinerary of your visit with _____________of our staff at
phone #_____________, so we may better assist you with your travel.
Sincerely,