Fillable Printable Sample Invitation Letter Tourist
Fillable Printable Sample Invitation Letter Tourist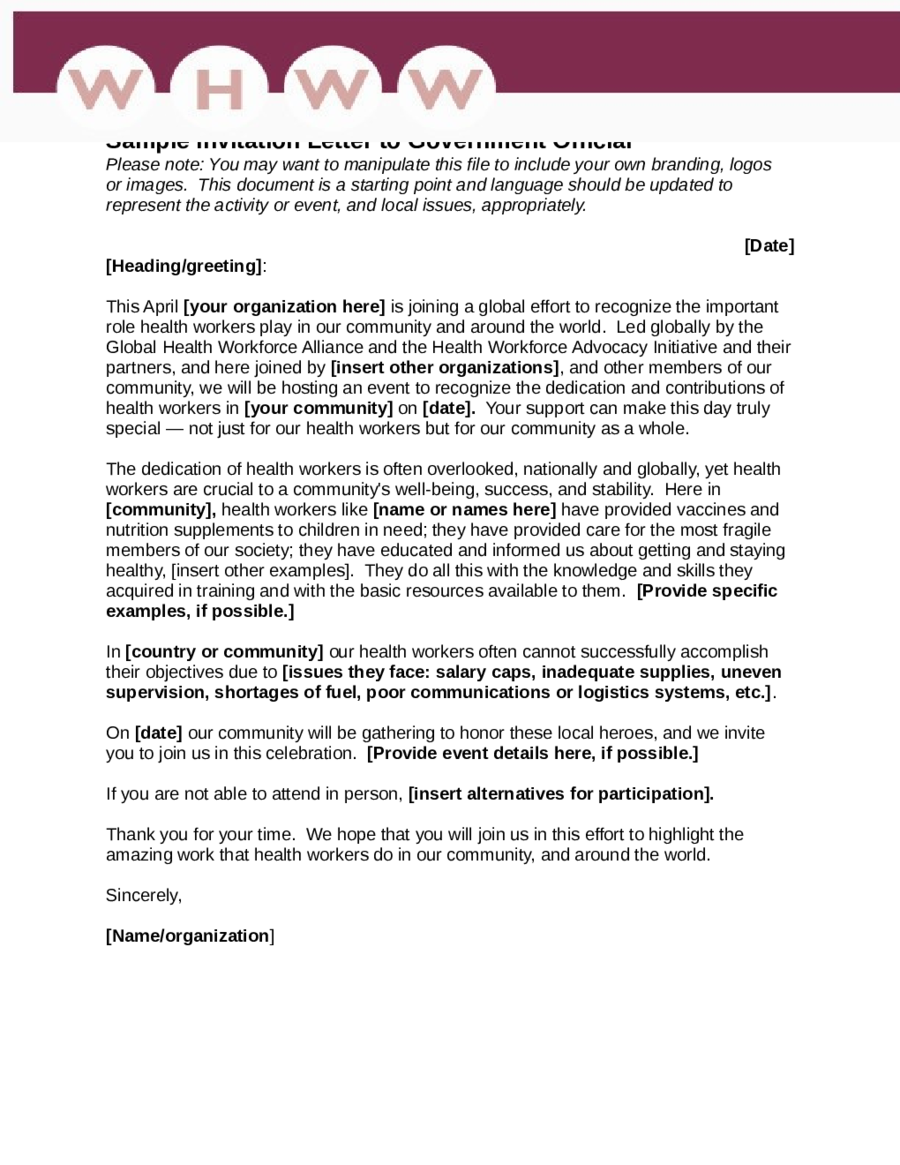 Sample Invitation Letter Tourist

Sample Invitation Letter to Government Official
Please note: You may want to manipulate this file to include your own branding, logos
or images. This document is a starting point and language should be updated to
represent the activity or event, and local issues, appropriately.
[Date]
This April
[your organization here]
is joining a global effort to recognize the important
role health workers play in our community and around the world. Led globally by the
Global Health Workforce Alliance and the Health Workforce Advocacy Initiative and their
partners, and here joined by
[insert other organizations]
, and other members of our
community, we will be hosting an event to recognize the dedication and contributions of
health workers in
[your community]
on
[date].
Your support can make this day truly
special — not just for our health workers but for our community as a whole.
The dedication of health workers is often overlooked, nationally and globally, yet health
workers are crucial to a community's well-being, success, and stability. Here in
[community],
health workers like
[name or names here]
have provided vaccines and
nutrition supplements to children in need; they have provided care for the most fragile
members of our society; they have educated and informed us about getting and staying
healthy, [insert other examples]. They do all this with the knowledge and skills they
acquired in training and with the basic resources available to them.
[Provide specific
examples, if possible.]
In
[country or community]
our health workers often cannot successfully accomplish
their objectives due to
[issues they face: salary caps, inadequate supplies, uneven
supervision, shortages of fuel, poor communications or logistics systems, etc.]
.
On
[date]
our community will be gathering to honor these local heroes, and we invite
you to join us in this celebration.
[Provide event details here, if possible.]
If you are not able to attend in person,
[insert alternatives for participation].
Thank you for your time. We hope that you will join us in this effort to highlight the
amazing work that health workers do in our community, and around the world.
Sincerely,