Fillable Printable International Sales and Marketing Executive
Fillable Printable International Sales and Marketing Executive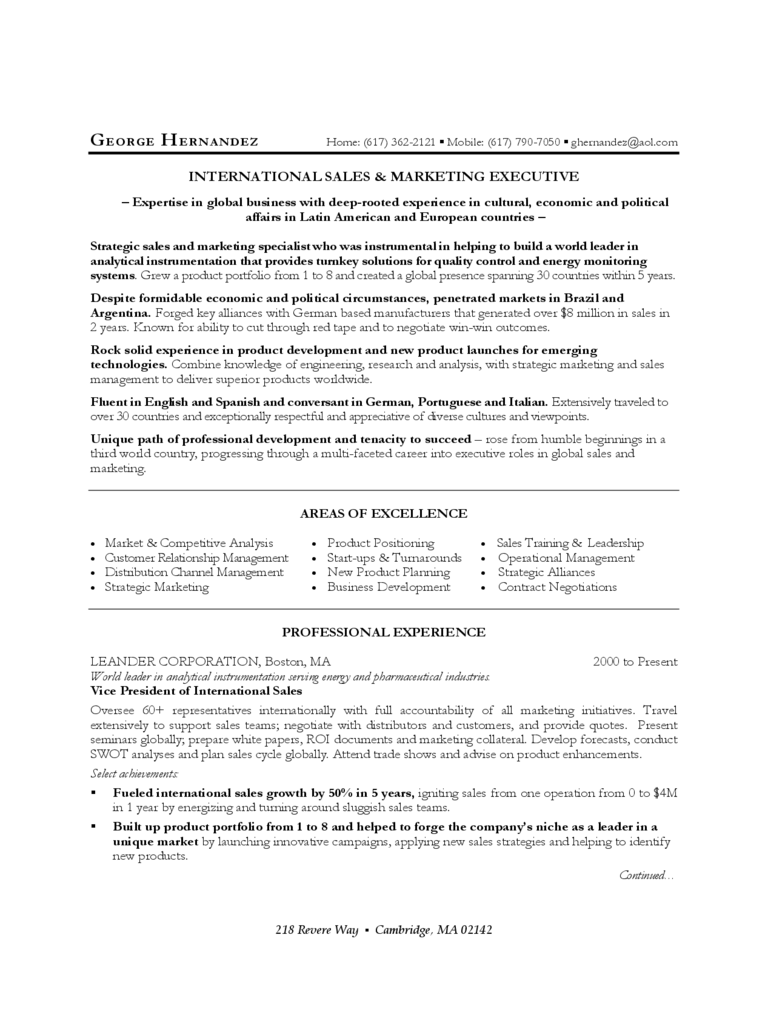 International Sales and Marketing Executive

INTERNATIONAL SALES & MARKETING EXECUTIVE
– Expertise in global business with deep-roote
d experience in cultural, economic and political
affairs in Latin American and European countries –
Strategic sales and marketing specia
list who was instrumental in help

ing to build a world leader in
analytical instrumentation that provides turnkey solutions for quality control and energy monitoring
systems
. Grew a product portfolio from 1 to 8 and created a

global presence spanning 30 countries within 5 years.
Despite formidable economic and
political circumstances, penetr

ated markets in Brazil and
Argentina.
Forged key alliances with German based manufacturers that generate

d over $8 million in sales in
2 years. Known for ability to cut through red
tape and to negotiate win-win outcomes.
Rock solid experience in product developm
ent and new product launches for emerging
technologies.
Combine knowledge of engineering, research an

d analysis, with strategic marketing and sales
management to deliver superior products worldwide.
Fluent in English and Spanish and conversant in German, Portuguese and Italian.
Extensively traveled to
over 30 countries and exceptionally respectful and a
ppreciative of diverse cult

ures and viewpoints.
Unique path of professional de
velopment and tenacity to succeed

– rose from humble beginnings in a
third world country, progressing thro
ugh a multi-faceted career into ex

ecutive roles in global sales and
marketing.
AREAS OF EXCELLENCE
•
Market & Competitive Analysis
•
Product Positioning
•
Sales Training & Leadership
•
Customer Relationship Management

•

Start-ups & Turnarounds

•

Operational Management
•
Distribution Channel Management
•
New Product Planning
•
Strategic Alliances
•
Strategic Marketing
•
Business Development
•
Contract Negotiations
PROFESSIONAL EXPERIENCE
LEANDER CORPORATION, Boston, MA
2000 to Present
World leader in analytical instrumentation se
rving energy and pharmaceutical industries.
Vice President of International Sales
Oversee 60+ representatives internationally with full ac
countability of all marketing initiatives. Travel
extensively to support sales teams; negotiate with dist
ributors and customers, and provide quotes. Present
seminars globally; prepare white papers, ROI documents
and marketing collateral. Develop forecasts, conduct
SWOT analyses and plan sales cycle globally. Attend
trade shows and advise on product enhancements.
Select achievements:

Fueled international sales growth by 50% in 5 years,

igniting sales from one operation from 0 to $4M
in 1 year by energizing and turnin
g around sluggish sales teams.

Built up product portfolio from 1 to 8 and helped to forge the company's niche as a leader in a
unique market
by launching innovative campaigns, applying new sales strategies an

d helping to identify
new products.
218

Revere



Way

▪

Cambridge,



MA



02142



GEORGE HERNANDEZ
Page 2 of 3
Vice President of International Sales,
Continued

Transformed underperforming operations in countries that bolstered revenue increases from
20% to 100%
consistently by analyzing metrics, refining product development plans and implementing
new market strategies.

Improved customer satisfaction, sales team performance and overall sales

by organizing
international training seminars and executing corporat
e culture changes to strengthen key relationships.

Minimized risk exposure globally

and ensured continued expansion

by carefully assessing political,
economic and cultural trends internationally, and implem
enting proactive measures to address potential threats.
HERNANDEZ & ASSOCIATES, Hopkinton, MA
1990 to 2000
Exclusive representative of oil and gas instru
mentation manufacturers in 12 countries globally.
Started up a company that became exclusive representative to global manufacturers of analytical
instrumentation used in quality control and research for industries
including petroleum, mining, and
commercial laboratories. Oversaw all functional areas
including finance, staffing, marketing, operations and
international business affairs. Sold off company in 2000 to pursue an opportunity within a larger and more
Select achievements:

Built a company from scratch to a robust $4 million enterprise and expanded to 8 global locations

by
bringing new products to market and forming strategic distribution channels.

Strategically positioned company as consultants and service providers

that helped sell more products.
Landed important contracts with companies such as Pe
trobras and Canico Resource. Exclusive contract with
Carra Instruments resulted in penetration of
lucrative market in oil refinery sector.

Fostered a strong ownership mentality amongst employees and retained top-notch employees

by
soliciting feedback, researching benefit plans and introducing attractive benefit programs.

Retained robust profitability margin for 10 years

by monitoring cash flows, eliminating unnecessary
costs and conducting financial forecasts.

Created a strong brand equity amongst customers

by offering incentive programs and
continuously fine tuning cu
stomer service and support.

Penetrated new markets and sustained continued growth despite highly volatile and risky environments.
INSTRUMENTATION SOLUTIONS, Sao Paulo, Brazil
1986 to 1990
Pioneer in spectrometer instru
mentation, serving 6 countries in Latin America and Europe
Sales Director
(1988 to 1990)
Managed a team of 20 engineers and 15 sales representati
ves. Set product development

goals, quotas and pricing.
Coached and mentored sales team, and
collaborated with internal teams to

retain existing customers and develop
new client base. Created expense, operating and forecasting budgets. Organized technical seminars.
Select Achievements:

Launched the first mobile petroleum analysis spectrometer to Latin American market

in 1989 after
working closely with engineers on product development specs.

Consistently exceeded sales margins by 40% annually for 2 years and maintained product leadership
position
by rolling out effective, targeted marketing plans.
218

Revere



Way

▪

Cambridge,



MA



02142



GEORGE HERNANDEZ
Page 3 of 3
Sales Director,
(Continued)

Entered new markets and sustained steady annual revenue of 5%

despite highly volatile and risky
business climate in Latin America.

Negotiated long-term contracts with key government entities

that strengthened company presence in 6
Product Manager
(1986 to 1988)
Worked with sales, marketing and application departments on
products for quality control in fields of metallurgy,
petroleum and polymers. Helped in lead generation, sa
les planning and customer relationship management.
Conducted market research and launched new prod
ucts; played key role in strategic planning.
Earlier Career:
ARLINGTON CORPORATION, Product Development Specialist
BRASILO LTD., Engineer
SCHLUMBERGER OILFIELD SERVICES, Field Technician
VERITAS DGC, Roustabout
EDUCATION & TRAINING
BOSTON UNIVERSITY, Boston, MA
MBA with an emphasis in International Business,
2001
NORTHEASTERN UNIVERSITY, Boston, MA
BS in Business Administration,
1992
UNIVERSIDADE CENTRAL DE BRASILIA, Sao Paulo, Brazil
Mechanical Engineer (BS in Mechanical Engineering),
1980
PROFESSIONAL AFFILIATIONS
American Marketing Association
International Sales and
Marketing Association
Academy of International Business, AIB
American Society of Mechanical Engineers, ASME
Brazil Society of Engineers
Latin American Business Organization
218

Revere



Way

▪

Cambridge,



MA



02142

