Fillable Printable Invitation Letter Sample new
Fillable Printable Invitation Letter Sample new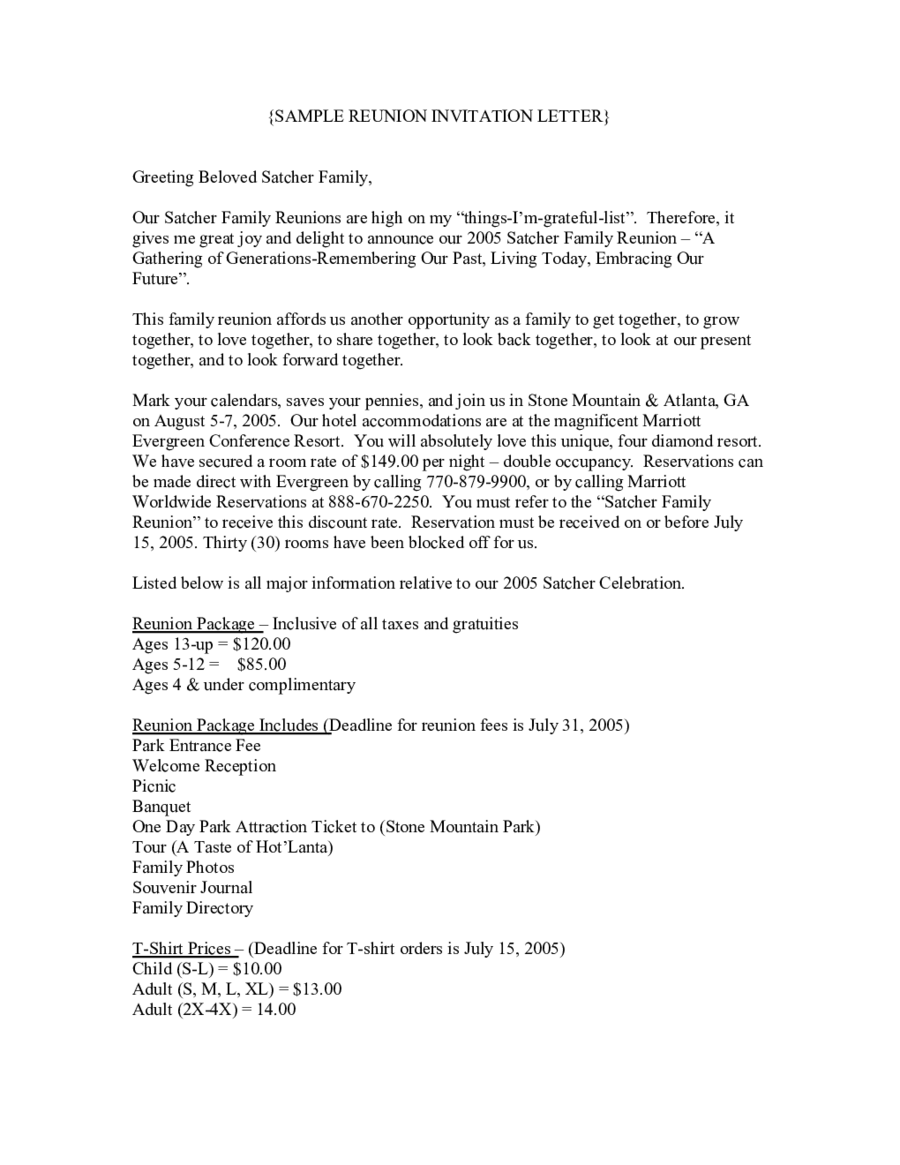 Invitation Letter Sample new

{SAMPLE REUNION INVITATION LETTER}
Greeting Beloved Satcher Family,
Our Satcher Family Reunions are high on my "things-I'm-grateful-list". Therefore, it
gives me great joy and delight to announce our 2005 Satcher Family Reunion – "A
Gathering of Generations-Remembering Our Past, Living Today, Embracing Our
Future".
This family reunion affords us another opportunity as a family to get together, to grow
together, to love together, to share together, to look back together, to look at our present
together, and to look forward together.
Mark your calendars, saves your pennies, and join us in Stone Mountain & Atlanta, GA
on August 5-7, 2005. Our hotel accommodations are at the magnificent Marriott
Evergreen Conference Resort. You will absolutely love this unique, four diamond resort.
We have secured a room rate of $149.00 per night – double occupancy. Reservations can
be made direct with Evergreen by calling 770-879-9900, or by calling Marriott
Worldwide Reservations at 888-670-2250. You must refer to the "Satcher Family
Reunion" to receive this discount rate. Reservation must be received on or before July
15, 2005. Thirty (30) rooms have been blocked off for us.
Listed below is all major information relative to our 2005 Satcher Celebration.
Reunion Package – Inclusive of all taxes and gratuities
Ages 13-up = $120.00
Ages 5-12 = $85.00
Ages 4 & under complimentary
Reunion Package Includes (Deadline for reunion fees is July 31, 2005)
Park Entrance Fee
Welcome Reception
Picnic
Banquet
One Day Park Attraction Ticket to (Stone Mountain Park)
Tour (A Taste of Hot'Lanta)
Family Photos
Souvenir Journal
Family Directory
T-Shirt Prices – (Deadline for T-shirt orders is July 15, 2005)
Child (S-L) = $10.00
Adult (S, M, L, XL) = $13.00
Adult (2X-4X) = 14.00

Come see, meet and greet all the cousins you didn't know you had! We have a lot of
great things planned. You don't want to miss one minute of our 2005 Satcher Family
Reunion!!
As always, continue to pray for unity…and never, never, never, let the Chain gather dust.
Links will become weak and break…we'll repair those that are broken, replace those that
are gone and as the Satcher Family continue to press on.
I'm looking forward to seeing all of you in Stone Mountain, GA!
Love & Prayers,
{Signature}
{Sender Full Name}