Fillable Printable Message Mapping Sample
Fillable Printable Message Mapping Sample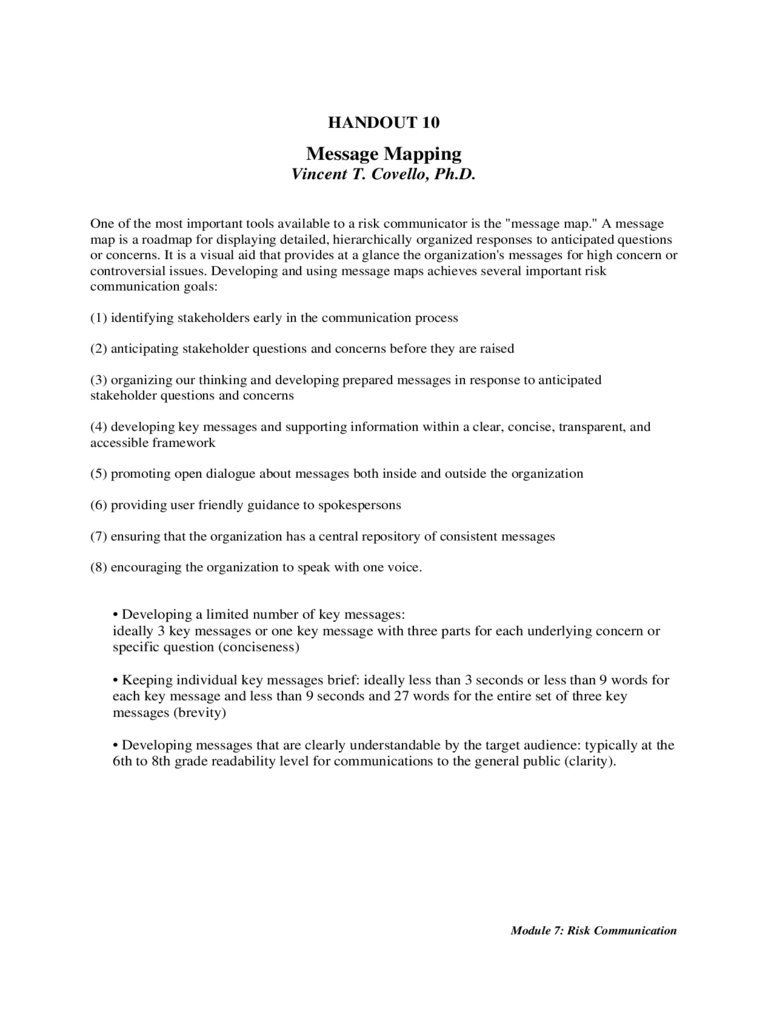 Message Mapping Sample
HANDOUT 10
Message Mapping
Vincent T. Covello, Ph.D.
One of the most important tools available to a risk communicator is the "message map." A message
map is a roadmap for displaying detailed, hierarchically organized responses to anticipated questions
or concerns. It is a visual aid that provides at a glance the organization's messages for high concern or
controversial issues. Developing and using message maps achieves several important risk
communication goals:
(1) identifying stakeholders early in the communication process
(2) anticipating stakeholder questions and concerns before they are raised
(3) organizing our thinking and developing prepared messages in response to anticipated
stakeholder questions and concerns
(4) developing key messages and supporting information within a clear, concise, transparent, and
accessible framework
(5) promoting open dialogue about messages both inside and outside the organization
(6) providing user friendly guidance to spokespersons
(7) ensuring that the organization has a central repository of consistent messages
(8) encouraging the organization to speak with one voice.
• Developing a limited number of key messages:
ideally 3 key messages or one key message with
three parts for each underlying concern or
specific question (conciseness)
• Keeping individual key messages brief: ideally
less than 3 seconds or less than 9 words for
each key message and less than 9 seconds and 27 words for the entire set of three key
messages (brevity)
• Developing messages that are cl
early understandable by the target audience: typically at the
6th to 8th grade readability level for comm
unications to the general public (clarity).
Module 7: Risk Communication