Fillable Printable Non-Collusion Affidavit - California
Fillable Printable Non-Collusion Affidavit - California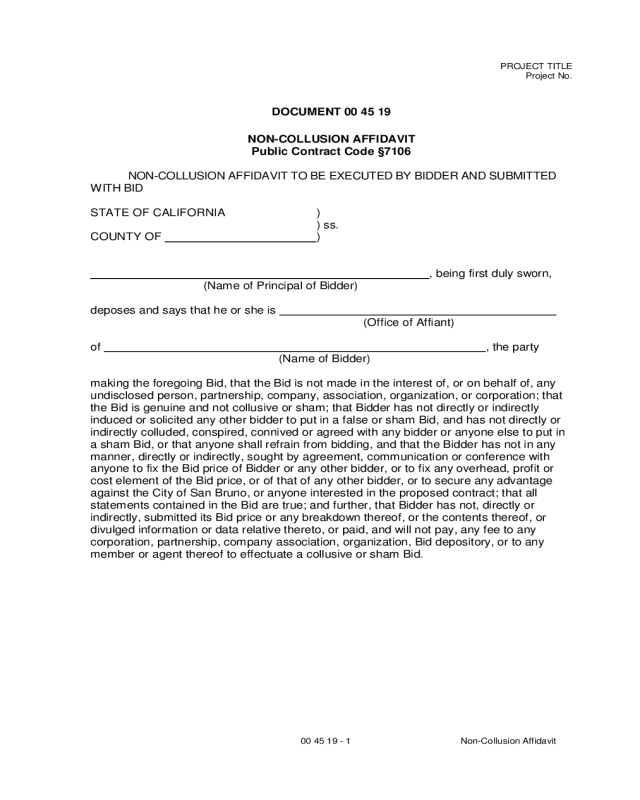 Non-Collusion Affidavit - California

PROJECT TITLE
Project No.
00 45 19 - 1 Non-Collusion Affidavit
DOCUMENT 00 45 19
NON-COLLUSION AFFIDAVIT
Public Contract Code §7106
NON-COLLUSIONAFFIDAVIT TO BE EXECUTEDBY BIDDERAND SUBMITTED
WITH BID
STATE OF CALIFORNIA )
) ss.
COUNTY OF )
, being first dulysworn,
(Name of Principal of Bidder)
deposes andsays that he or she is
(Office of Affiant)
of , the party
(Name of Bidder)
making the foregoing Bid, that the Bid is not made in the interest of, or on behalf of, any
undisclosed person, partnership, company, association, organization, or corporation; that
the Bid is genuineand not collusive or sham; that Bidder has not directly or indirectly
induced or solicited anyother bidder to put in a false or sham Bid, and has not directly or
indirectly colluded, conspired, connived or agreed with any bidder or anyone else to put in
a sham Bid, or that anyone shall refrain from bidding, and that the Bidder has not in any
manner, directly or indirectly, sought by agreement, communication or conference with
anyone to fix the Bid price of Bidder or anyother bidder, or to fix any overhead, profit or
cost element of the Bid price, or of that of any other bidder, or to secure any advantage
against the City of San Bruno, or anyoneinterested in the proposed contract; that all
statements contained in the Bid are true; and further, that Bidder has not, directly or
indirectly, submitted its Bid price or any breakdown thereof, or the contents thereof, or
divulged information or data relative thereto, or paid, and will not pay, any fee to any
corporation, partnership, company association, organization, Bid depository, or to any
member or agent thereof to effectuate a collusive or sham Bid.

PROJECT TITLE
Project No.
Non-Collusion Affidavit 00 45 19 - 2
Executed under penalty of perjury under the laws of the State of California:
(Name of Bidder)
(Signature of Principal)
Subscribed and sworn before me
This day of __________________, 20
Notary Public of the State of
In and for the Countyof
MyCommission expires (Seal)
NOTE:
If Bidder is a partnership or a joint venture, this affidavit must be signed and
sworn to by everymember of the partnership or venture.
NOTE:
If Bidder [including anypartner or venturer of a partnership or joint venture]
is a corporation, this affidavit must be signed by the Chairman, President, or
Vice President and by the Secretary, Assistant Secretary, Chief Financial
Officer, or Assistant Treasurer.
NOTE:
If Bidder's affidavit on this form is made outside the State of California, the
official position of the person taking such affidavit shall be certified
according to law.
-END OF DOCUMENT-