Fillable Printable Non-Collusion Affidavit Form - Illinois
Fillable Printable Non-Collusion Affidavit Form - Illinois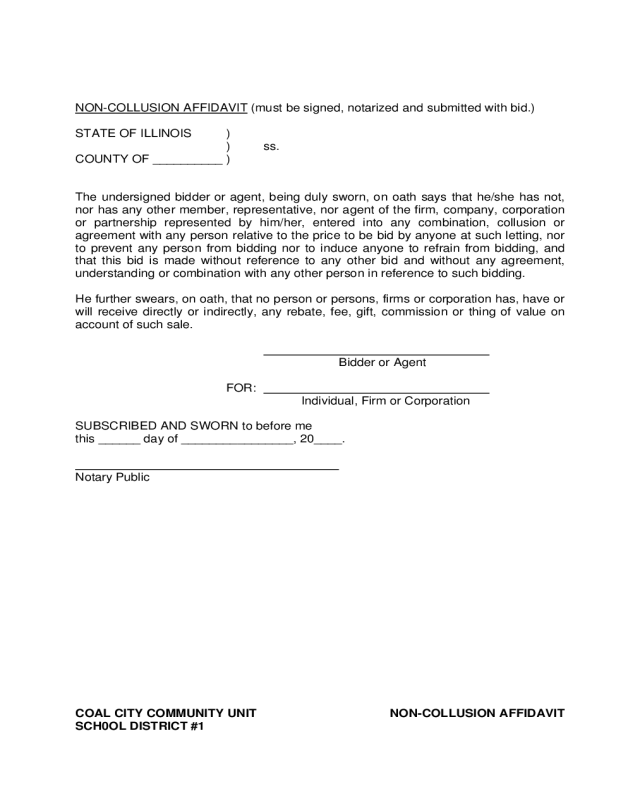 Non-Collusion Affidavit Form - Illinois

NON-COLLUSION AFFIDAVIT
(must be signed, notarized and submitted with bid.)
) ss.
COUNTY OF __________ )
The undersigned bidder or agent, being duly sw
orn, on oath says that he/she has not,
nor has any other member, representative, nor
agent of the firm,

company, corporation
or partnership represented by
him/her, entered into any

combination, collusion or
agreement with any person relative to the pric
e to be bid by anyone at such letting, nor
to prevent any person from bidding nor to
induce anyone to refrain from bidding, and
that this bid is made without reference to
any other bid and

without any agreement,
understanding or combination
with any other person in reference to such bidding.
He further swears, on oath, that no person or persons, firms
or corporation has, have or
will receive directly or indirectly, any rebate,
fee, gift, commission or thing of value on
account of such sale.
Bidder or Agent
Individual, Firm or Corporation
SUBSCRIBED AND SW ORN to before me
this ______ day of
________________, 20____.
Notary Public
COAL CITY COMMUNITY UNIT
NON-COLLUSION AFFIDAVIT