Fillable Printable Personal Apology Letter Sample
Fillable Printable Personal Apology Letter Sample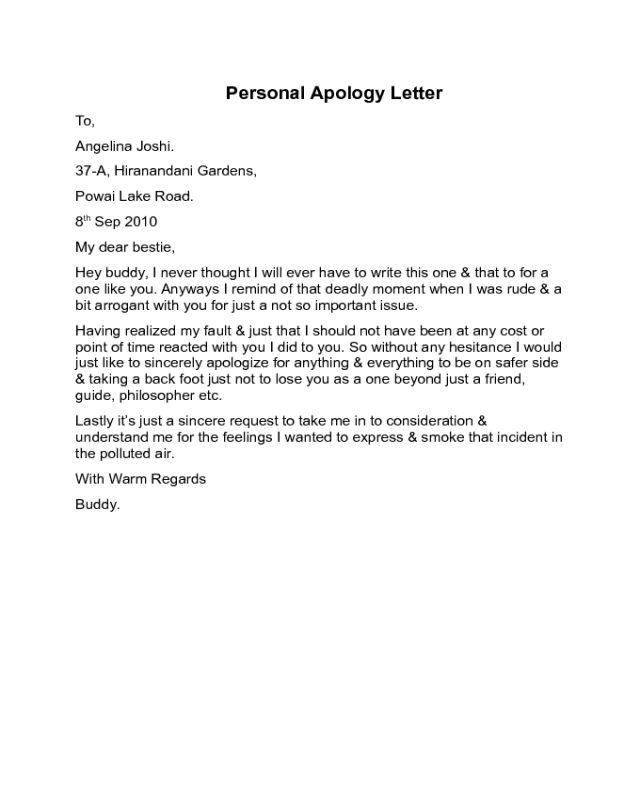 Personal Apology Letter Sample
Personal Apology Letter
To,
Angelina Joshi.
37-A, Hiranandani Gardens,
Powai Lake Road.
8
th
Sep 2010
My dear bestie,
Hey buddy, I never thought I will ever have to write this one & that to for a
one like you. Anyways I remind of that deadly moment when I was rude & a
bit arrogant with you for just a not so important issue.
Having realized my fault & just that I should not have been at any cost or
point of time reacted with you I did to you. So without any hesitance I would
just like to sincerely apologize for anything & everything to be on safer side
& taking a back foot just not to lose you as a one beyond just a friend,
guide, philosopher etc.
Lastly it's just a sincere request to take me in to consideration &
understand me for the feelings I wanted to express & smoke that incident in
the polluted air.
With Warm Regards
Buddy.