Fillable Printable PProposal Letter to Bank Sample
Fillable Printable PProposal Letter to Bank Sample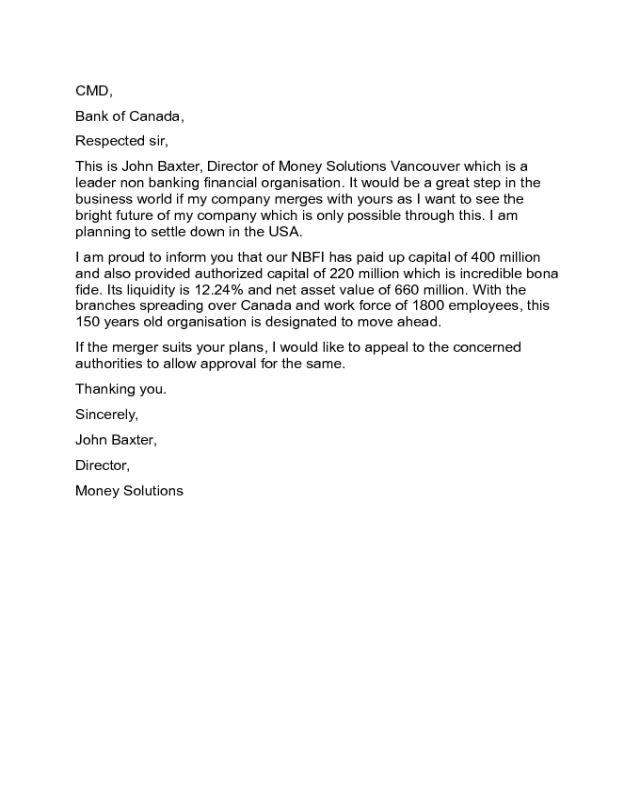 PProposal Letter to Bank Sample
CMD,
Bank of Canada,
Respected sir,
This is John Baxter, Director of Money Solutions Vancouver which is a
leader non banking financial organisation. It would be a great step in the
business world if my company merges with yours as I want to see the
bright future of my company which is only possible through this. I am
planning to settle down in the USA.
I am proud to inform you that our NBFI has paid up capital of 400 million
and also provided authorized capital of 220 million which is incredible bona
fide. Its liquidity is 12.24% and net asset value of 660 million. With the
branches spreading over Canada and work force of 1800 employees, this
150 years old organisation is designated to move ahead.
If the merger suits your plans, I would like to appeal to the concerned
authorities to allow approval for the same.
Thanking you.
Sincerely,
John Baxter,
Director,
Money Solutions