Fillable Printable Proposal Letter to Offer Services Sample
Fillable Printable Proposal Letter to Offer Services Sample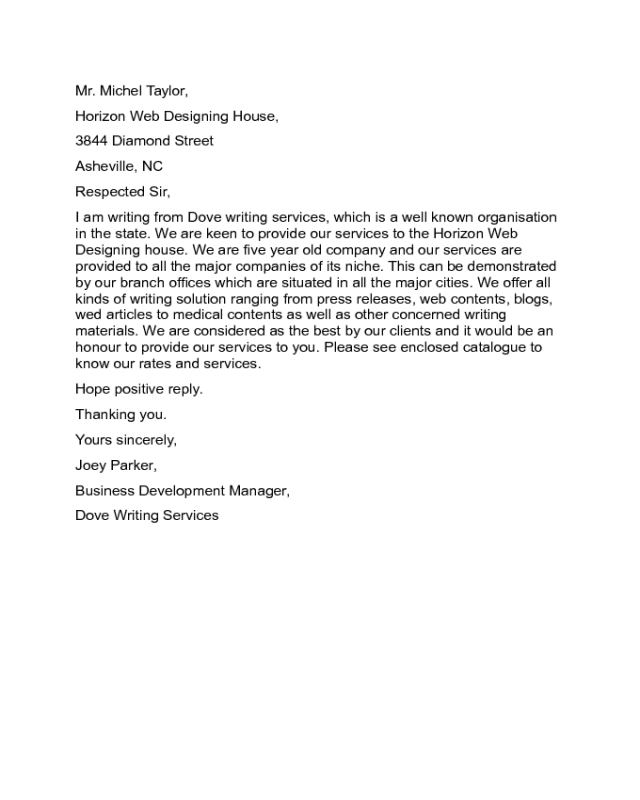 Proposal Letter to Offer Services Sample
Mr. Michel Taylor,
Horizon Web Designing House,
3844 Diamond Street
Asheville, NC
Respected Sir,
I am writing from Dove writing services, which is a well known organisation
in the state. We are keen to provide our services to the Horizon Web
Designing house. We are five year old company and our services are
provided to all the major companies of its niche. This can be demonstrated
by our branch offices which are situated in all the major cities. We offer all
kinds of writing solution ranging from press releases, web contents, blogs,
wed articles to medical contents as well as other concerned writing
materials. We are considered as the best by our clients and it would be an
honour to provide our services to you. Please see enclosed catalogue to
know our rates and services.
Hope positive reply.
Thanking you.
Yours sincerely,
Joey Parker,
Business Development Manager,
Dove Writing Services