Fillable Printable Prenuptial Agreement Form Free Download
Fillable Printable Prenuptial Agreement Form Free Download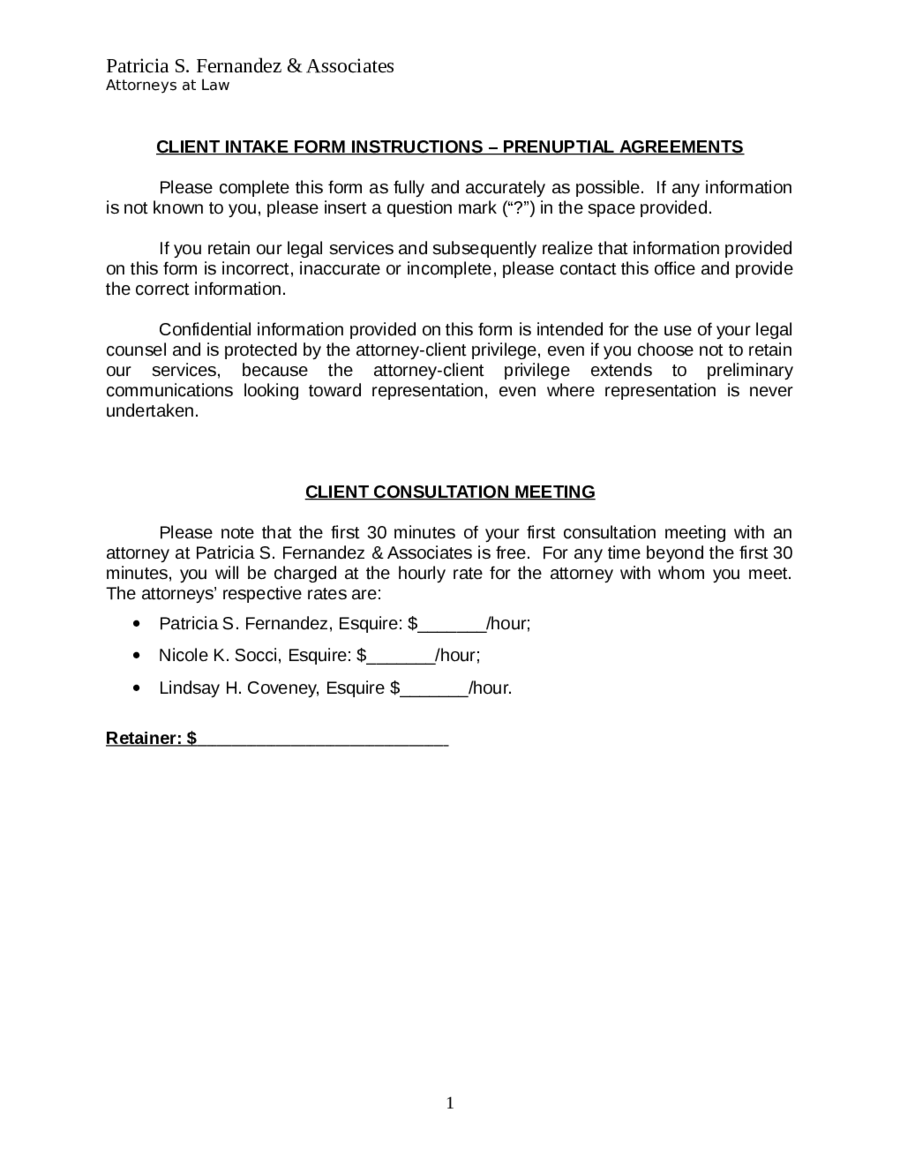 Prenuptial Agreement Form Free Download

Patricia S. Fernandez & Associates
Attorneys at Law
CLIENT INTAKE FORM INSTRUCTIONS – PRENUPTIALAGREEMENTS
Please completethis formasfully andaccuratelyas possible. Ifany information
is not known to you, please insert a question mark ("?") in the space provided.
If you retain our legal services and subsequently realize that information provided
on this form is incorrect, inaccurate or incomplete, please contact this office and provide
the correct information.
Confidential information provided on this form is intended for the use of your legal
counsel and is protected by the attorney-client privilege, even if you choose not to retain
ourservices,becausetheattorney-clientprivilegeextendstopreliminary
communicationslookingtowardrepresentation,evenwhererepresentationisnever
undertaken.
CLIENT CONSULTATION MEETING
Pleasenotethatthefirst30minutesofyourfirstconsultationmeetingwithan
attorney at Patricia S.Fernandez & Associates is free.For any time beyondthe first 30
minutes,youwillbechargedatthehourlyratefortheattorneywithwhomyoumeet.
The attorneys'respective rates are:

Patricia S. Fernandez, Esquire: $_______/hour;

Nicole K. Socci, Esquire: $_______/hour;

Lindsay H. Coveney, Esquire $_______/hour.
Retainer: $
1

Patricia S. Fernandez & Associates
Attorneys at Law
CLIENT INTAKE FORM – PRENUPTIAL AGREEMENTS
PERSONAL INFORMATION
1.FULL NAME: __________________________________________________________
2.DATE OF BIRTH
(month/date/year)
: ________________________________________
3.PROJECTED DATE OF MARRIAGE: _______________________________________
4.NUMBER OF THIS MARRIAGE FOR YOU
(e.g.: 1
st
, 2
nd
, etc.)
: __________________
5.HOME ADDRESS: ______________________________________________________
(street number & name) (city) (state) (zip) (county)
6.MAILING ADDRESS:_____________________________________________________
(street number & name) (city) (state) (zip) (county)
7.PHONE NUMBER: ________________ ________________ ________________
(home) (work) (cell)
8.E-MAILADDRESS*: ____________________________________________________
*
We contact clients primarily through e-mail. If you would like to be contacted
in another manner, please specify
: _____________________
9.EMPLOYER NAME: ____________________________________________________
10. EMPLOYER ADDRESS: _________________________________________________
(street number & name)(city)(state) (zip) (county)
11.JOB TITLE: ____________________________________________________________
12. ANNUAL INCOME: ____________________________________________________
13. DO YOU HAVE HEALTH INSURANCE? YES / NO
14. HEALTH INSURANCE PROVIDER: _______________________________________
INFORMATION ABOUT YOUR FUTURE SPOUSE
1.FULL NAME OF FUTURE SPOUSE: _______________________________________
2.SPOUSE'S DATE OF BIRTH
(month/date/year)
: ______________________________
3.FULL NAME AND ADDRESS OF FUTURE SPOUSE'S COUNSEL, IF ANY:
(if your
spouse is representing him/herself, or if you do not know whether your spouse has
counsel, please so indicate)
:
_______________________________________________________________________
_______________________________________________________________________
4.NUMBER OF THIS MARRIAGE FOR FUTURE SPOUSE
(e.g.: 1
st
, 2
nd
5.ADDRESS OF FUTURE SPOUSE: __________________________________________
(street number & name) (city) (state) (zip) (county)
6.NAME OF FUTURE SPOUSE'S EMPLOYER: ________________________________
2
Patricia S. Fernandez & Associates
Attorneys at Law
7.ADDRESS OF FUTURE SPOUSE'S EMPLOYER: _____________________________
(street number & name) (city) (state) (zip)
8.ANNUAL INCOME: ____________________________________________________
INFORMATION ABOUT YOUR CHILD(REN)
FULLNAMESANDBIRTHDATESOFALLCHILDRENBORNTOORADOPTEDBY
YOU OR YOUR FUTURE SPOUSE, INCLUDING ANYCHILD WHOSE FATHER/MOTHER
ISNOT YOURFUTURESPOUSE
(ifanychildisadopted,borntoyoubutnottoyourfuture
spouse,borntoyourfuturespousebutnottoyou,oriftherelationshipotherwiserequires
explanation, please so explain)
:

_____________________________________________________________________

_____________________________________________________________________

_____________________________________________________________________

_____________________________________________________________________

_____________________________________________________________________

_____________________________________________________________________

_____________________________________________________________________

_____________________________________________________________________
SPECIAL CONCERNS
1.Please describe any health concerns you or your child(ren) might have:
_____________________________________________________________________
_____________________________________________________________________
_____________________________________________________________________
_____________________________________________________________________
2.Please describe the issue(s) of greatest concern to you relevant to this prenuptial
agreement:
_____________________________________________________________________
_____________________________________________________________________
_____________________________________________________________________
_____________________________________________________________________
_____________________________________________________________________
3