Fillable Printable Project Closeout ReportCost Data Integrity Project
Fillable Printable Project Closeout ReportCost Data Integrity Project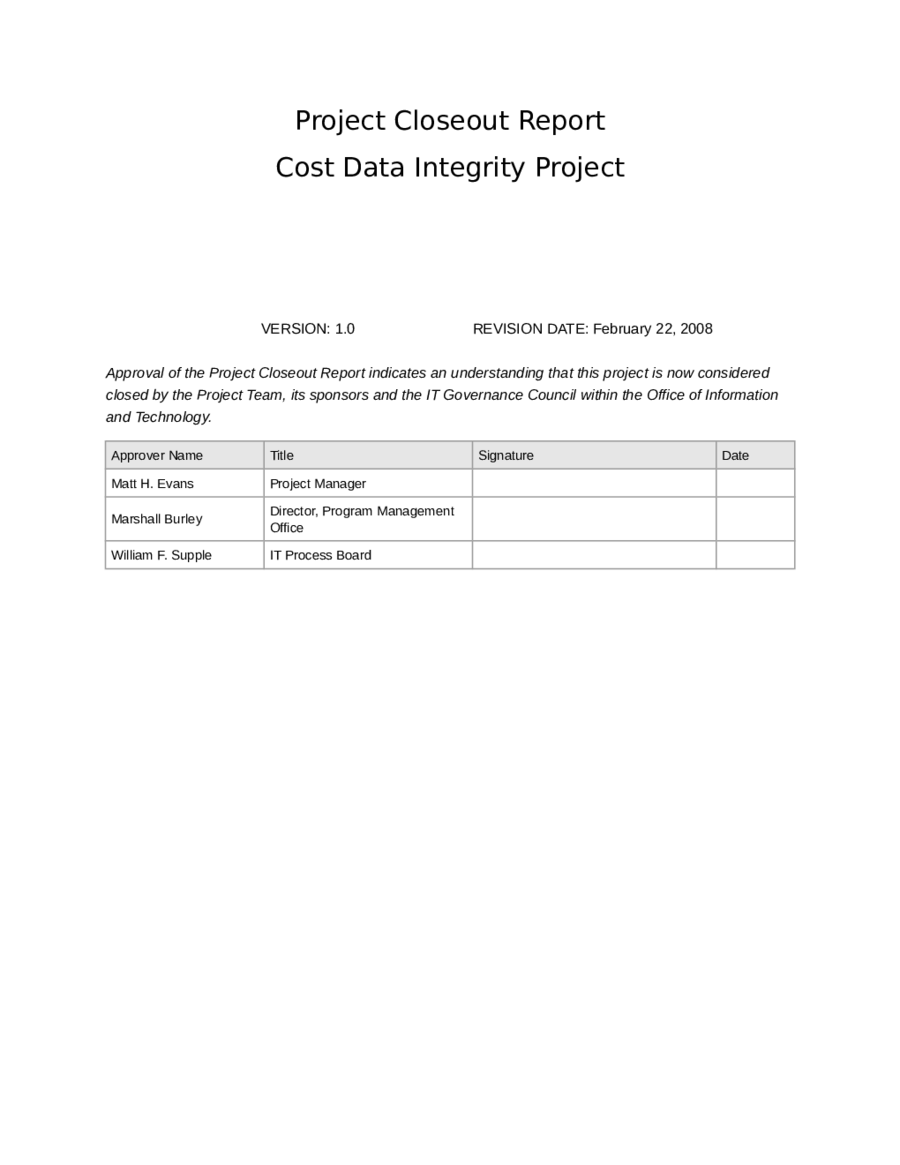 Project Closeout ReportCost Data Integrity Project

Project Closeout Report
Cost Data Integrity Project
VERSION: 1.0REVISION DATE: February 22, 2008
Approval of the Project Closeout Report indicates an understanding that this project is now considered
closed by the Project Team, its sponsors and the IT Governance Council within the Office of Information
and Technology.
Approver NameTitle SignatureDate
Matt H. EvansProject Manager
Marshall Burley
Director, Program Management
Office
William F. SuppleIT Process Board
Section 1.General Information
Project NameDate
Cost Data Integrity February 22, 2008
Organizational Unit
Program Management Office – Office of Information and Technology
Project ManagerPhoneEmailFax
Matt H. Evans877-807-8756matt@exinfm.com
Section 2.Goals / Objectives / Expectations of Project
Describe specific goals and objectives of this project. For each, indicate if the project was successful in
meeting the goal or objective.
ItemProject Goal or ObjectiveMet?
2.1Reduce the error rates associated with timesheet submissions which in turn is distorting
actual costs reported in the Project Management System.
Yes No
2.2Reduce the error rates associated with vendor invoices which in turn is distorting actual
costs reported in the Project Management System.
Yes No
Section 3.Project Risks and Issues
Indicate if any risk per the Risk Management Plan occurred and turned into an issue. Describe how the
issue was resolved or indicate if the issue is still open.
ItemRisk per Project PlanOpen Issue
3.1Scope Creep – Requirements may change during the course of the project, such as
System Requirements for PMS.
Final Disposition
> Never occurred, high level
functional requirements were described and turned over to the PMO to pursue.
Yes No
3.2Access to PMS and FMS Records – In order for this project to be successful, it was
critical to have quick access to both PMS data and FMS data.
Final Disposition
>
Thanks to high level sponsorship of this project, these obstacles never occurred. System
Administrators were more than helpful in providing all of the data requests submitted by
the project team.
Yes No
3.3Team Resources – There was an initial concern that project staff would not be available
to take on all of the tasks associated with this project.
Final Disposition
> This never
materialized despite the fact that the staff was pulled off the project several times. The
Project Manager was able to meet the project schedule primarily due to the straight
forward solutions needed to re-engineer the processes.
Yes No
3.4Bad Data – There was a risk that the data that was received from both PMS and FMS
would contain errors.
Final Disposition
> There were inconsistencies in how the data
was entered; especially invoice numbers. However, overall the project team did not
detect coding errors, missing data or other types of errors in the source data.
Yes No
1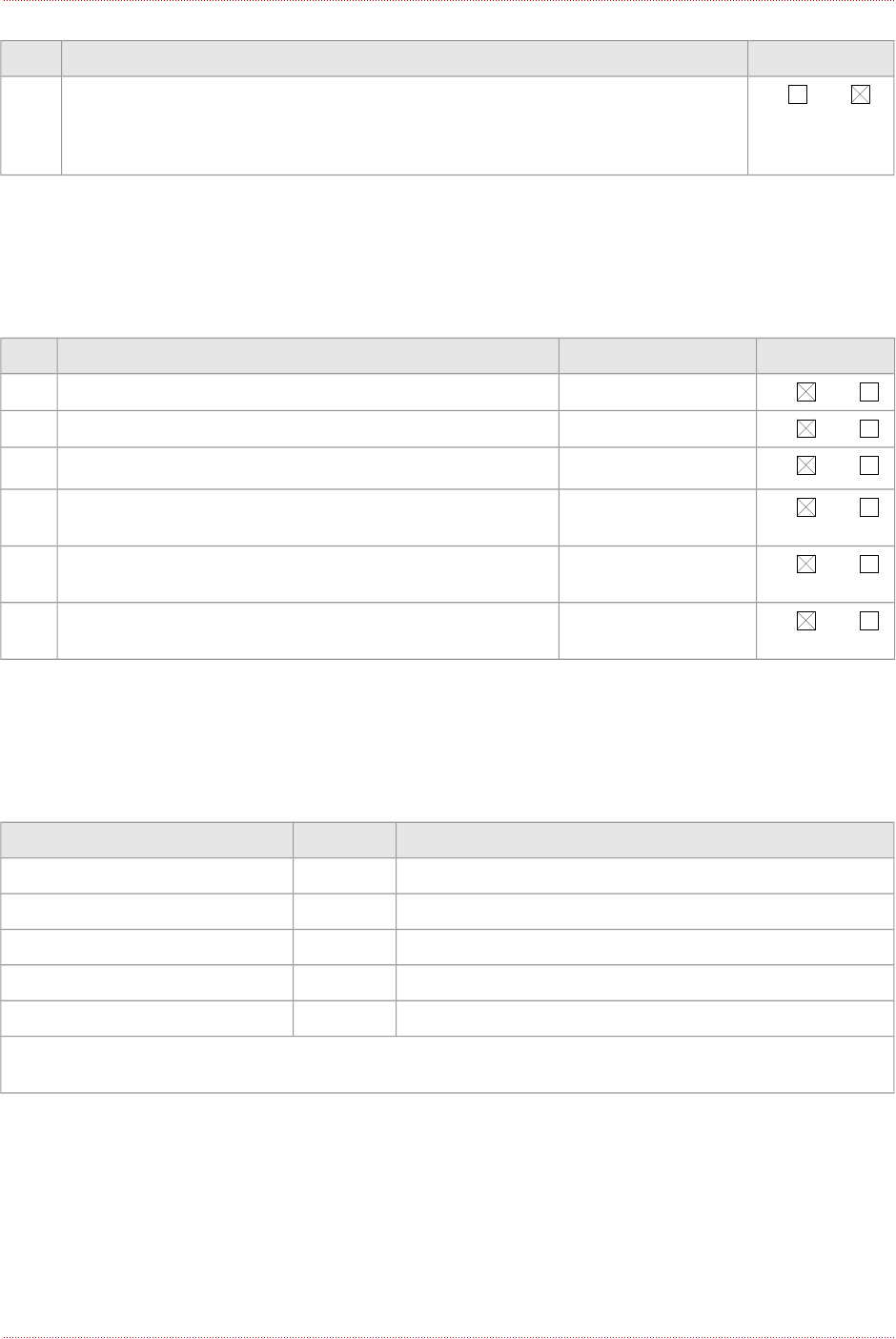 ItemRisk per Project PlanOpen Issue
3.5Implementing Solutions – There is an overall risk that changes to procedures would be
difficult to implement. This would include additional work on project teams regarding new
control procedures.
Final Disposition
> Based on the four major projects tested, there
were no major difficulties with meeting the new requirements.
Yes No
Section 4. Project Quality
List out major work products / deliverables for this project and indicate what quality control review took
place and if the review was approved
ItemRisk per Project PlanReviewer NameApproved
4.1Critical to Quality Characteristics / Operating DefinitionsJohn DesantoYes No
4.2Sampling Plan / Procedures PMOYes No
4.3Measurement Systems AnalysisJohn Desanto and PMOYes No
4.4Root Cause Analysis IT Process Board and
PMO
Yes No
4.5Proposed SolutionsIT Process Board and
PMO
Yes No
4.6Trend Charts / Control PlansIT Process Board and
PMO
Yes No
Section 5. Project Costs and Schedule
Using Earned Value Management, what was the final project performance in terms of costs and
schedule?
EMV ParameterValueComments
Actual Cost$ 364,000As of 2/15/08 – about $ 5,000 more expected
Planned Value$ 480,000As of 2/15/08 – where we expected to be
Earned Value$ 510,000As of 2/15/08 – where we are at
Cost Performance Index1.40Project required significantly less resources to complete
Schedule Performance Index1.06Solutions were relatively easy to develop and implement
Note: The original project schedule was re-baselined in December 2007 when government personnel assigned to
the project were released from the project; reduction in scope.
2

Section 6.Resources Deployed and Released
List the resources used during the course of this project and indicate if they have been transferred,
reassigned, terminated or planned disposition including effective date
.
ResourceResource DispositionEffective Date
Matt H. Evans – Project ManagerReleased to other tasks within the PMO3/3/08
Sherry Minzer – AnalystReleased back to OIT Job1/11/08
Robert Bowers – Senior ConsultantReleased off the Task Order2/15/08
Jamin Musului – Senior AnalystReleased back to OIT Job1/11/08
Section 7.Project Files
Indicate the location of various artifacts created by this project. This would include all work products,
deliverables, minutes, memo's and all information that would enable someone else to start this project
back up with relative ease.
Work Product / File NameLocationPoint of Contact
All project files are centrally located on the Network
Shared Drive for OIT > PMO > Special Projects > Cost
Data Integrity Project
S Drive for OIT > PMO > Special
Projects > Cost Data Integrity
Project
PMO
Section 8.Project Lessons Learned
Identify lessons learned specifically for the project. State the lessons learned in terms of a problem
(issue). Describe the problem and include any project documentation references (e.g., Project Plan,
Issues Log) that provide additional details. Identify recommended improvements to correct a similar
problem in the future.
3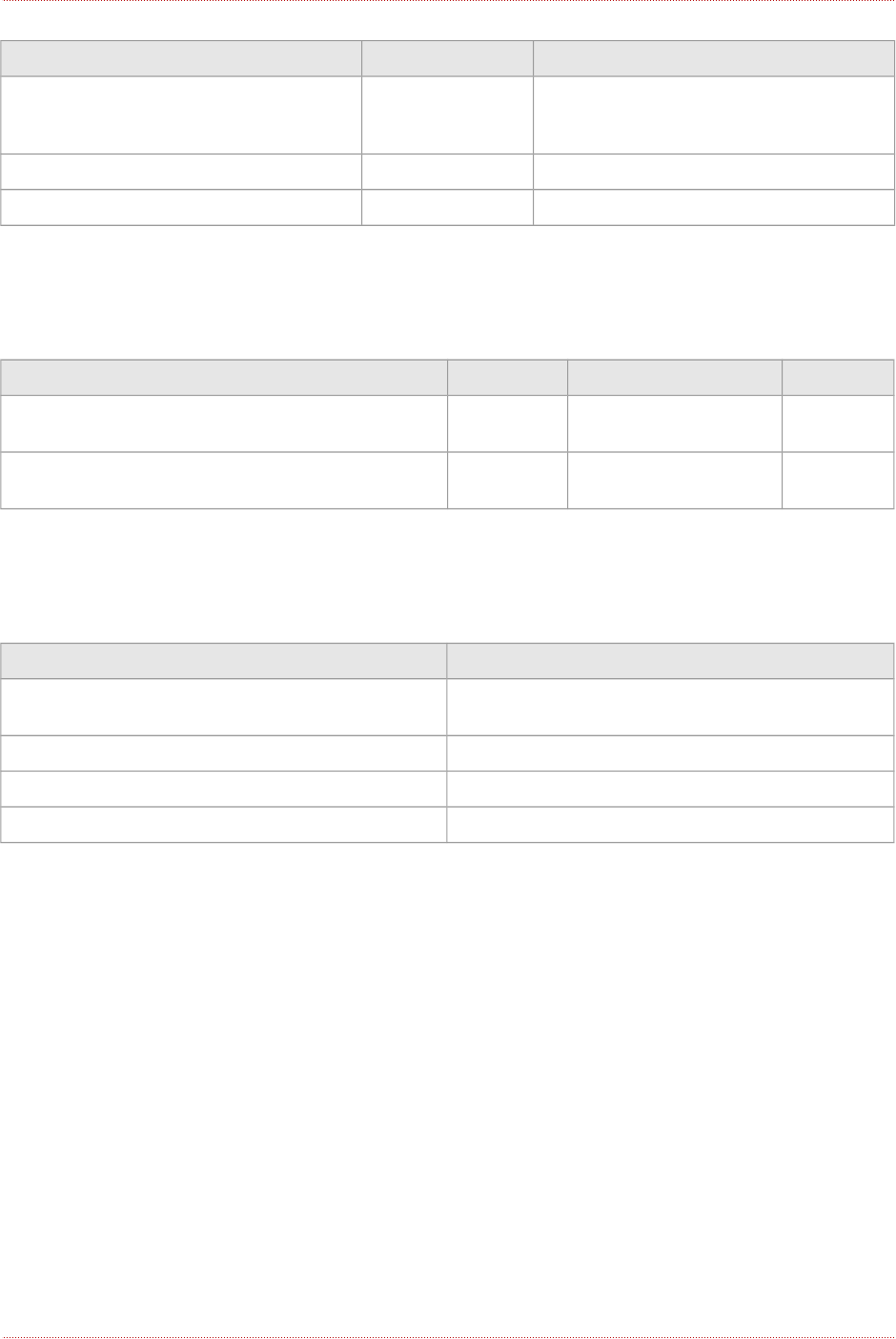 Problem or IssueReferencesRecommended Changes
Project came in way under budget – not
nearly as complicated as anticipated
EVM MetricsRe-baseline project and budget earlier and
possibly do not force Six Sigma approach
when solutions are fairly straight forward.
Section 9.Post-Implementation Plans
Identify plans for completing post-implementation activities after project closeout.
ActionPlanned DateAssigned ToFrequency
Standard Operating Procedures, Training, and Desk
Side Support will be needed for the next seven months.
3/08 to 9/08Program Management
Office
As Needed
Control Chart Tracking should continue to monitor
progress and ensure that all projects comply.
3/08 to 9/08Program Management
Office
Monthly
Section 10.Open Issues
Describe any open issues and plans for resolution within the context of project closeout.
IssuePlanned Resolution
Over 10 different projects have not been included in any
real post implementation work as of 2/22/08.
The PMO is charged with making sure all remaining
projects become compliant with new control procedures.
4