Fillable Printable Project Status Report Template
Fillable Printable Project Status Report Template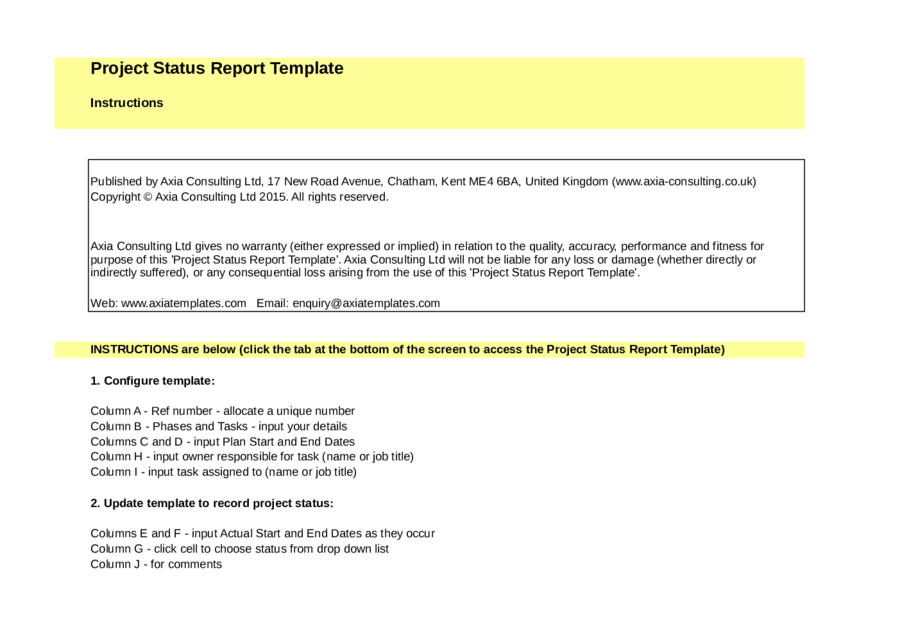 Project Status Report Template

Project Status Report Template
Instructions
Published byAxia Consulting Ltd, 17 New Road Avenue, Chatham, Kent ME4 6BA, United Kingdom (www.axia-consulting.co.uk)
Copyright © Axia Consulting Ltd 2015. All rights reserved.
Web: www.axiatemplates.com Email: enquiry@axiatemplates.com
INSTRUCTIONS are below (click the tab at the bottom of the screen to access the Project Status Report Template)
1. Configure template:
Column A - Ref number - allocate a unique number
Column B - Phases and Tasks - input your details
Columns C and D - input Plan Start and End Dates
Column H - input owner responsible for task (name or job title)
Column I - input task assigned to (name or job title)
2. Update template to record project status:
Columns E and F - input Actual Start and End Dates as they occur
Column G - click cell to choose status from drop down list
Column J - for comments
Axia Consulting Ltd gives no warranty (either expressed or implied) in relation to the quality, accuracy, performance and fitness for
purpose of this 'Project Status Report Template'.Axia Consulting Ltd will not be liable for any loss or damage (whether directly or
indirectly suffered), or any consequential loss arising from the use of this 'Project Status Report Template'.
3. Notes
See worked example for more information.
The worksheet is completely flexible. Rows and columns may be resized. Data may be amended. Additional worksheets may be added.
Printing is set to Black & White. To change - select Page Layout tab > Print Titles > Uncheck Black & White.
If you wish to add 'Red, Amber, Green' status for cells in column G - click Cell(s) > Conditional Formating (Home tab) > Then amend
conditions, values, colours.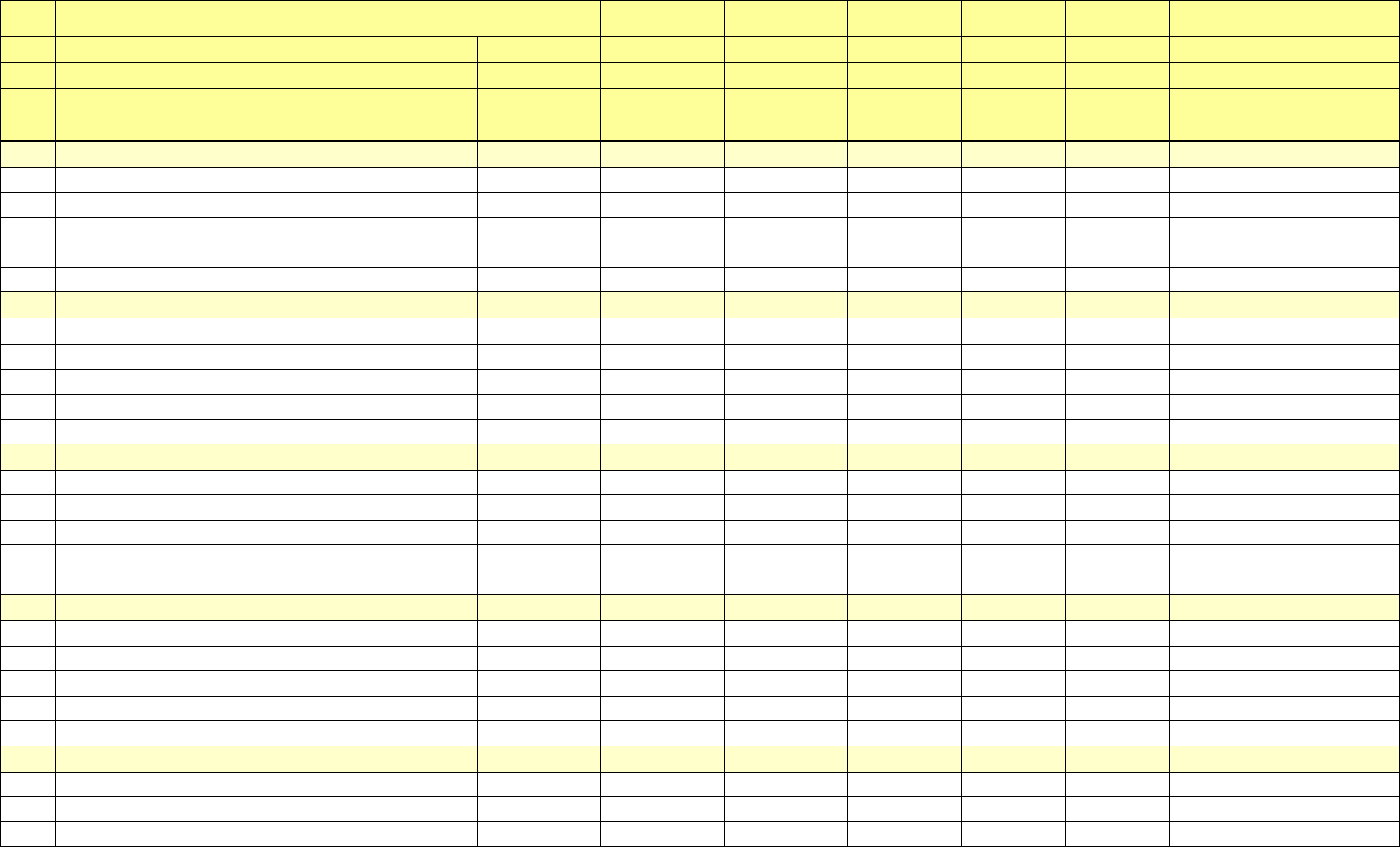 Filename: project-report-template-04.xlsDate: 09/13/2016Page: 3 of 6
Project Status Report Template for:
[Insert logo]
Report number:
Report date:
RefPhase / TaskStatusOwnerComments
1Phase 1
1.1Task 1Not started
1.2Task 2Not started
1.3Task 3Not started
1.4Task 4Not started
1.5Task 5Not started
2Phase 2
2.2Task 2Not started
2.3Task 3Not started
2.4Task 4Not started
2.5Task 5Not started
3Phase 3
3.1Task 1Not started
3.2Task 2Not started
3.3Task 3Not started
3.4Task 4Not started
3.5Task 5Not started
4Phase 4
4.1Task 1Not started
4.2Task 2Not started
4.3Task 3Not started
4.4Task 4Not started
4.5Task 5Not started
5Phase 5
5.1Task 1Not started
5.2Task 2Not started
5.3Task 3Not started
Plan Start
Date
Plan End
Date
Actual Start
Date
Actual End
Date
Assigned
to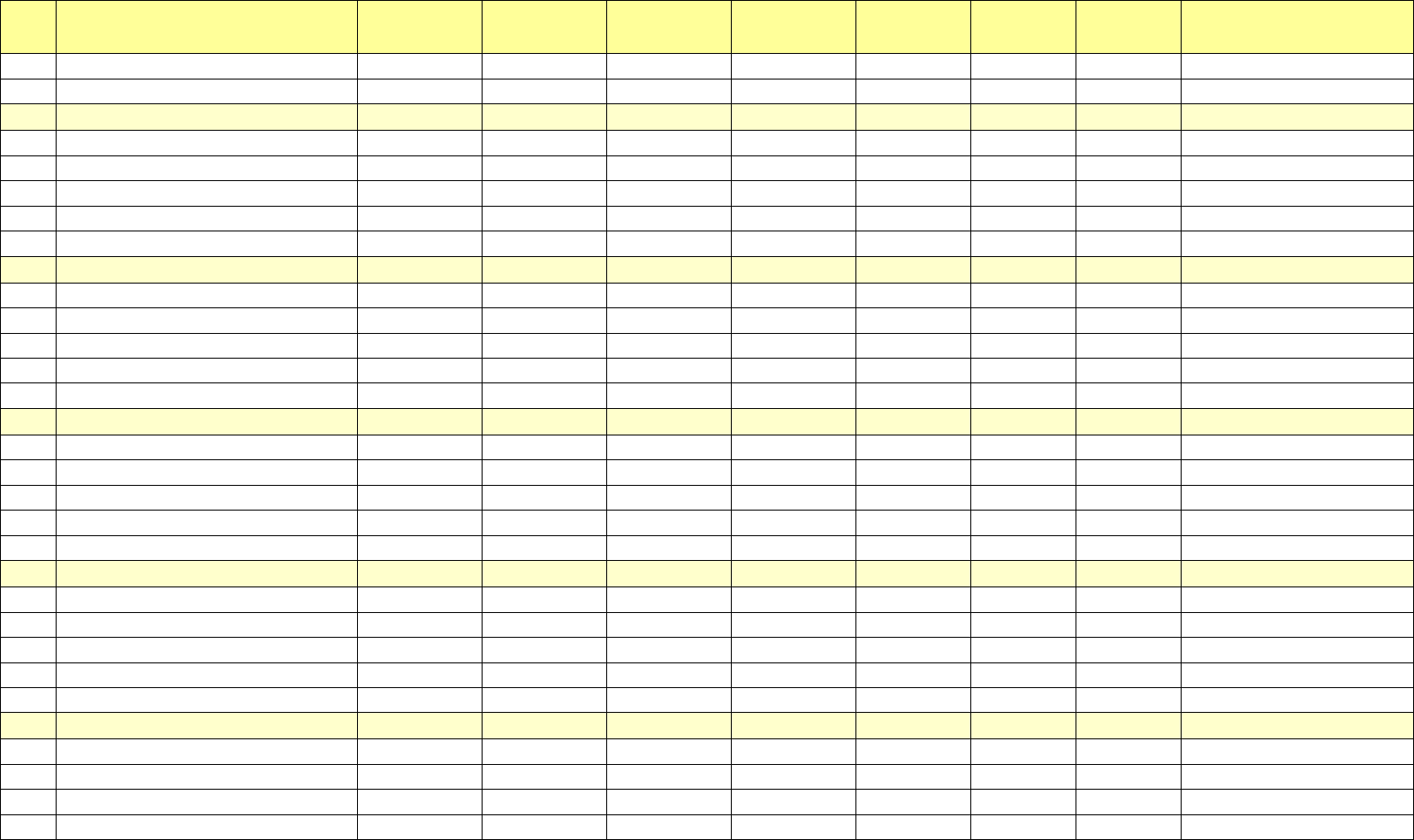 Filename: project-report-template-04.xlsDate: 09/13/2016Page: 4 of 6
RefPhase / TaskStatusOwnerComments
Plan Start
Date
Plan End
Date
Actual Start
Date
Actual End
Date
Assigned
to
5.4Task 4Not started
5.5Task 5Not started
6Phase 6
6.1Task 1Not started
6.2Task 2Not started
6.3Task 3Not started
6.4Task 4Not started
6.5Task 5Not started
7Phase 7
7.1Task 1Not started
7.2Task 2Not started
7.3Task 3Not started
7.4Task 4Not started
7.5Task 5Not started
8Phase 8
8.1Task 1Not started
8.2Task 2Not started
8.3Task 3Not started
8.4Task 4Not started
8.5Task 5Not started
9Phase 9
9.1Task 1Not started
9.2Task 2Not started
9.3Task 3Not started
9.4Task 4Not started
9.5Task 5Not started
10Phase 10
10.1Task 1Not started
10.2Task 2Not started
10.3Task 3Not started
10.4Task 4Not started

Filename: project-report-template-04.xlsDate: 09/13/2016Page: 5 of 6
RefPhase / TaskStatusOwnerComments
Plan Start
Date
Plan End
Date
Actual Start
Date
Actual End
Date
Assigned
to
10.5Task 5Not started
Key to Status
Not started
In progress
On target
Delayed
Completed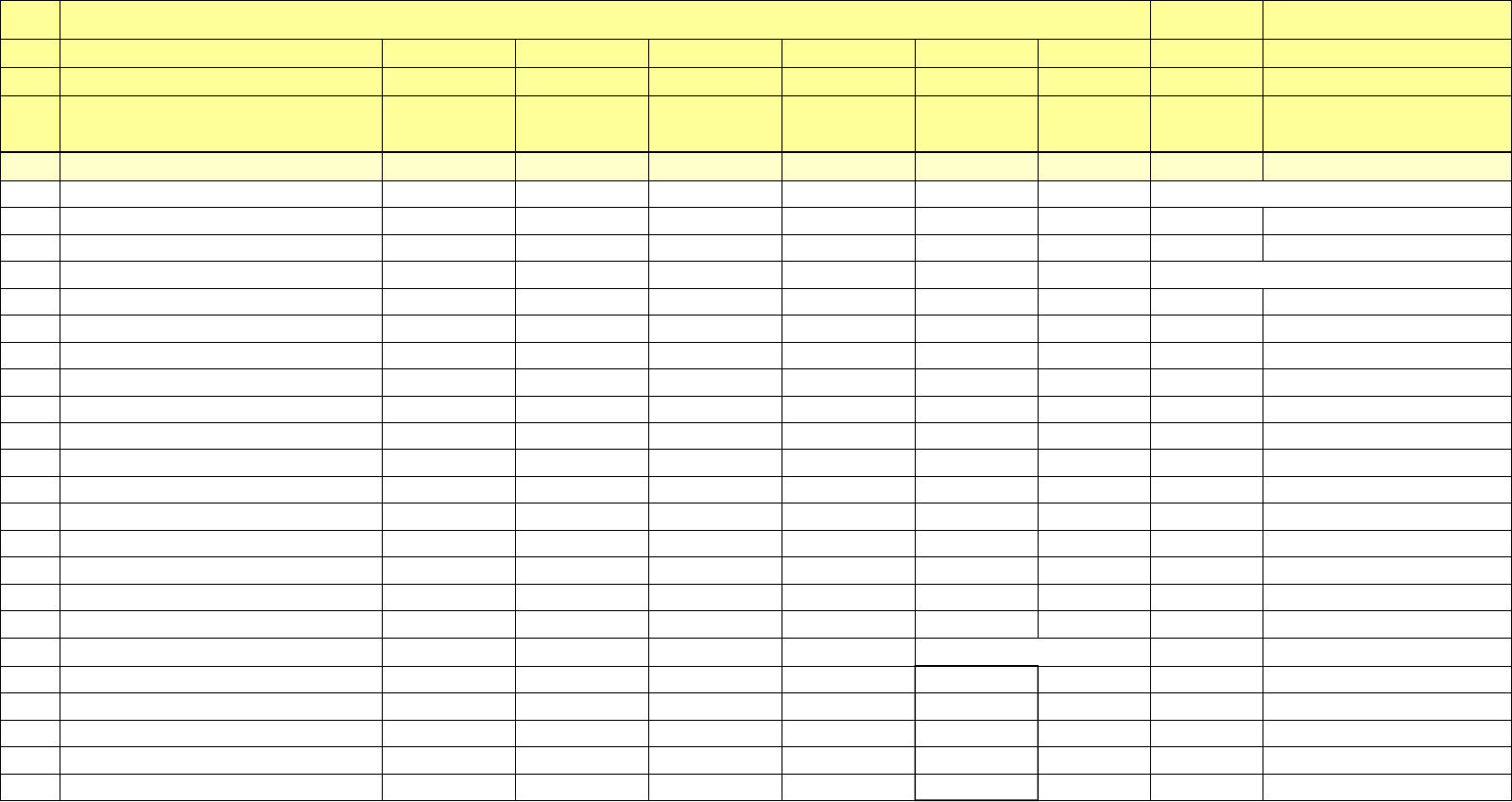 Filename: project-report-template-04.xlsDate: 09/13/2016Page: 6 of 6
Project Status Report Template for: Example Requirements Specification
[Logo]
Report number: 3
Report date: 28 July
RefPhase / TaskStatusOwnerComments
1Requirements Specification
1.1User interviews6 July 201510 July 20156 July 201510 July 2015CompletedJDPG, LA, NM
1.2Consolidate requirements13 July 201515 July 201513 July 201515 July 2015CompletedJDPG
1.31st draft of requirements16 July 201517 July 201516 July 201520 July 2015CompletedJDPG
1.4Review draft requirements20 July 201523 July 201521 July 2015In progressFABN, AW, DG
1.5Amend draft requirements24 July 201527 July 2015DelayedJDPG
1.6Sign off requirements30 July 201530 July 2015Not startedBHFA, TP
Key to Status
Not started
In progress
On target
Delayed
Completed
Plan Start
Date
Plan End
Date
Actual Start
Date
Actual End
Date
Assigned
to